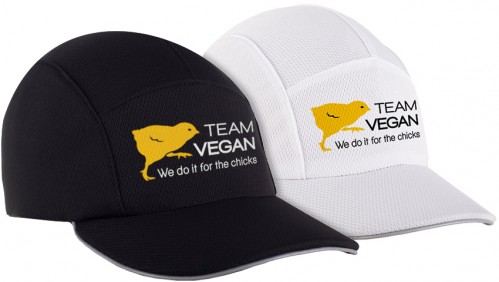 Today is the last day to get $100 added to your Team Vegan campaign – bringing you closer to raising $500 and winning a coveted Team Vegan cap!
Thanks to a generous donor, your campaign will get $100 of "seed money" if you sign up for Team Vegan and post a photo and text by today, May 20. Raise $500 total between now and the end of the campaign on June 30, and receive a Team Vegan cap like those pictured above.
So far – since May 1 – VO supporters have donated more than $41,000 to fund our effective grassroots, person-to-person activism. Together, we're exposing the horrors of animal ag, inspiring more people to adopt a cruelty-free lifestyle, and reducing the suffering of animals.
And every dollar raised up to $150,000 will be doubled, thanks to a handful of generous donors who have pledged to match it. That means you can enable twice as much outreach and inspire twice as many people to make positive changes for animals!
Together we have accomplished so much. But we need your help now to raise $150,000 for animals – which will be matched to become $300,000.
Help us reduce as much suffering as we can.
Join 80 fellow animal advocates by signing up for Team Vegan today.