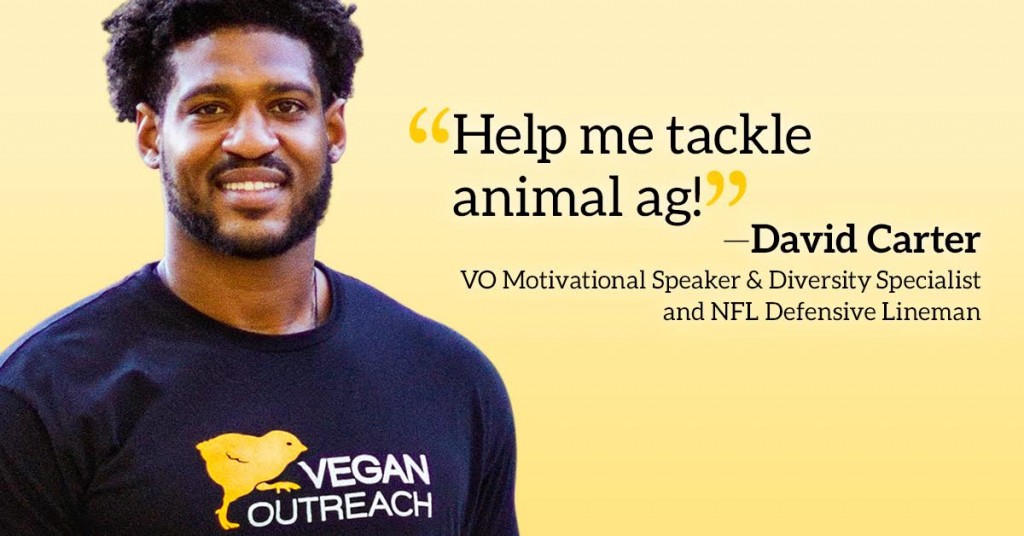 By Lisa Rimmert, Director of Development
Beginning May 1st–and through June 30th–dozens of animal activists from all over the world will team up to raise much-needed funds for Vegan Outreach. This team-driven fundraising drive, called Team Vegan, is what fuels VO's Fall outreach! It's very important, and your participation is what determines its success.
Many have already joined, but we need your help too, to make this the biggest Team Vegan ever! Here are the top ten reasons you should sign up now:
1. Donations will be doubled. A few incredibly generous philanthropists have agreed to match donations dollar-for-dollar up to $200,000. That's $400,000 we can raise for animals–our biggest Team Vegan drive in history!
2. Our work depends on you. The money raised during Team Vegan will fuel our Fall outreach–and we have ambitious plans! We need your help to make them happen.
3. Farmed animals depend on us. VO's work for farmed animals requires two things: the hard work of our Outreach Coordinators, and the donations that make their work possible. The money you raise will inspire and help people go vegan, sparing countless animals from a lifetime of misery.
4. You can win prizes! Each of the top five volunteer fundraisers will receive a $100 gift card to Vegan Essentials, Pangea, or The Vegetarian Site. And folks who raise at least $500 by June 30 will receive a Team Vegan jersey or cap!

5. You could start off with $100! A very generous donor has agreed to "seed the pots" of Team Vegan fundraisers who sign up and have a picture uploaded and a blurb written by May 20th.

6. It's great motivation to be fit! While you certainly don't have to, many Team Vegan members choose an activity to go along with their fundraising efforts. You could run a race, swim a lap for every dollar you raise, or plan a leafleting trip by bike! The options are endless and can give you that needed push to get moving! After all, it's for the animals.
7. You'll be representing VO. Since 1993, Vegan Outreach has been inspiring people to go vegan and then helping them do it! We reach thousands of young people every week with accurate and persuasive information about the vegan lifestyle.
8. You'll be part of an incredible team. Work alongside (and compete with!) the likes of VO President Jack Norris and VO Motivational Speaker and Diversity Specialist David Carter! You'll be helping them–and dozens of other activists–make a positive impact for animals.
9. It's easy! Each week, you'll receive an email from me–Lisa–with tidbits of inspiration, tips about effective fundraising, and some fun surprises!
10. It's inspiring! You will be surprised and delighted by the generosity of your friends and family, I promise you! They'll give because they want to support you, and what a great way to do so. More donations = more outreach = less suffering!
Clearly, signing up for Team Vegan is a win for everyone involved. Email me at [email protected] with questions, or sign up now to help reduce animal suffering with your own Team Vegan fundraising page!