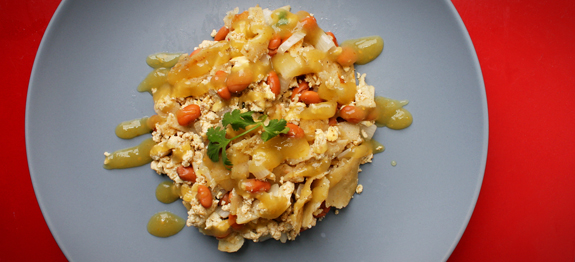 By Toni Okamoto
The name Chilaquiles is derived from the Nahuatl (language of the Aztecs in Mexico) word chil-a-quilitl, which means "herbs or greens in chile broth."
It used to be one of my favorite breakfast dishes as a child. It's traditionally made with eggs and cheese, but since I no longer eat those things I did my best to improvise on this tasty plant-based version.
Like a lot of my other dishes, this Chilaquile recipe can be changed using the produce you have on-hand. I think as long as you have the tofu, the tortillas (or tortilla chips), and the spices, you can really add any other veggies (i.e. chopped spinach, corn, diced tomatoes, canned or fresh jalapeños, etc.). You can also replace the fried tortillas with a handful of crunched corn chips.
Ingredients:
4 corn tortillas in small strips or handful of tortilla chips
1 tbs vegetable oil
medium onion, diced
2 garlic cloves, minced
1 block of extra firm pressed tofu
1 can beans, your choice
10 sprigs of cilantro, chopped (save some for garnish)
1 tbs ground cumin
salt and pepper, to taste
1 tsp chili powder
bottle of salsa, your choice of red or green
one large avocado
Directions:
In a large frying pan, heat the oil and fry the tortilla strips. Once tortillas are nice and crispy, add onions and garlic – saute until onions are translucent. If you're using tortilla chips instead, you can just saute the onions and garlic.
Once onions become translucent, add tofu, beans, cilantro, cumin, salt, pepper, chili powder and cook on medium-high for five minutes stirring frequently. If you're using the crunched tortilla chips, add them last and mix them in.
Serve and garnish with drizzled salsa, avocado slices and fresh cilantro. Yum!