By Taylor Radig, Campaigns Manager
Vegan eating has gained a significant amount of traction within the restaurant industry—sparking mega chains like Chipotle, Wendy's, Burger King, Ben & Jerry's, Starbucks, and countless others to add plant-based options for their diners. Among all the food industries, the pizza world seems to be the quickest in listening to customer demands.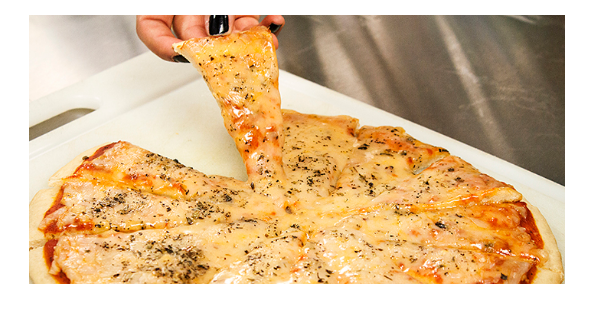 Here are our top five picks for pizza chains that are now offering vegan options—yes, all of them have vegan cheese.
And be sure to check out these restaurants' websites to see if there are locations near you!
Pie Five
Pie Five is known for specializing in handcrafted personal pizzas prepared in less than five minutes. In 2015, Pie Five listened to their customers and rolled out Daiya vegan cheese to each one of their over 90 locations in the U.S. This is a top pick for fast dairy-free deliciousness on the go!
MOD Pizza
This family-friendly chain became a hero in 2015 when they added vegan cheese to all of their locations after significant demand from their customers. Since then, MOD Pizza has grown to over 200 locations.
They also carry two vegan sauce selections—a BBQ sauce and a garlic rub.
Mellow Mushroom
Mellow Mushroom, an Atlanta-based chain, introduced a "vegan favorites" menu in 2015, featuring calzones, pretzels, and even tempeh and tofu add-ons for pizza. With over 190 locations across the U.S., this is a bucket list favorite you don't want to miss out on!
Check out their vegan favorites menu here.
Pieology
In the midst of a large expansion in 2015, Pieology added Daiya cheese to a large portion of their West Coast locations. Recognized the same year as America's fastest growing chain, we think this says a lot about the importance of adding dairy-free vegan options!
Their house red, BBQ, and olive oil sauce bases are all vegan. The standard crust isn't vegan, so make sure to ask for the gluten-free one!
PizzaRev
If you're looking for something a bit meatier, look no further! This national chain not only offers Daiya cheese, but a flavorful meat-free sausage topping you'll love.
Choose from PizzaRev's original or gluten-free crust and toss on their organic tomato, spicy-sweet BBQ, or olive oil sauce base!
Pi Pizzeria
This popular pizza chain not only offers vegan cheese, but also italian sausage crumbles from Hungry Planet at their DC and St. Louis locations—a Vegan Outreach favorite! When you visit, create your own pizza with your choice of a thin crust or deep dish style*, tomato sauce, and any of their gourmet vegetable toppings. Their fast casual setting makes it the perfect place to take your veg-curious friends and family.
You can find Pi Pizzerias in the DC Metro Area, Cincinnati, and St. Louis!
*Pi Pizzeria butters their deep dish pans with butter and requires a 6 hour advance notice for all vegan deep dish pizzas to ensure the dough proofs properly.
California Pizza Kitchen—Show the world some vegan love!
Vegan Outreach recently launched a petition asking California Pizza Kitchen (CPK) to follow the consumer trend and offer a vegan cheese pizza. Not only would adding this vegan cheese option bring them more business, but as one of the largest pizza companies in the U.S., it would further show the public how delicious vegan eating is. Customer feedback really does matter, so please sign the petition to let California Pizza Kitchen know the world is ready for a cheesy CPK vegan pizza!