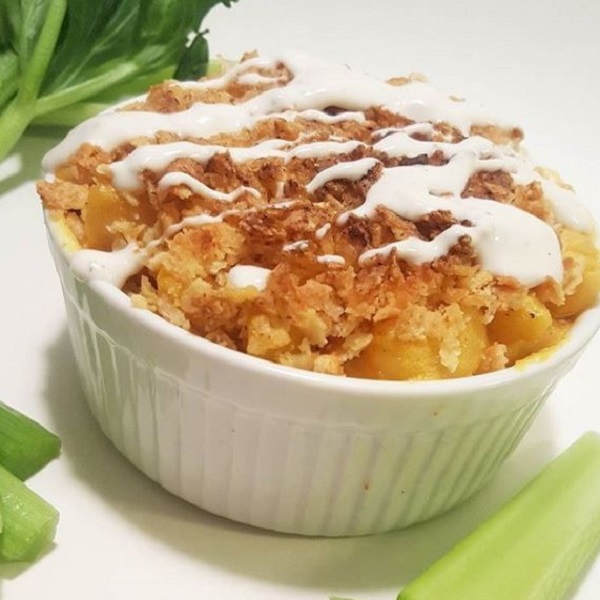 We've been sharing the details of Vegan Outreach's nation-wide Vegan Mac Down competitions the past few weeks, but now it's time to dish out the really good details—the winning recipes of each competition!
First up is Vegan Mac Down L.A. winner, Joni Marie Newman. Joni pleased the judges' with her Buffalo Mac-n-Cheese creation—and I think it's going to win over your taste buds, too!
Be sure to follow us in the coming weeks as we share the other winning mac and cheese recipes! And in case you've missed the Vegan Mac Down excitement, check out these recent editions of our weekly E-news—August 30 and October 4.
Buffalo Mac-n-Cheese
Yields 4-5 servings.
   Pasta
1 pound large elbow macaroni
1 cup riced or finely chopped cauliflower
Cheesy Buffalo Sauce
1 1⁄2 pounds peeled red potatoes, cubed
2 cups cashews, soaked overnight or boiled, rinsed and drained
1 cup unsweetened soy milk, more as needed
1 cup of your favorite hot sauce
1⁄4 cup nutritional yeast
1⁄2 cup refined coconut oil, melted
1⁄2 cup vegan sour cream
1⁄2 cup vegan cream cheese
1⁄2 cup vegan butter
1 teaspoon garlic powder
1 teaspoon onion powder
1⁄2 teaspoon turmeric
1⁄2 teaspoon paprika
1⁄2 teaspoon black pepper
Salt to taste
Crunchy Topping
1 sleeve Ritz-Style Crackers
1⁄4 cup (28 g) vegan parmesan cheese—such as Follow Your Heart or Go Veggie
2 tablespoons vegan butter
2 cups crushed dill pickle potato chips
Optional Garnishes
Directions
Prepare macaroni according to package instructions. Set aside.
Add potatoes to a large pot of water and boil until very tender. Drain and return to the pot.
Add remaining cheese sauce ingredients to the pot. Using an immersion blender, puree until silky smooth. Add additional milk a tablespoon at a time to get to your desired consistency. It should be smooth and creamy, not gritty or clumpy.
Preheat oven to 425°F.
Add cooked macaroni and cauliflower to the pot of cheese sauce. Stir to combine.
Spread mixture into a casserole dish.
Add crackers, parmesan, and butter to a dry food processor and pulse into crumbs.
Sprinkle topping in an even layer all over the top of the mac and cheese. Finish off by topping with crushed potato chips.
Bake for 15 to 20 minutes, or until topping is golden brown and crispy. Remove from oven.
Drizzle with Blue Cheese and serve with celery sticks, if desired.
Joni Marie Newman is a vegan chef and ten-time published cookbook author. Her work has been featured in VegNews Magazine, Mother Jones, The Oregonian, and many other publications. She is the founder and contributor to JustTheFood.com and can be reached on all of her social media accounts—Facebook, Instagram, and Twitter—@JoniMarieNewman.