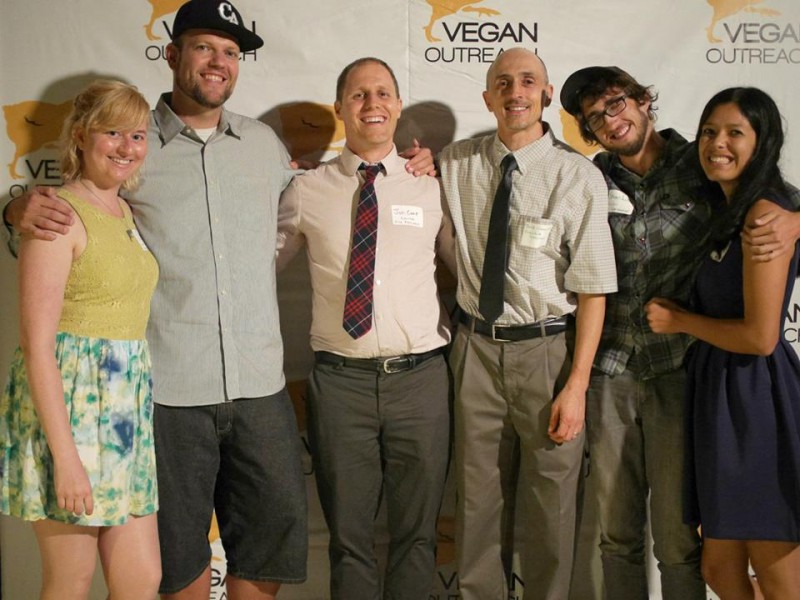 By Victor Sjodin, Director of International Outreach
On Saturday night, June 13, Vegan Outreach held a fundraiser with nearby supporters of Vegan Outreach at Board Member Yvonne Legrice's house in Pasadena, California. It was great to meet so many people who sacrifice for the animals and who comprise Vegan Outreach. It is really amazing to know that all the good Vegan Outreach does is because of thousands of people giving what they can to be a part of something greater. Together we are strong and an engine of social change.
There was great food and lots of socializing. Jon Camp and Jack Norris briefly spoke about what's been going on with VO: how we are expanding to other nations, reaching more students than ever with well over a million college students reached again this spring, and the success of the new Compassionate Athlete Booklet (85,000 have been shipped out). Our new Mexico program is on pace to reach 380,000 students in its first year. Our vegan mentor program has over 200 people mentoring so far, we are getting thousands of people writing in and saying they are going vegan because of our booklets, and the new booklet designs for Your Choice and Compassionate Choices are getting a phenomenal response from students.
Kimberly Moffatt spoke briefly about what it's like to volunteer with VO and why she does it, "I know a few hours of my life can change several dozen students lives forever." Several attendees expressed interest in leafleting.
Jack then introduced me to speak and surprised me by saying, "and Vic Sjodin is our new, from this day forward, Director of International Outreach." That was moving for me, as expanding our work for the animals is a life mission of mine. I spoke about how, when asked who I work for by campus security once, I answered that I work for animals trapped on factory farms. I spoke about how each booklet is not really a piece of paper to me, but a gift – an invitation to a greater consciousness, to health, to less cruelty, to sustainability, to being part of the solution.
Lastly, we asked for help in getting new programs off the ground, and the attending VO members were very generous of heart and wallet for the animals. With more funds, we are close to expanding to Europe and South America. It was a great evening on all accounts and I felt a sense of unity – that we are all united to do what we can to bring veganism to a world that desperately needs it. Thank you for being a part of Vegan Outreach! Upward, onward and plant ward!
Here's a peek of what went on: