By Victor Sjodin, VO Director of Outreach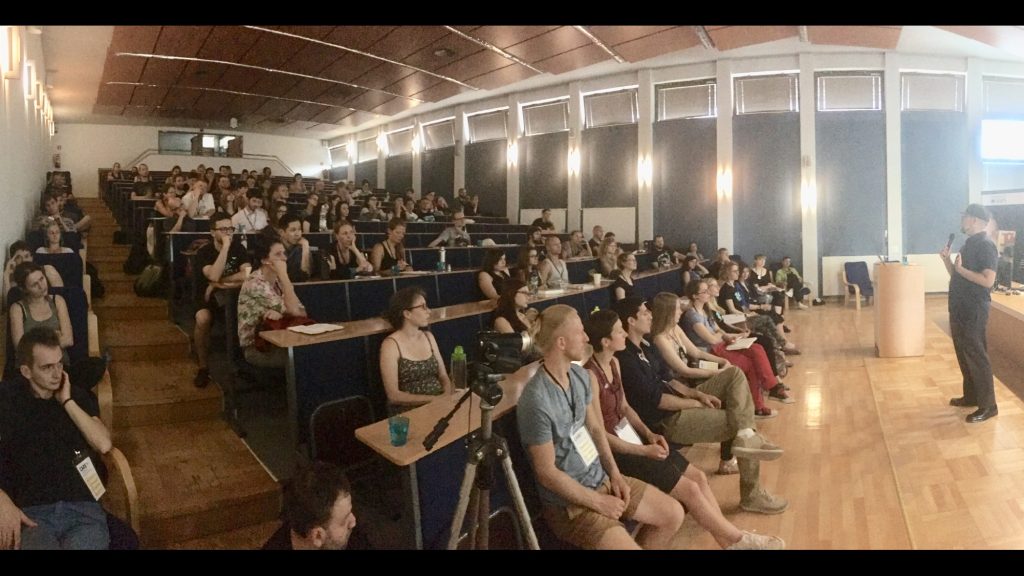 With an eye toward the continued international expansion of Vegan Outreach, I recently embarked on a speaking, learning, and leafleting trip to Europe. The trip was highlighted by my participation at the Conference on Animal Rights in Europe (CARE) in Warsaw, Poland, but that was far from the only fruitful experience.
You may remember that last fall I presented at the International Animal Rights Conference in Luxembourg. Well, I found out this summer that Vegan Outreach's presence there inspired new activism for animals! Austrian activists—who attended the conference and saw my presentation—are starting a leafleting program modeled after VO's.
Of course, I wanted to lend any help and encouragement I could, so I was excited to have the opportunity to meet these activists—and many others—at a conference in Warsaw last month.
First, I flew in to Stockholm, Sweden and had meetings and leafleted with the Animal Rights Alliance or Djurrättsalliansen. Flying to Sweden was much cheaper, and I wanted to meet with these great activists anyway and help do some leafleting in Stockholm. I'm glad I did!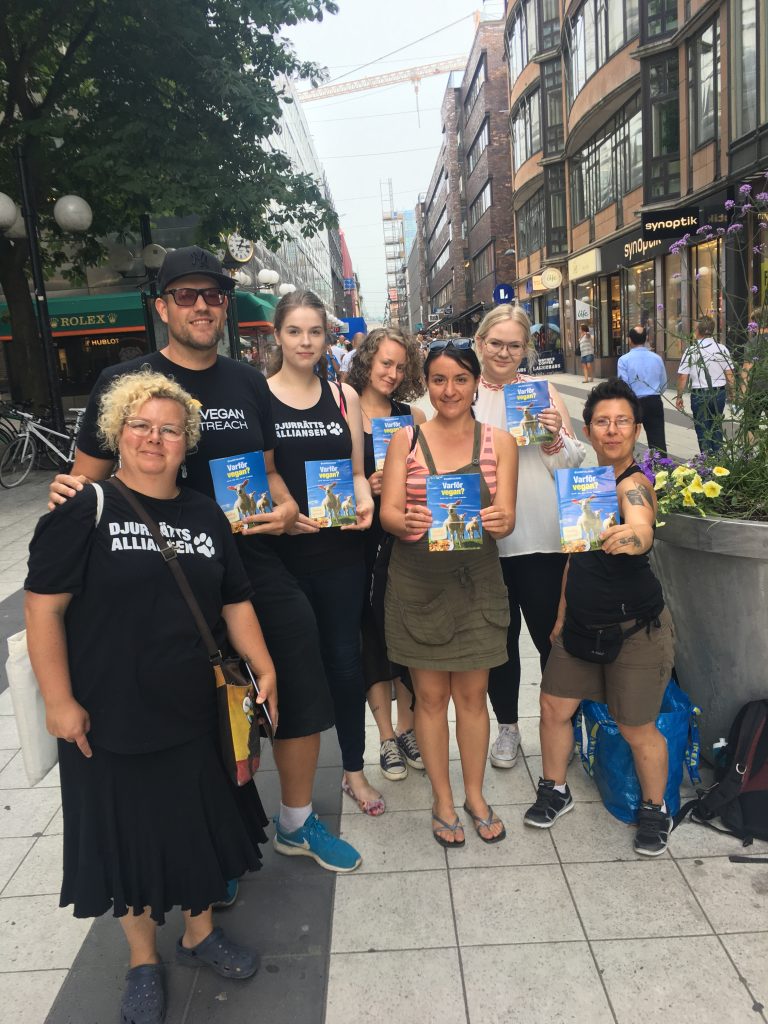 After that, I traveled to Warsaw for the Conference on Animal Rights in Europe. I was pleasantly flabbergasted at how vegan friendly Warsaw is. Apparently it has the fifth most vegan restaurants per capita of any city in the world. Who knew?!
While walking around the city, I noticed the word "vegan" in many places. I indulged in several vegan burger establishments and a sushi place. My favorite was Krowarzywa, which has an assortment of epic vegan burgers at low prices.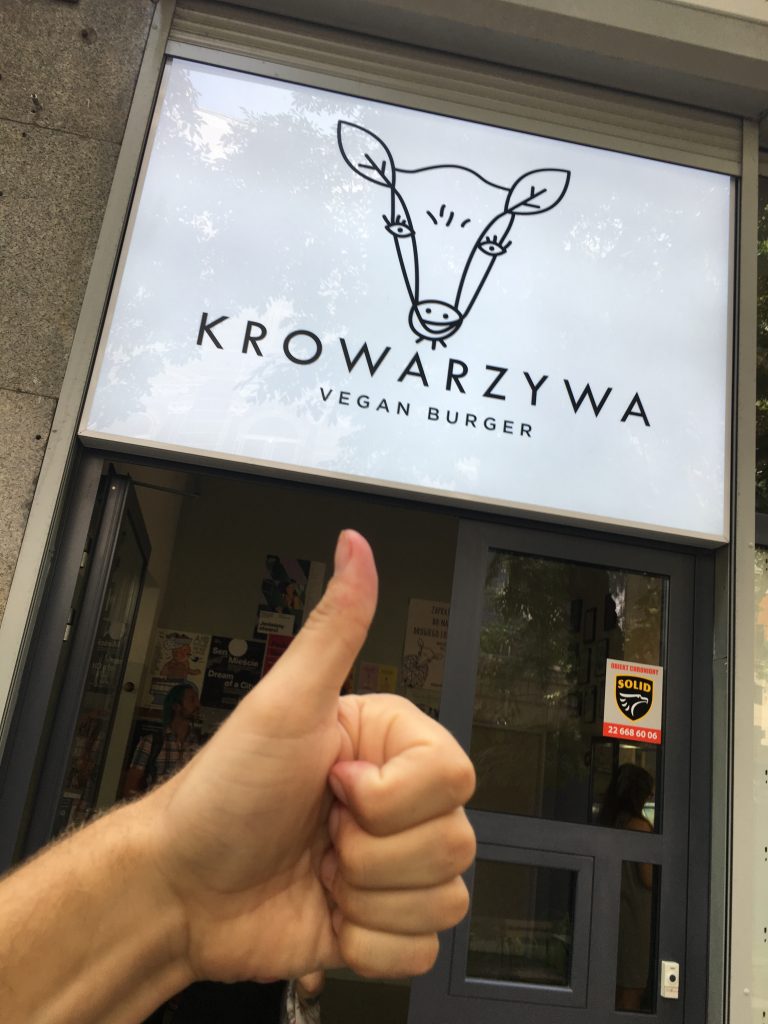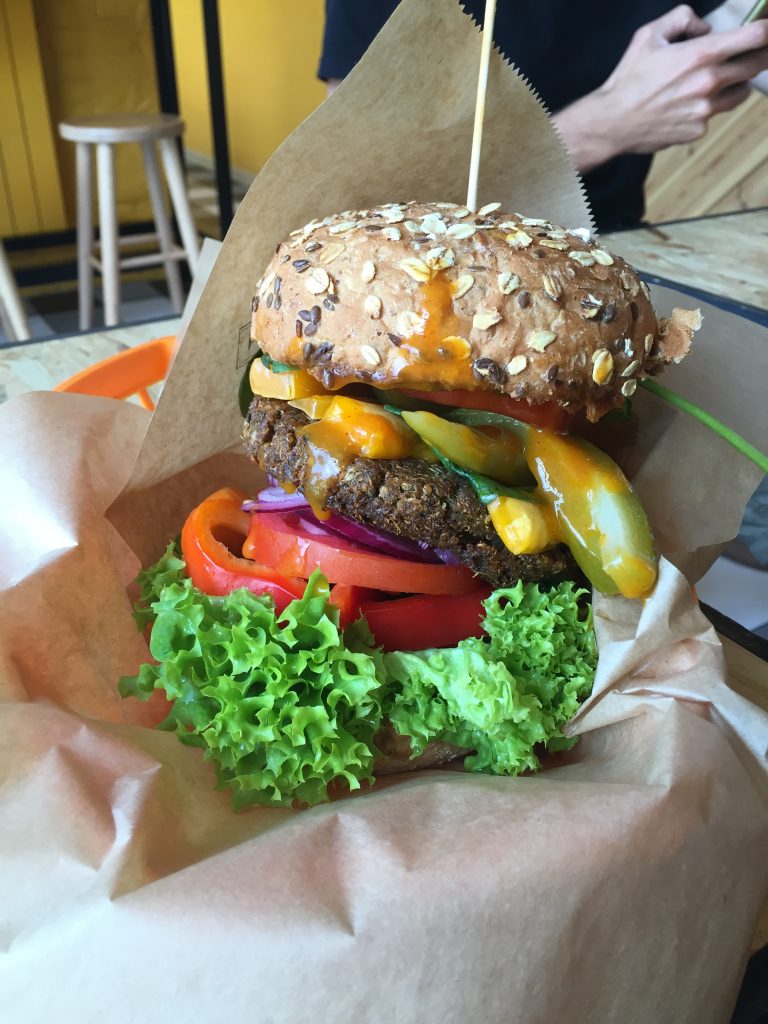 At the conference, I was one of about 300 animal rights activists listening and giving presentations, networking, and learning from each other.
I heard presentations on a multitude of topics, including The State of Animal Rights in Ukraine, Feminist Challenges and Solutions in the Animal Rights Movement, and The Successful Use of Social Media in Sweden.
My talk about The Art and Science of Personal Advocacy was well attended and well received, leading to numerous conversations afterward.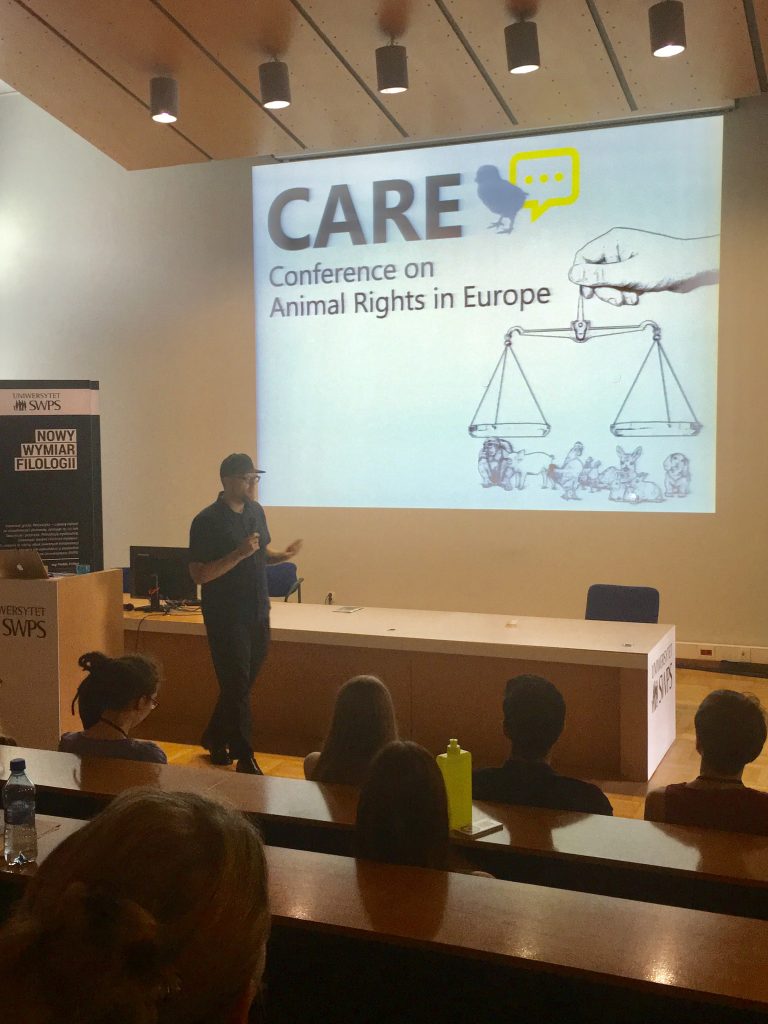 At the conference, I was able to speak at length and hear about the accomplishments, challenges, and aspirations of activists from Belarus, the Czech Republic, Estonia, Latvia, Lithuania, Poland, Russia, the Slovak Republic, and Ukraine, among many others. Many expressed the desire to begin or expand their outreach to promote veganism to the public. I was glad to be able to tell them about what Vegan Outreach does!
It was a thrill to meet many activists I'd only read about or knew from online, and we became fast friends and professional contacts.
Following the conference, I jumped in a car driven by Felix Hnat, and with other activists we hitched a ten-hour ride to Vienna, Austria. Felix is Chairman of the Vegan Society Austria, and a valiant and successful defendant in a long-running political trial that was national news for years in Austria.
Midweek I gave a presentation to members of the Vegan Society Austria about the hows and whys of leafleting.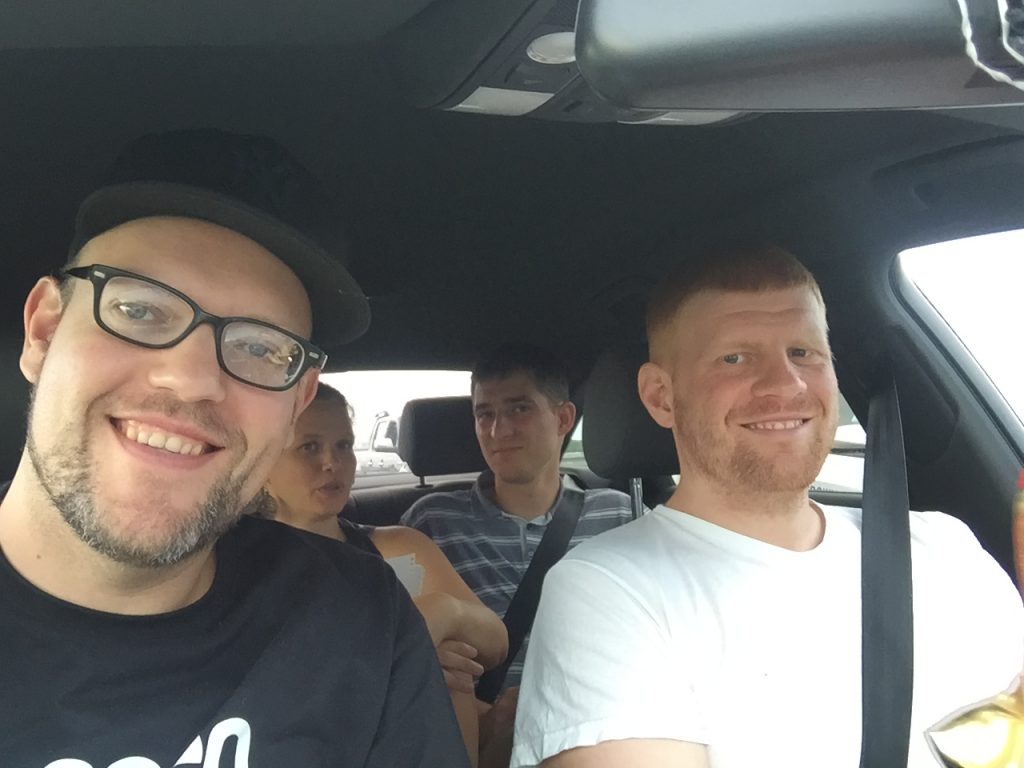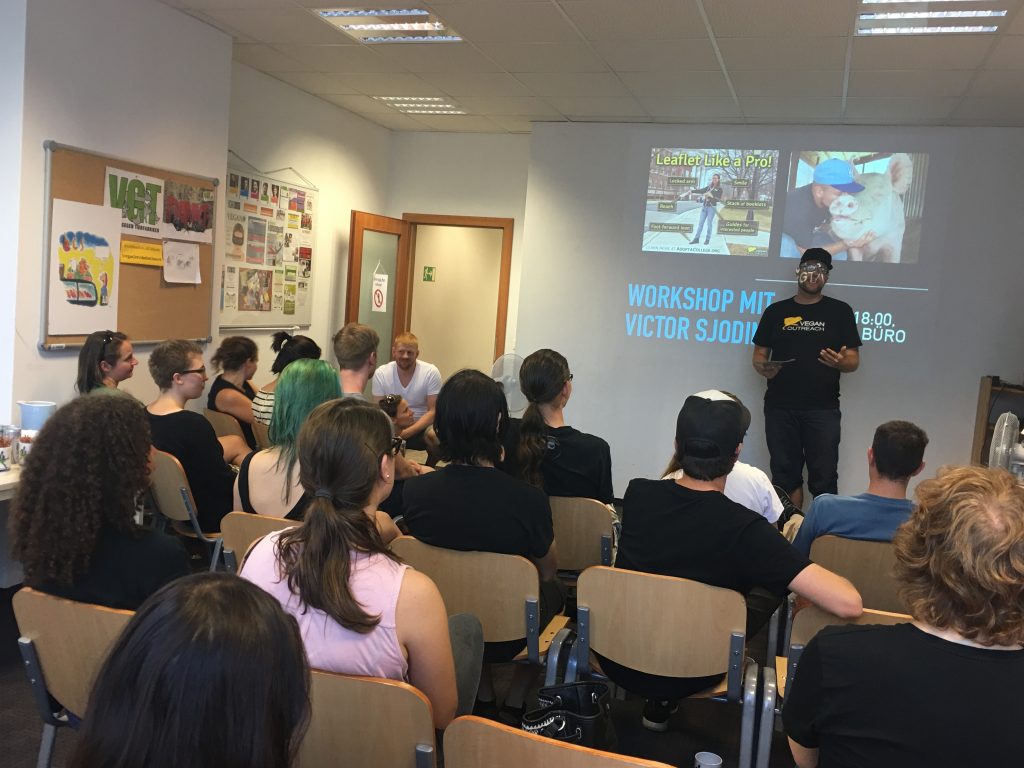 It was a nice surprise to run into all-star Vegan Outreach intern Doris Schneeberger who took the U.S. Southeast by storm with VO's U.S. Southeast Outreach Coordinator Yuri Mitzkewich last semester. She even helped with my presentation!
The next day a bunch of us leafleted a busy street, reaching 1,400 people in two hours. It was awesome!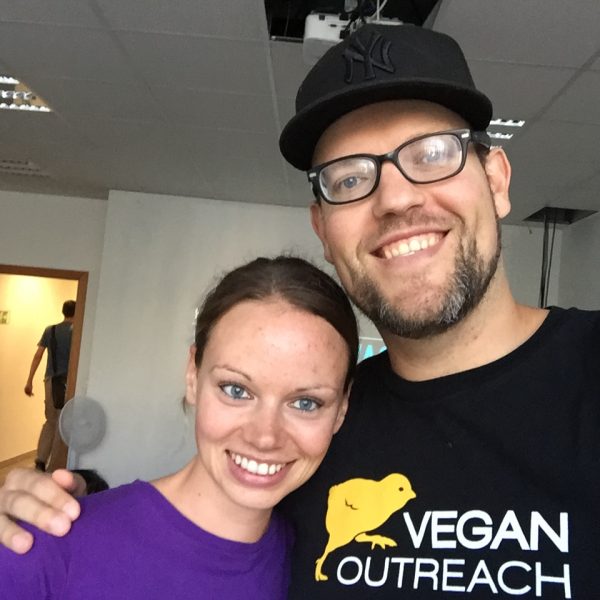 I'm glad there were so many new leafleters and so much enthusiasm for their new activism efforts. And I'm proud that Vegan Outreach could lend our friends in Austria a little boost by sharing our experience and offering encouragement.
Then, life happened, and a bus I was riding in was involved in an accident. This set me back a few days, but Team Austria kept leafleting as scheduled. They are rock stars!
It's been a productive trip so far, and I will continue on abroad to give a few more seminars to other groups doing outreach. I look forward to seeing more fruits from the CARE conference and meetings that will spare more animals from the horrors so many still have to endure.
Thank you to the Vegan Outreach donors who made this trip and this work possible! You know who you are!