By Lori Stultz, VO Rocky Mountain Outreach Coordinator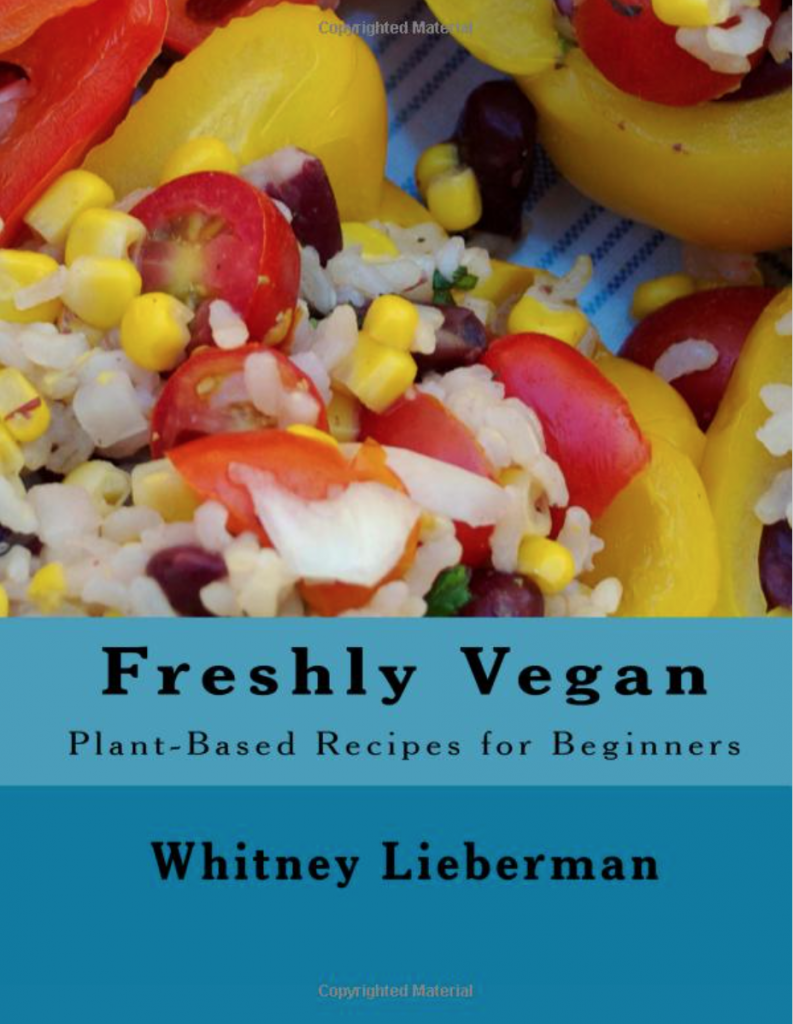 When I got word that an 18-year-old had written and published a vegan cookbook, I immediately had all sorts of questions—Who was the author? What was her story? Was she really only 18 years old?
After doing a little research, Whitney Lieberman—a recent high school graduate—and I got in touch. Without a second thought, I ordered her cookbook, Freshly Vegan: Plant-Based Recipes for Beginners, and asked her if she'd be willing to talk with Vegan Outreach about her background, her cookbook, and her plans for the future.
Thankfully, my enthusiasm didn't scare Whitney away. She graciously answered all my questions and recommended a recipe we could share with you all.
I wasn't disappointed by her Peanut Butter Poppers recommendation. These quick and delicious snacks will be gone before you know it, especially if you're a peanut butter fan!
Get to know Whitney before you scroll down to check out the recipe! I guarantee you'll be just as inspired and impressed as I was by this young, ambitious vegan.
Lori Stultz: How old are you and where do you currently live?
Whitney Lieberman: I am 18 years old. I've spent my entire life living in Sunnyvale, [California].
Lori: Tell us a little about your hobbies and interests.
Whitney: I absolutely love to cook (I know, a huge surprise), especially with friends. I enjoy introducing my non-vegan friends to my favorite recipes by preparing them vegan brunches and dinners.
I'm also fond of many types of fitness. I frequently run, box, mountain bike, attend fitness boot camps, and practice yoga.
The wilderness is my favorite place to be. My enthusiasm for nature fuels my interest in landscape photography. A favorite pastime of mine is taking long hikes with plenty of stops for scenic shots. In the winter, I ski and snowboard with my family.
Lori: You just graduated high school. What's next for you?
Whitney: This fall I'm attending Claremont McKenna College. My major is currently undecided, but I'm interested in eventually studying Biology-Chemistry.
Lori: Tell us about your vegan journey. When was your awareness heightened about animal abuse, the health benefits of a vegan diet, the environment, etc., and what has your road been like between that point and now?
Whitney: My vegan journey began in first grade after I overheard my parents discussing factory farming. I had a pet chicken at the time, so learning about the atrocities that birds raised for food endure was absolutely traumatizing. I immediately decided to give up chicken meat, and I fully committed to vegetarianism later that week.
My meat-free lifestyle evolved into veganism during ninth grade. While researching dietary trends, I encountered many articles that explained the health benefits of a vegan diet. At first, my transition into veganism was catalyzed by teenage vanity—I read that dairy consumption worsens troubled skin. However, as I learned more about veganism, I better understood the factory farming industry's catastrophic impact on the environment. A promised reduction of my carbon footprint was the final influence that pushed me to give up all animal products.
Going vegan was relatively easy since I was already vegetarian. My parents were incredibly supportive. They never once questioned my lifestyle changes and accommodated all of my dietary changes into our family's meals.
My friends are just as supportive as my family. With the exception of some lighthearted teasing, almost everyone I know applauds my commitment to veganism and seems genuinely interested in learning more.
Also, after I released my book, members of my school's administration were incredibly encouraging. Specifically, my principal played an enormous role in forwarding my book's publicity. Multiple staff members went out of their way to help organize an on-campus book signing and to put me in touch with local newspapers.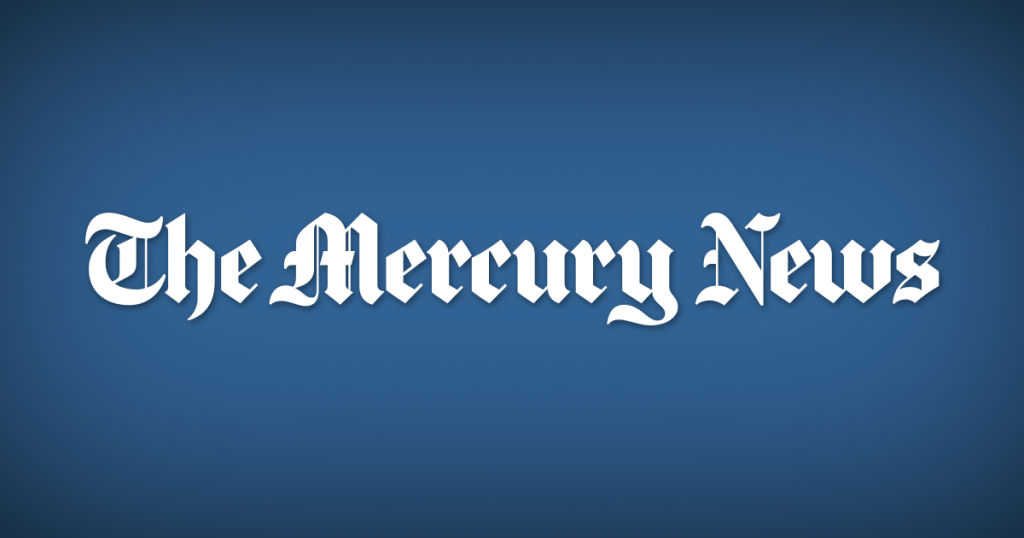 Lori: What sparked the idea of putting together a cookbook? Was it a difficult process? Did you self-publish or seek out a publisher?
Whitney: I decided to create my cookbook after realizing that my peers were interested in learning more about my lifestyle. Throughout high school, I carried a reputation as a vegan "health-nut"—a title I am proud of. For this reason, many people reached out to me with questions. During the first few months of 11th grade especially, friends asked for advice about transitioning into a vegan lifestyle and for my favorite vegan recipes.
Interestingly, the "aha moment" for my project occurred when I explained this situation to my mom. Because of the high demand for vegan recipes from my peers (and the misconception that all I ate was kale), I realized the easiest way to showcase veganism to friends was to condense as many delicious recipes as possible into a book!
I've always cooked with my mom, and she taught me everything I know about it. During the summer before 11th grade, we spent a lot of time "veganizing" old family recipes and experimenting to add more variety to our family dinners. These recipes provided the baseline for my book, and the next year was spent imagining and experimenting with new ideas and flavors.
After creating the 74 recipes in my book, I sent the manuscript draft to a cookbook editor. I was fortunate to find someone willing to volunteer her services to my project. In addition to helping me improve recipe consistency and clarity, she offered her input on the recipes themselves.
I published my cookbook with CreateSpace, Amazon's self-publishing platform.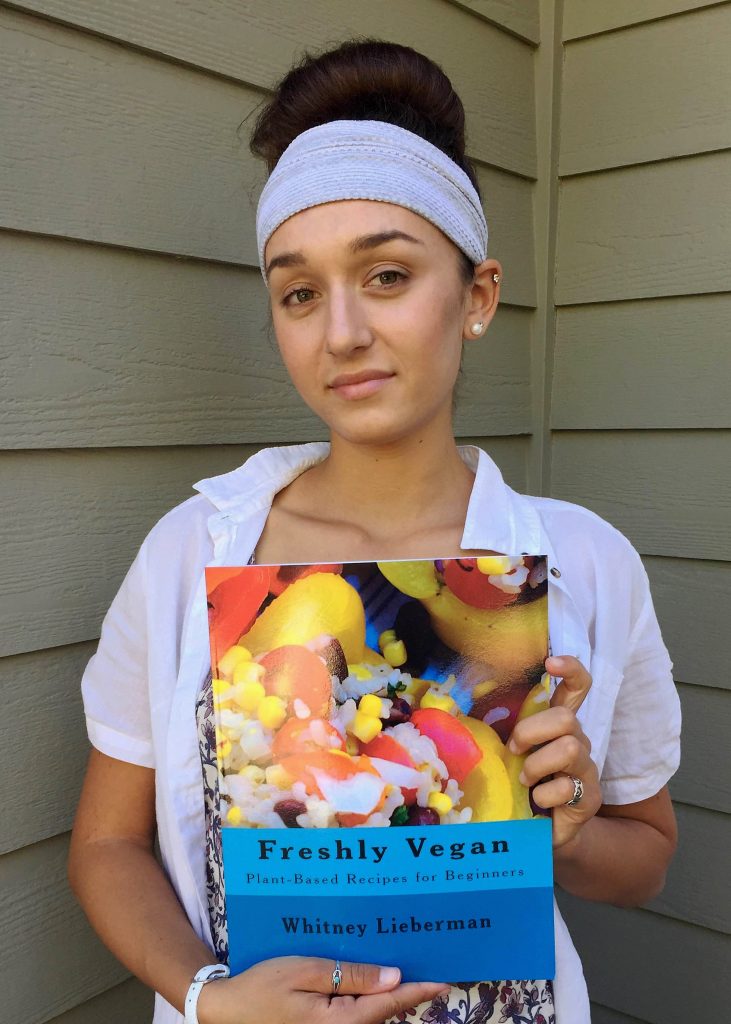 Lori: Knowing that your living/cooking environment is going to change as you move onto college, what are some of the tips and tricks you plan to take with you?
Whitney: One trick I plan to take to college with me is making overnight oats for breakfast. They're easy to prepare in a college dorm because they don't require any cooking. The ingredients I use are very similar to those in the "Peanut Butter Banana Oatmeal" recipe in my book.
To make this nutrient-packed breakfast, I combine rolled oats, chia seeds, hemp seeds, peanut butter, almond milk, bananas, and cinnamon in a small Tupperware and refrigerate it overnight. When I wake up the next morning, I have a creamy and nutritious breakfast waiting for me.
Lori: Lastly, what is your favorite vegan food or meal?
Whitney: I can't choose only one favorite, so I'll give my top three!
The first is my "Easy Chick-Peasy Falafel Bites" recipe. I enjoy these patties on top of chopped tomatoes and cucumbers with a drizzle of lemon juice.
I also love cooking stuffed bell peppers. If I'm in a rush, I'll stuff a raw bell pepper with chopped vegetables and top it with a bit of guacamole or salsa.
And my favorite snack is my "Peanut Butter Poppers" recipe. My family always has a bag of them prepared in our refrigerator!
Lori: Thank you for taking the time to tell us about yourself, Whitney!
Readers, especially those who like quick and simple meals and/or are new to the vegan lifestyle, I highly recommend checking out Whitney's book! Her meals are simple to prepare and will leave you wanting to try another one of her delicious creations.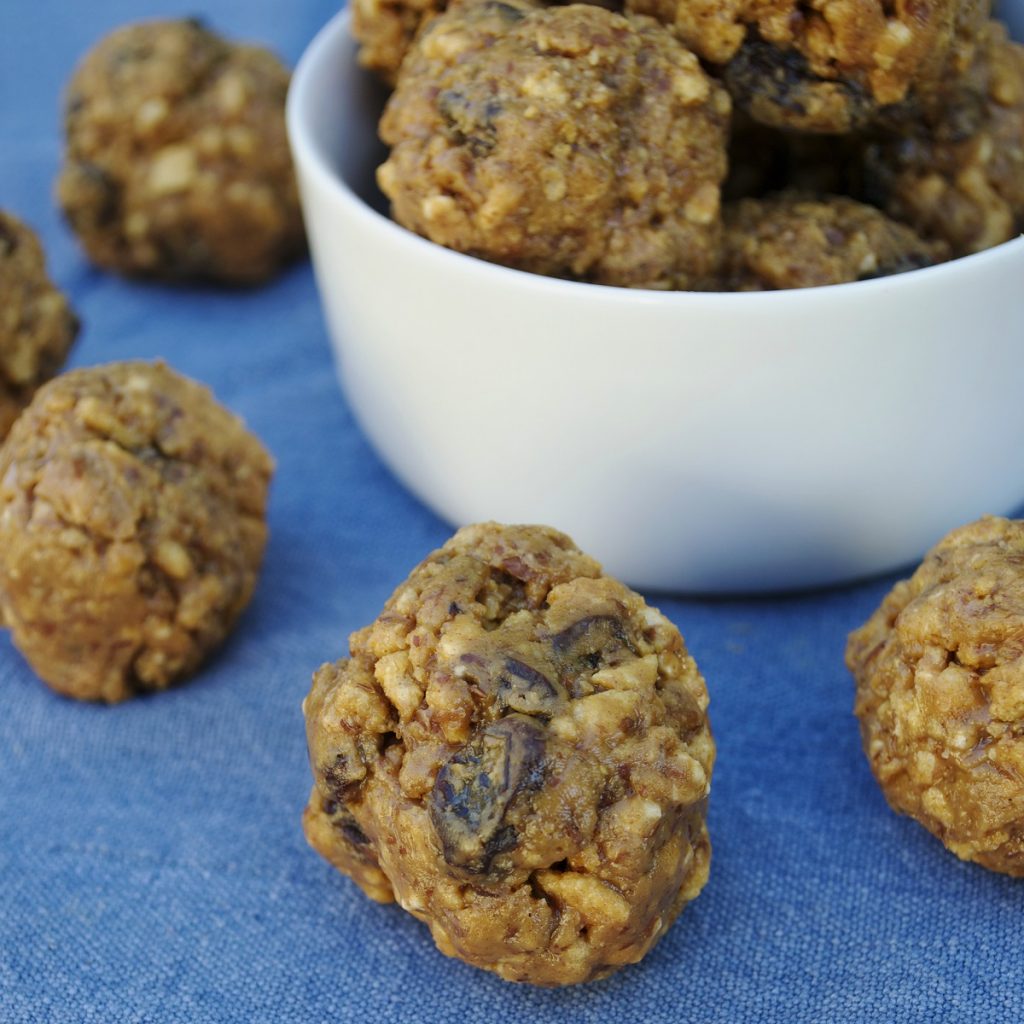 Peanut Butter Poppers
Yields about 15 poppers.
Ingredients
1 jar smooth peanut butter
3 cups crushed flake cereal
1 cup raisins
½ cup ground flax seed meal
½ cup agave
Directions
Mix all ingredients together in a large bowl.
Roll the mixture into ping-pong ball sized spheres and place them onto a cookie sheet.
Refrigerate for at least 30 minutes before serving.