Reviewed by Josie Steiger, Office Manager & Jackie Va, Interim Office Manager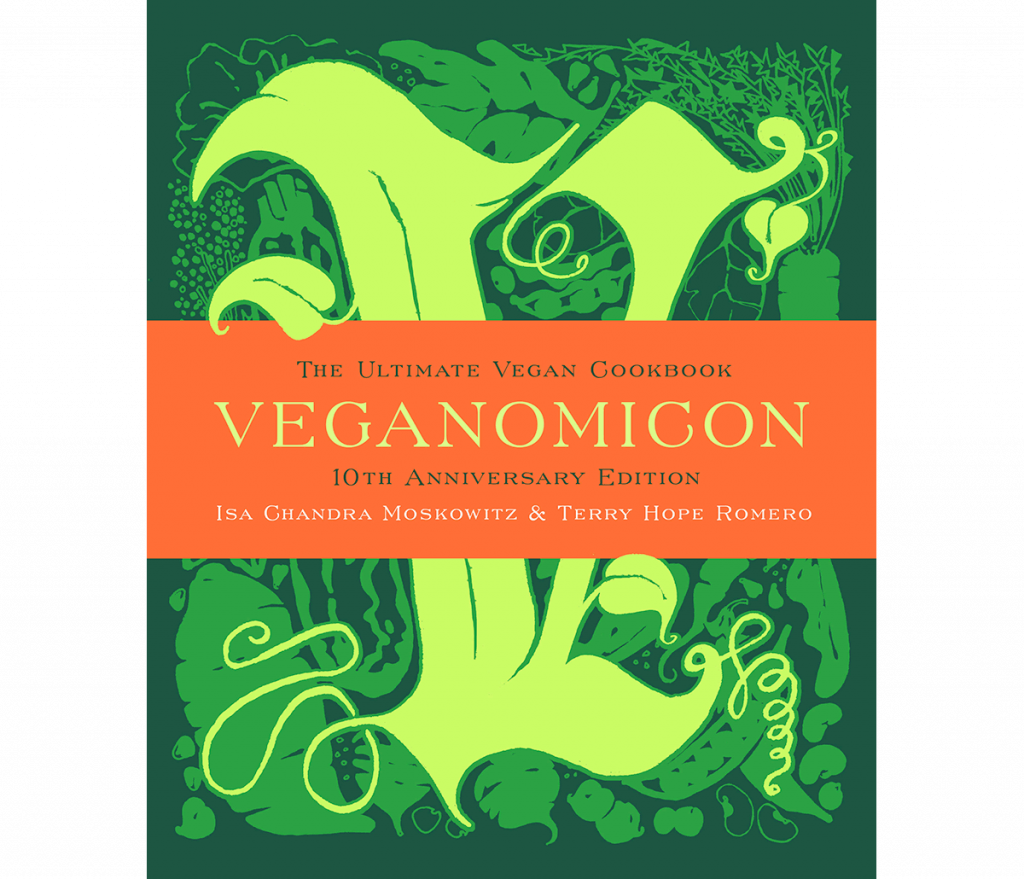 During one of the last days of training before I go on family leave, Interim Office Manager, Jackie Va, and I found ourselves in a rare position—we had some free time in our day! All of the booklet orders have been filled, emails answered, and merchandise mailed. So we decided to make the most of the unexpected reprieve by testing out a recipe from Veganomicon: The Ultimate Vegan Cookbook, the well-known vegan cookbook that turns 10 this year!
Creators Isa Chandra Moskowitz and Terry Hope Romero have continued on in their vegan food-making careers to create cookbook classics, such as Vegan With A Vengeance, Vegan Cupcakes Take Over the World, and Vegan Cookies Invade Your Cookie Jar, but it all started with Veganomicon. With over 250 recipes, there is a nice mix of beginner to advanced, as well as familiar favorites to the more exotic.
This cake is very moist, easy to make, and doesn't taste "lower fat." If you want to stay on the simpler side of things, you can top the cake with powdered sugar—as we did—or slice fresh strawberries. Heating up a few spoonfuls of nut butter and drizzling over the top would be a nice touch, or if you feel like making it a little more decadent, you can dribble some homemade or store-bought vegan frosting over it as well.
Lower-Fat Deep Chocolate Bundt Cake
Yields 12 servings.
Ingredients
1 ¾ cups fresh brewed coffee
⅔ cup unsweetened Dutch-processed cocoa powder
1 ½ cups granulated sugar
⅓ cup canola oil
⅓ cup applesauce
¼ cup cornstarch
2 teaspoons vanilla extract
1 teaspoon almond extract
2 cups whole-wheat pastry flour, or all-purpose white flour*
1 teaspoon baking soda
1 ½ teaspoons baking powder
½ teaspoon salt
2 teaspoons confectioners sugar
*Whole-wheat pastry flour leaves the fiber of the wheat intact without sacrificing any of the texture, but if you can't find whole-wheat pastry flour then regular all-purpose flour will do the trick. But don't substitute regular whole-wheat flour, it is different from pastry flour and will result in a rough and chewy texture.
Directions
Preheat the oven to 325°F. Lightly grease an 8 or 10 inch Bundt pan.
Bring the coffee to a simmer in a saucepan over medium heat. Once it is simmering, turn down the heat and whisk in the cocoa powder until it has dissolved. Remove from the heat and set aside to bring to room temperature.
In a mixing bowl, whisk together the granulated sugar, canola oil, applesauce, and cornstarch until the sugar and cornstarch are dissolved, about 2 minutes. Mix in the extracts. Once the chocolate has cooled a bit, mix that in as well.
Sift the flour, baking powder, baking soda, and salt. Beat until relatively smooth, about 1 minute with a hand mixer or 2 minutes with a whisk.
Pour the batter into the prepared Bundt pan and bake for about 45 minutes, until a toothpick or butter knife inserted in its center comes out clean. If your pan is on the smaller side, it could take up to 55 minutes.
Remove from the oven and let cool for about 20 minutes, then invert onto a serving plate to cool completely. Once cool, sift confectioners sugar over the top and enjoy.
Order Veganomicon 10th anniversary edition here!