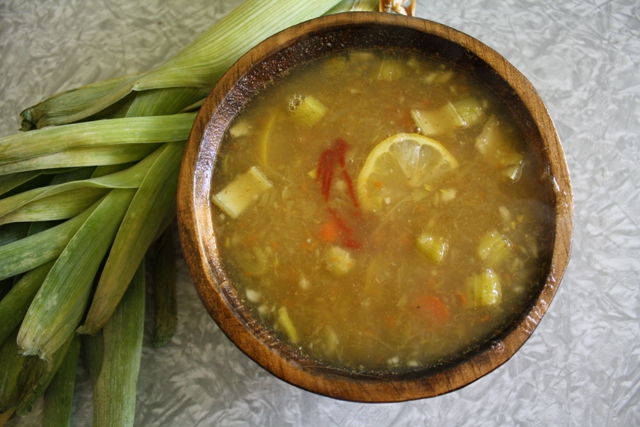 By Toni Okamoto
I love soup season! You can pretty much throw whatever veggies you have into this soup and puree them. This recipe makes a HUGE batch, so if you don't want a lot, feel free to cut it in half. I like to freeze the extra servings.
Ingredients:
2 tablespoons oil
yellow onion, diced
4 cloves garlic, minced
3 carrots, thinly sliced
3 celery stalks, sliced
1 large zucchini, chopped
3 leeks, chopped
6 medium potatoes, chopped
8 cups veggie broth
juice of one lemon
pepper, to taste
sriracha, to taste (optional)
Directions:
Put a large pot on medium-high heat and add the olive oil. Add the zucchini, carrots, celery, onions, garlic, and leeks and stir.
When veggies are sautéed, add broth, potatoes, lemon juice, siracha and pepper. Turn heat to medium-low and let sit until veggies are soft, about 30 minutes.
To thicken the soup, use an immersion blender to puree — I recommend doing 2/3 of the pot. You can also use a regular blender if that's what you have.
Serve hot and enjoy!