By Lori Stultz, VO Rocky Mountain Outreach Coordinator
Kim Sujovolsky with Brownble is back with us again! And this time she's demonstrating how to make these delicious looking Tempeh No-Chicken Salad Stuffed Pitas.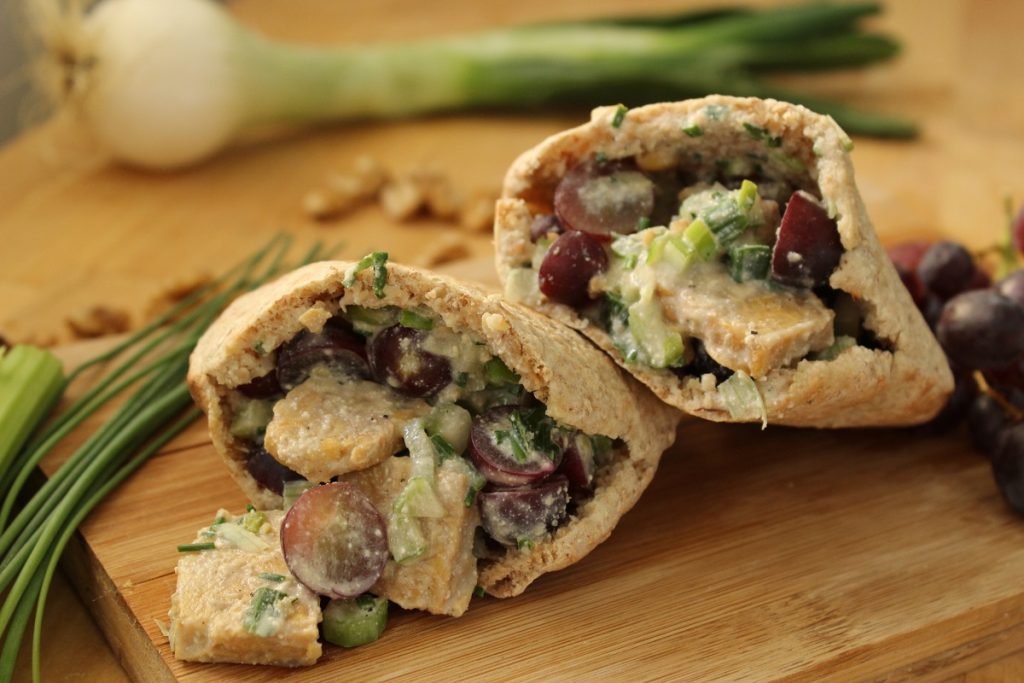 I love that Kim chose tempeh for this meal! I don't think I'm wrong in saying that tempeh is a somewhat lesser known and used plant-based protein. And for anyone who's unfamiliar with it, let alone unsure how to prepare it, this video does an excellent job of demonstrating how easy it is to use!
A huge shout-out to Kim for providing Vegan Outreach with this cooking demonstration and a tasty new meal idea!
Tempeh No-Chicken Salad Stuffed Pitas
Yields 6 small pita sandwiches.
Ingredients
1 package tempeh
2 celery ribs, finely chopped
1 large green onion, finely chopped
2 tablespoons walnuts, chopped
2 tablespoons fresh chives, chopped
¾ cup red seedless grapes, halved
6 small whole wheat pita pockets
Dressing
⅓ cup eggless mayonnaise
2 ½ tablespoons apple cider vinegar (or white wine vinegar)
4 tablespoons non-dairy milk (unsweetened)
1 ½ teaspoons onion powder
1 teaspoon sea salt
A few cracks of pepper
Directions
Cut the tempeh into slices, and then each slice into smaller squares.
Steam the pieces in a steamer basket over boiling water for 10 to 12 minutes. Remove the pieces and place them in a bowl.
To make the dressing whisk all the ingredients together in a smaller bowl.
Add the celery, green onion, walnuts, chives, and grapes to the bowl that has the tempeh, toss well and pour the dressing on top. Toss everything until well coated with the dressing.
If you have time to chill the no-chicken salad for a bit it really makes the flavors come together; otherwise continue to assemble your pitas.
Toast your pitas in the toaster and then cut a small piece at the top. This will make the pita pocket open and form a sort of envelope for your filling.
Stuff each pita with the no-chicken salad, serve, and enjoy!