Kim Sujovolsky, with Brownble, is here to help you get the upcoming picnic season off to a delicious start!
And seriously, who doesn't love potato salad? Thank you, Kim, for another easy and tasty recipe!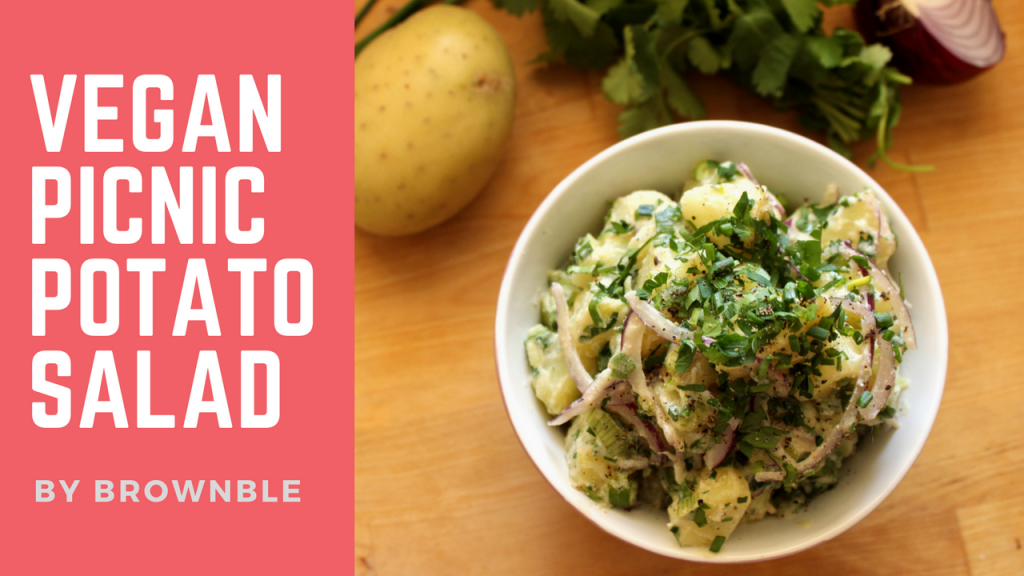 Vegan Picnic Potato Salad
Yields 2-3 servings.
Ingredients
3 large potatoes or 4 medium ones
2 tablespoons chopped fresh herbs, cilantro, parsley, etc.
3 green onions, finely chopped
½ red onion, thinly sliced
1 tablespoon minced chives
¼ cup + 2 tablespoons vegan mayonnaise
3 teaspoons olive oil
3 teaspoons red or white wine vinegar
Salt and pepper to taste
Directions
Cut the potatoes into even, bite-sized cubes (you may choose to peel them or not, I like to peel some and leave the others with the peel for presentation).
Bring a large pot of salted water to a boil and add your potatoes. Cook until they're tender, but they still hold their shape.
Drain and place the potatoes in a large bowl.
Add the rest of the salad ingredients and toss to combine. Taste and adjust the seasoning if needed.
Recipe Tips/Variations
Chill the salad in the refrigerator until it's time to serve—the colder the better, as this will boost the seasoning and flavor of the salad. Take it to your next picnic or potluck, or serve it next to some vegan sausages—some sauerkraut and mustard for the perfect German platter!