By Lori Stultz, Communications Manager
I'll be the first to admit that here at Vegan Outreach we love to brag about our Outreach Coordinators (OCs). Each semester, our OCs spend endless hours driving from state to state, college campus to college campus, to help raise awareness about the animal abuse in our agriculture system. They forego the comfort of their own homes, stay on other people's couches, and leaflet in unforgiving and unpredictable weather patterns—I'm looking at you Midwestern and East Coast leafleters!
Equally brag worthy are the individuals who work "behind the scenes" of Vegan Outreach. These hardworking folks make sure our goal of helping as many animals as possible is being met at its fullest potential. The inner-workings of an organization like Vegan Outreach can easily keep a whole team of people working full time—and then some—and many of our staffers actually don't get the opportunity to leaflet very frequently. That's why we love to boast about them when they make time to go out and do outreach.
We've had a handful of non-OC staff members out there tearing it up this semester, and here's what they had to say when I asked about their leafleting experiences—
Josie Moody • Office Manager • Sacramento State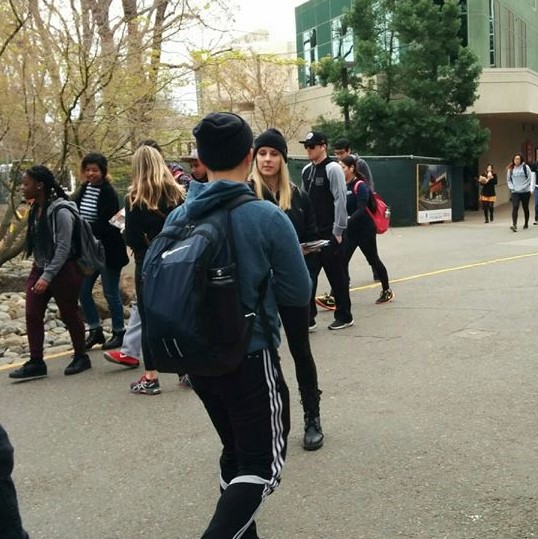 "I always get a little nervous before I go, but within minutes my apprehension disappears and I start to enjoy myself! I smile and say thank you to people who take a leaflet, and even to people who decline. As the saying goes, that one life matters to the life that is saved.
It's encouraging to think of all of the amazing activists I know who go out and do this day-in and day-out, planting the seeds of compassion."
Roxanne Hill • Community Engagement and Events Manager • Cal State Dominguez Hills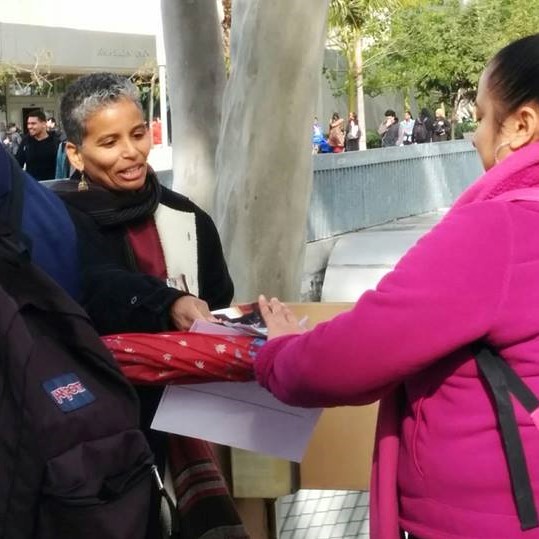 "I was excited and a bit nervous as I anticipated my leafleting debut. To my great surprise, I thoroughly enjoyed the experience. It was a lot of fun as I competed with myself, trying to hand out as many leaflets to as many students as possible. Even more surprising was how warm, friendly, and polite the vast majority of the students were—even when declining a leaflet!"
Breege Tomkinson • Director of Finance • Sacramento State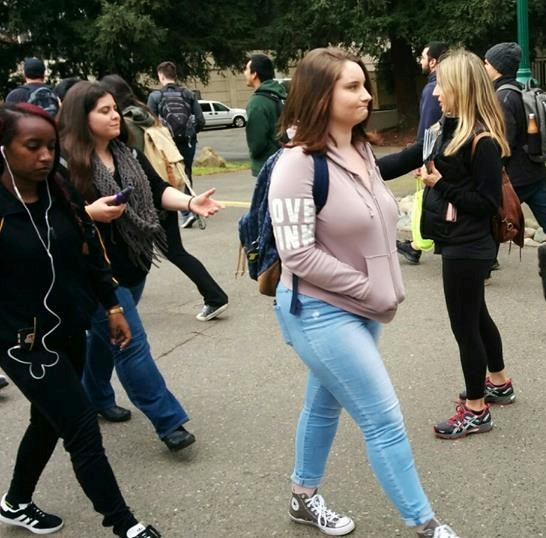 "I didn't leaflet long (less than two hours), but it was a really good experience. Most students seemed open to taking a leaflet and many said they were already vegan or vegetarian. One student came over and thanked us for what we were doing. At one point, I handed a leaflet to a student whose hands were full because she was carrying a plate of chicken, but she took it. I liked that we were planting a seed about an issue many of these students most likely wouldn't have thought about that day."
Lisa Rimmert • Director of Development • East High School, Denver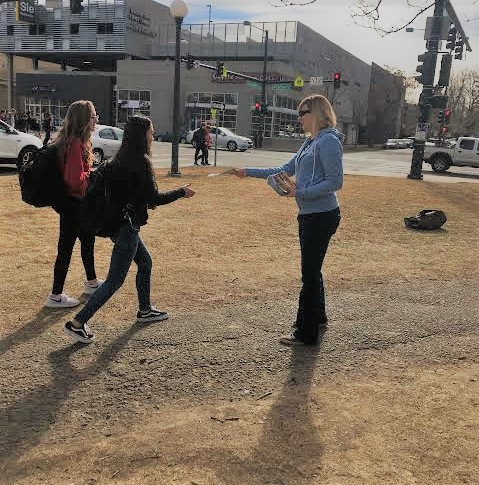 "The thought of leafleting outside of a high school was a little intimidating—even for an extrovert like me! We ended up passing out 225 leaflets and it felt good walking away knowing that I had planted some vegan seeds."
Taylor Radig • Campaigns Manager • East High School, Denver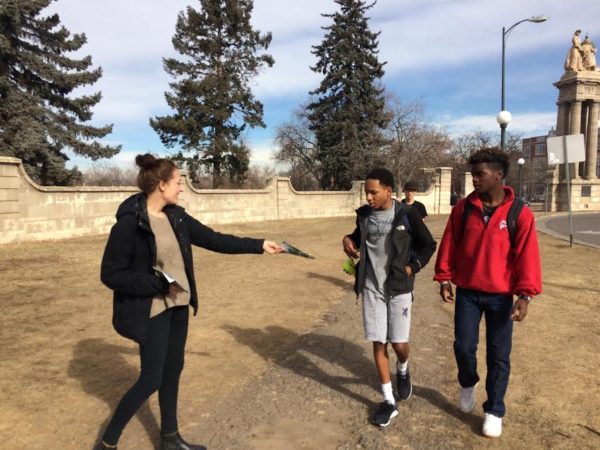 "On our lunch break, Lisa Rimmert and I went out to a local high school and handed out a couple hundred leaflets to passing students. It only took about 30 minutes out of our day to get lifesaving information into the hands of future change makers."
Jack Norris • Executive Director • Cal State Dominguez Hills, Pasadena City College, Sacramento State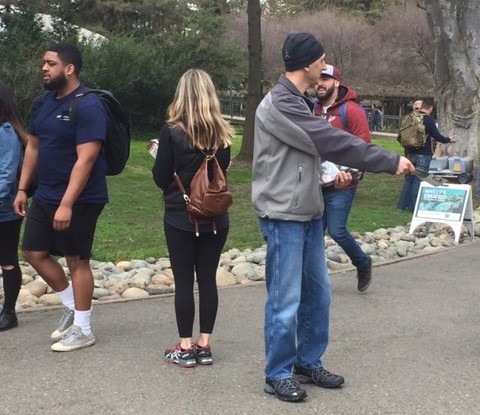 "It always feels great to get back out there. Leafleting for just 90 minutes a month can reach a lot of people—you never know when you'll change a life and maybe create the next great animal advocate!"
Steve Ann Chambers • President • Iowa State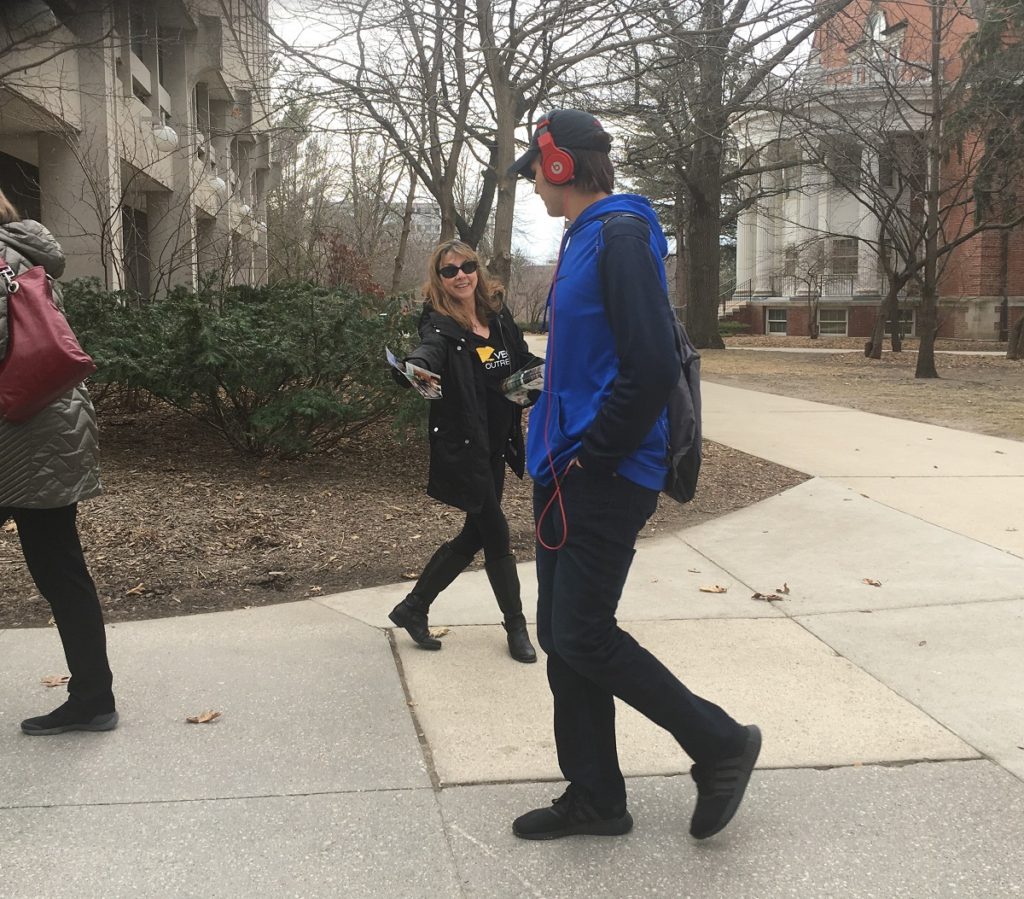 "It was chilly, but we—Patti Rogers-Engelby and Outreach Coordinator John Deetjen—managed to distribute 2,500 Vegan Outreach booklets. We had so many great interactions with students. While we were warming up inside the library (between classes), one young woman came over to me and asked, 'Are these your booklets? I'm vegetarian and I'm trying to go vegan, so this is great!' I hooked her up with Vegan Outreach's Vegan Mentor Program.
It's incredibly fulfilling to connect with so many interested young people!"
Vic Sjodin • Director of Outreach • Cal State Dominguez Hills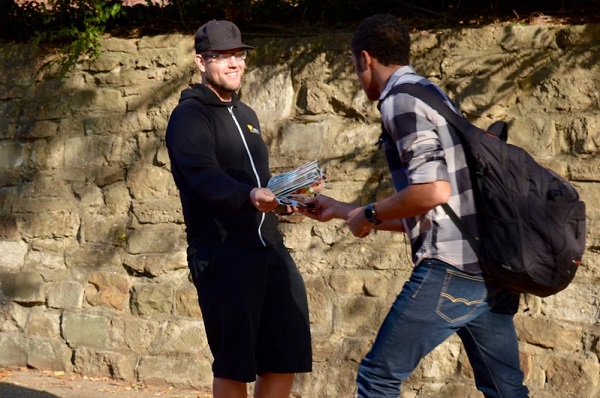 "It brought me great joy to step out from behind the desk to leaflet with Jack and Roxanne at Cal State Dominguez Hills this semester. Eight years of leafleting and nearly 650 different schools, I'd never actually leafleted with the man who started it all. Students were very kind and responded well to the new Compassionate Choices booklet covers, and it's always great to see so many students reading the booklets. It reinforced the simple, but profound beauty of leafleting to me—that with just a few short hours of your time, you can change several dozen lives forever."
Kevin Gallagher • Operations Manager • University of Washington
"Given that the Seattle area has been plagued by record winter rains that have greatly impeded leafleting, I'd none too jokingly exclaimed that my primary aim is to avoid having to leaflet in a downpour as it greatly hurts the leaflet take rate—everyone is in too much of a hurry getting from one place outdoors to another indoors to have much patience for taking a leaflet, especially leaflets that are beginning to become sodden. But however much time I have to leaflet—in good weather or not—it's heartening to have someone take a leaflet so that they can ponder making conscientious changes to their eating habits."
I think this speaks to the dedication of each and every Vegan Outreach staff member. Let's give a heartfelt thank you not only to our amazing Outreach Coordinators, but also to the wonderful Vegan Outreach employees who are not always publicly acknowledged for the hard work they're doing for the animals.