Vic Sjodin and Adrian Lopez joined me at the Universidad Autónoma de Baja California for the closure of the tour. Adrian did an amazing job [below, left] – he is a great animal rights activist, and he has leafleted before but it was his first time doing it for farmed animals. The three of us reached 2,800 people.
Alejandro [below, left] is a vegetarian; he thanked us for being there and asked for a bunch of booklets to share with his classmates. Alondra [below, center] decided to go veg after getting informed by the booklet she received. Janet [below, right] is a vegan who was very happy to see us there.
Many people were reading the booklet [one, above, right], and some showed interest in the topic. It's nice to see how Tijuana, and Mexico in general, is changing. With a steadily increasing number of vegan and vegetarian restaurants all over the country, you can tell the culture is changing, and it's nice to know we are taking part in that change.
—Emmanuel Marquez, 11/26/15
---
Great time leafleting the last Chicago Bears game of the season! David Carter (who's on the cover of the Compassionate Athlete booklets) was signed to the Bears earlier in 2015, so this was a really good opportunity to raise awareness of the fact that vegans can gain muscle too!
We had made some signs to hold while leafleting [below], which was a big hit – lots of people made encouraging remarks when they saw them. So all in all, signs plus the leaflets, thousands of people saw the compassionate message today! Big thanks to Lucy, Jamie, my mom, and John C. for coming out!
—John Deetjen, 1/3/16
---
Solid day at Arizona State: lots of readers, friendly students, many conversations, and several thanking us for our work. Highlights include meeting Beth [above, left] and Payton [above, right], who now want to go veg!
I also ran into a woman who I had spoken with while she and her boyfriend were on vacation at Venice Beach this summer [below, with Kimberly Moffatt leafleting]. She recognized me and was freaked out and couldn't believe it was me on her campus. Both she and her boyfriend are still veg!
—Vic Sjodin, 11/4/15
---
Stephen F. Austin State University was one of my favorite schools of the tour – students were awesome, great leafleting all day, security was happy to see me, and I met a student [Trevon, below] who went vegetarian after getting a booklet last year!
—Steven Litrov, 11/10/15
---
We had a great time at the Portland VegFest! My volunteer Dima Tsvetkov from Vancouver, BC, came all the way down to help out on Saturday. We met a lot of really great people (ate tons of great food) and met quite a few people looking to get involved in outreach! A few stories stick out:
The parents of the Gerrett family began their five-year stretch of veganism after receiving an Even If You Like Meat on their college campus in Iowa.
A high school student from Reno, NV, came out with her mom and said she was in a vegan club at her school! I gave her two packs of literature to get started.
A woman picked up a pack of booklets for her vegan T-shirt company (she likes to send a booklet with her orders).
And countless people just thanked us for the work we do. Go, VO!
—Jose Elias, 11/15/15
---
I talked to Monique again at Sonoma State. She went vegan after talking to me the past two semesters! She has been struggling with the non-vegan partner issue, but she seemed optimistic after I gave her a Guide to Cruelty-Free Eating!
—Steve Erlsten, 11/18/15
---
Excellent take-rate and many positive interactions at the División de Ciencias Económico-Administrativas de la Universidad de Guanajuato.
Around five people told me they loved the booklet. Glenda [below, right] is going veg after reading it, and Ana [below, left] will reduce her consumption of animal products.
A great day of outreach.
—Emmanuel Marquez, 10/27/15
---
I knew today was gonna be a good one when the second student I handed a booklet to, Elexis [below], happily said she was converted vegan from getting a Your Choice last semester – delivered by Mobile's own Tracey Glover!
Joan, Roy, and Holise – friends from Alabama AR group ARC (Awakening Respect and Compassion for All Sentient Beings) – met John and me on campus early, ready to make a difference for the animals at the University of South Alabama. This group [below] got literature into the hands of nearly 20% of the student body – amazing outreach for 6 hours! Their enthusiasm was contagious as they connected with students, encouraging so many responding positively, and stopping with them to talk. Not hardly surprised with this group, we broke the previous record before noon and ended up passing the mark by over 700 students before we'd finished. Wish I had a crew this good at every outreach on the schedule!
—Yuri Mitzkewich, 11/11/15
---
The bitter cold morning at Southern Connecticut State University did not stop this dominating team of leafleters! Aleta Markham [below, left], Wendy Horowitz [below, right], Ryan Golden, and I were met with appreciation and enthusiasm as we handed out booklets as quickly as possible during the busy class changes. I would like to share three of the several positive interactions we had, as they pretty much sum up the success of our day.
First, there was a professor who stopped and had a lengthy conversation with Wendy. He told her that he taught an ethics course, and reported seeing an overall increase in his students' interest in animal ethics.
Second, at one point we had retreated to the student center in between class changes, and we all noticed a group of big guys (we assumed football players) sitting at a table reading a Your Choice booklet and discussing the content [below]. When we started heading back outside, one guy who had been sitting at the table popped up and came running over to us. He asked if he could grab four or five more booklets to give to his friends.
Third, during the last class change we leafleted, Ryan and I handed booklets to a group of girls walking by. After they all received a booklet, one of the girls exclaimed, "Oh! Is this the book everyone has been talking about?!"
Needless to say, we all felt it was a very positive day at SCSU!
—Lori Stultz, 10/5/15
---
Today I leafleted West Bend East High School and officially broke the record for the most high schools leafleted in Vegan Outreach history!
—John Deetjen
(below, leafleting his 102nd high school campus!),
10/29/15
---
A very special day! Yvonne LeGrice reached her 100,000th animal-saving VO booklet handed out to students today at Cal State Los Angeles! That is a whole lot of lives changed. That is many early mornings and long days. Truly a tremendous accomplishment for a volunteer. Thank you, Yvonne.
I still had some vestigial UK slang embedded in me. I kept saying "Cheers" after someone took a booklet. It was refreshing to have a 99% take-rate after the more difficult UK leafleting. I saw an astounding amount of people reading. So many were discussing the literature – it was awesome!
Emmy Jones is a high school student who helped me leaflet for 15 minutes when it was slower and wants to leaflet again. I also spoke to several interested students, including Jose, who was vegetarian and wants to go back to being veggie and try veganism. I spoke to another interested athlete who had read the Compassionate Athlete.
Phenomenal day, over 4,000 fertile minds reached, and Yvonne reaching 100K was truly special. We then celebrated with a fast-casual feast at Veggie Grill. Thank you, Yvonne, for getting up early and joining us today, and congratulations on reaching your goal. Just absolutely amazing! What an uplifting day!
Lastly, huge thanks as always to my partner Kim for joining out of the goodness and sincerity of her heart, getting up early and grinding it out for the cause, not for attention or remuneration. I'm very thankful for her efforts and assistance today and every day.
—Vic Sjodin, 10/19/15
---
It was a really excellent day at both Anoka-Ramsey Community College and Bethel University today. The take rate was incredible, tons of students were really excited to get a booklet, I met a few vegans, and met one guy [Connor, below] at Anoka-Ramsey who had been considering going vegetarian, but was concerned about getting enough protein. I assured him there was nothing to worry about, gave him a Guide to Cruelty-Free Eating and my card, and let him know about our Vegan Mentor Program; and he left seeming really optimistic and at ease. I was also happy to set a new record at Bethel U!
—Steven Litrov, 9/14/15
---
I was very thankful for Julie being along this week, since my lingering cold finally caught up with me this morning. We turned out early anyway, and thankfully weren't waiting long before the cavalry started showing. Thanks to our awesome host, Tom Aiello (the widely known "vegan professor" here at Valdosta State University), who put the word out, for the first time we got some solid help here with VSU students joining in the action. And thanks to his pulling some strings, we got permission to leave the usual spot at the public sidewalk to move onto center campus. This simple change of location put our visit here into overdrive!
Christian and his friend Sarah were great, having looked over Vic Sjodin's How to Leaflet? video the night before. While Julie and I stayed at the campus center, the two of them visited the cafeteria building, working there through the lunch period. The best outcome we had from today was that while we were leafleting, Christian was also signing up any interested students for a soon-to-be-established VSU veg club. An awesome development, since none had existed here yet. New members Allie, Kellis, and Madison, who just signed up, even dropped their own plans today to join us, handing out booklets for a solid hour in the afternoon. Couldn't have hoped for a better day on campus here with these developments!
Another highlight here was meeting Samantha [above], who stopped after getting her Your Choice to tell me she was already vegetarian. I gave her a thumbs up and, like usual, asked what had gotten her started. She said it was the Your Choice she'd gotten the semester before, and looking me over said, "I think it was even from you"! Yay!! She told me the booklet made her see the suffering the animals are subjected to and that she would be better off not supporting it, deciding from then after to give up eating animals for good!
Hard feeling sick much when great stuff like this is going down!
—Yuri Mitzkewich, 9/16/15
---
Highlight of the day was getting a message from the person in charge of PETA's "I, Chicken" campaign (a virtual reality depiction of life as a chicken that's touring across Aussie universities) saying that they had lots of students at the Brisbane universities telling them they hadn't eaten any meat since they got a Vegan Outreach booklet the other week.
—Sam Tucker, 9/10/15
---
Today a group of us handed out booklets faster than ever before at Baruch College, so we will schedule a return visit again soon! Had a few good comments from people who stopped to talk. Grateful for the help of awesome volunteers: Stephanie Bustamante [above], Cassandra Callaghan [below], and Matt Ruscigno!
—Eileen Botti, 9/1/15
---
At the University of Maine at Farmington, I heard from a student, Olivia [below], who said she went vegetarian two years ago after receiving a booklet from me.
A young man was very happy to get the booklet and asked for 10 more to give out in his next class, which was some sort of environmental class. A philosophy professor (who described himself as 99% vegetarian) stopped to chat and thought the info was very interesting.
—Lana Smithson, 9/14/15
---
My day of leafleting at Eastern Connecticut State University was awesome. This was by far the most enthusiastic group of students I've interacted with. I had a lot of students stop and tell me that they were already vegetarian or vegan, and most of those same students expressed a desire to get involved in a student group that focused on raising awareness of farmed animals. Luckily, I had been in touch with a student who is already in the works of starting a group at Eastern, so I was able to exchange students' information.
My favorite part of the day was when I was able to have a conversation with and give a Guide to Cruelty-Free Eating to a student that made a harsh comment to me at the beginning of the day. He walked by four or five times after he initially made that rude comment, and I think he observed the enthusiasm other students were expressing when I handed them the Your Choice booklets. I could tell he was a little embarrassed, but he ended up approaching me again and proceeded to ask me how he could start reducing his meat intake. He hadn't heard of any of the faux meat products, or of any of the different types of milk alternatives. We ended up having a great discussion, and he walked away saying that he wanted to try some of the meat and dairy alternatives.
It was very motivating to see such a large number of students express interest in these issues.
—Lori Stultz
(below),
9/11/15
---
It felt so good to get back out in the field. And guess what? The record for any school in the state of Michigan is OURS!
The seven of us [Becki Markle, Karen Oberg, Natalie Sienicki, Mitch Rosen, Griselda Mucollari (above), Stephanie Lipari (below, left), and John Oberg] handed out over 4,000 booklets at Wayne State in downtown Detroit. It was the first day of classes, and this is one of my favorite schools in the country. Such a diverse and friendly crowd.
My mom [below] broke her personal record by 79 booklets! Natalie and Mitch's first time leafleting was at Warped Tour a month or two ago, and they're eager to join me on campuses this semester. Griselda is a person I met at VegFest, and she was a natural – even leafleting a dump-truck driver [above, right] who was driving through campus for some construction! Becki made the 90-minute drive like a boss. And Stephanie also made a lengthy drive and dealt with a parking nightmare to hold it down for a couple hours. Great day!
—John Oberg, 9/2/15
---
At Laney College, I met a professor who loves it when his students come to class with booklets. He says that between the booklets and the conversations they have in class, three to six of his students go vegan every semester!
—Steve Erlsten, 8/24/15
I'm attaching a picture of Hannah [above, center], whose response to the offer of an Even If You Like Meat was, "YES! I love you!!!" followed by a couple of hugs and much chatting about doing vegan outreach. She was raised vegetarian and went vegan just two weeks ago, so was very excited to see us [at Ventura College]. Even better, she wants to leaflet with us. Her high school is adjacent to campus, so we'll try to make that happen soon. Her enthusiasm made my day…seeing scores of students reading the leaflets also made my day. And kind Beate [Wolfe] and her dogs with their smiling faces made leafleting infinitely more enjoyable. Student receptivity was at an all-time high and I'm pretty sure I met more vegans on campus this semester than ever before.
—Barbara Bear
(above, right),
8/19/15
---
This morning I woke up to more records being broken than I can even remember, including someone handing out their half-millionth VO booklet, the second biggest day ever for U.S. leafleting at a single school (8,200), someone doubling their previous best college leafleting day, someone breaking a very-hard-to-break record on their first day of the fall semester (in NEBRASKA!), and someone else increasing our social media engagement and following like WHOA. The point? I work with heroes. You all amaze me.
—Lisa Rimmert, 8/25/15
Mark Devries (director of Speciesism: The Movie, above), Dane Charbeneau (below), Kim Moffatt, Lori Stultz, and Vic Sjodin handed out 8,200 VO booklets at Cal State Northridge!
---
We had a good first day in Mexico this semester. Katia Rodriguez [below, left] joined me the whole day from 8 am to 6 pm at the Universidad de Monterrey. With help from Ana Paula Guajardo, Ilse Aguñaga, and Cindy Saenz, we reached 2,300 students with Fresco booklets.
We met Manuel [above, right], who's been vegan for 4 years now and was very happy to see us there. Students were very receptive, and we saw many reading the information [a couple shown, below, right].
Almost at the end of the day, Karen [above, left] came to us on her way to buy a coffee; she said that she wasn't able to eat the chicken in her salad after reading the booklet, and she is now trying veg eating. On her way back to the classroom, she proudly showed us her coffee and told us it had soy milk.
—Emmanuel Marquez, 8/14/15
---
Dane Charbeneau, Josh Crosby, Elyssa Land, and I had a powerful night of leafleting with video playing at Santa Monica's Third Street Promenade. We had many conversations with interested folks and moved a lot of Guide to Cruelty-Free Eating booklets. The promenade was packed. One gentleman said his girlfriend was vegetarian and now understood and wanted to go veg. I spoke in a microphone and a crowd of 25 to 30 stopped to listen. Great night!
—Vic Sjodin, 8/8/15
---
I read a Why Vegan? pamphlet and could no longer ignore animals suffering for me. I will always be vegan. 16+ years, so far.
—Debbie L, 7/28/15
---
A leaflet I got [from VO at a Warped Tour concert in Kansas] was what made me further research veganism. Here I am 2 years into it… Never ever going back!
—Amanda D, 7/25/15
---
[Kristi Blazek, Tinya Duffey, Diane Freed, and I] handed out Compassionate Choices before [Bill Maher's] show started and people were very receptive to the leaflets. A lot of people actually thought we were with Bill Maher; my favorite comment of the night was, "Oh, this is so Bill!"
It was Kristi's very first time doing any kind of activism and she was awesome! And it was Diane's first time leafleting – she was a natural too! Before the doors opened for the show, I saw people sitting down reading the literature. All in all, a very successful night!
—Alison Mercer, 7/17/15
---
Jennifer Pietrzycki [below] and I both work downtown so we met afterwards to leaflet near the cow sculpture in front of the Chicago Cultural Center. A few people stopped with questions including one of the leaders of the Green Party of Quebec who was visiting Chicago. He said they had translated Earthlings into French with a well-known hockey player narrating! One young man initially said no to the leaflet, then said he came back after seeing the cow sculpture.
—Leslie Patterson, 7/6/15
John Jungenberg, Sandi Swiss, and I had an amazing time leafleting the Morrissey concert in Chicago – so many supportive folks and a lot who were interested in the information!
I met one girl who really wants to go vegan, another who was vegan and wants to get involved, and a lady who wants to donate!
John also talked to some interested people and was recognized from one of our bike / leafleting trips.
—Rachel Shippee, 7/9/15
---
This is Daniel [below, left] from Oklahoma City, OK, who we met at yesterday's Warped date. He's been veg for over two months from reading a booklet and loving it!
—Jose Elias, 6/26/15
---
Joselyn Aguilar, Gabriela Sánchez, Oscar Ureña, Carlos Contreras, and I handed out 10,800 VO booklets at the Universidad Nacional Autónoma de México, Ciudad Universitaria today!
Many people were interested in changing their habits after reading the booklet, like Verónica, who said she will go vegan. Nayeli [below, left] told us she is eating veg from now on. We talked a lot with Nelly [below, right], who used to eat fish and eggs, but after the talk and the booklet she won't anymore; she also told us that our work was very good.
Arturo and Romina [below, left] are teachers of martial arts in a high school at the UNAM. They used to eat vegetarian but stopped awhile ago, though after reading the booklet they decided to do it again and promote it with their students. They asked for a bunch of booklets and our contact information to organize a talk for their students next semester.
Ramón and his girlfriend are vegans; he was very excited to see us and offered to make a donation right there. I told him to give to VO through our web page instead. Gustavo is giving a try to veg eating thanks to the literature; he told us that his classmates had a booklet that they passed around to each other. A single booklet reached out to a whole class!
In the afternoon, we met Leonel and Zulema who will try veg too. A group of girls and a guy were passing by us and we heard one of them say, "Thanks to that leaflet I'm seriously considering being vegetarian" and another girl celebrated that by raising her arms. After a while, the guy came back and asked for a bunch of booklets to share with friends. His name is Javier [above, right]; he told us that most of his friends are vegetarians and they were very happy because their friend was being serious.
We saw a lot of people shocked by the content of the booklet, even a couple of them crying, and countless were reading. Maybe I wrote too much, but I just couldn't save this to myself!
—Emmanuel Marquez, 5/21/15
---
This is Dennis [from Philadelphia, right] – he received a VO booklet and went vegetarian, and is now vegan! He's looking forward to volunteering soon.
---
It was great to leaflet with Jane Jancys and Nicolas Tomas [below, center] – together we handed out 1,600 booklets at Cal Poly Pomona.
Highlights were speaking with Samira [above, left], who wants to go vegan after getting a booklet. And meeting Lilly [below, left], who went vegan from a booklet. We also met Elliot who had gone vegan from a booklet in the past. Bingo!
---
At right is one of the Shippensburg University students Kassy Ortega reached this semester who is interested in going veg!
---
Jenny Richards' church had a series of three speakers talk about something health and holistic related, so I gave a talk to about 40 women. It was very well received; we couldn't stop the conversation.
Fast forward a few weeks later, and I spoke to a woman who is now going vegetarian (one day wants to be vegan!). I sent her an email that included our Vegan Mentor Program.
---
I ran into a student [right, at Evergreen State] who was handed a Why Vegan? pamphlet in 2004. He has been vegan ever since! He said reading it changed his life and he expressed his appreciation for our work.
—Shura Hammond, 4/15/15
---
Today was a great day at the University of Wisconsin in Milwaukee. John Jungenberg and I handed out 1,644 VO booklets and had so many good interactions, including overhearing one girl tell her friend these "changed her life." We got a lot of new volunteers, too!
---
Awesome day of activism! Rachel Shippee and I handed out 1,612 Vegan Outreach leaflets to students at two high schools and one college [on 5/7/15]! We talked with a bunch of people who are now going veg!
Tonight I handed out my 100,000th VO leaflet at the Rock on the Range festival in Columbus! Over the time that I have handed those out, I have talked to hundreds of people interested in going veg from getting a leaflet – I feel very accomplished knowing that my actions have spared the lives of thousands of farmed animals. You can get that feeling too – get involved with Vegan Outreach so you too can help stop farmed animal suffering!
---
Amazing record-breaking day on our first stop in NY! John Sakars and I were once again joined by Ellie Donohue-Miller, an amazing activist we had on our previous record-breaking days at Guelph, Niagara, and Brock; and a new leafleter named Amy Garside, who works at SUNY Cortland! Amy very much enjoyed her first time leafleting and has plans to continue doing outreach herself!


I was received very well by teachers and students at Tompkins Cortland CC and was quickly informed there was going to be a Cowspiracy screening next week. The take rate was amazing and having the opportunity to inform students about the screening and the school's upcoming Earth Week (partly organized by our amazing, angelic host and professor at Tompkins, Amber Gilewski!) was really great. I had a few nice, long positive interactions with students who had concerns about what to eat and how animals are treated and their impact on the environment, and they were really thankful and attentive.
At SUNY Cortland, John also encountered Audray [shown], who had gone vegetarian after receiving a VO booklet last year and is now vegan! Hooray!
---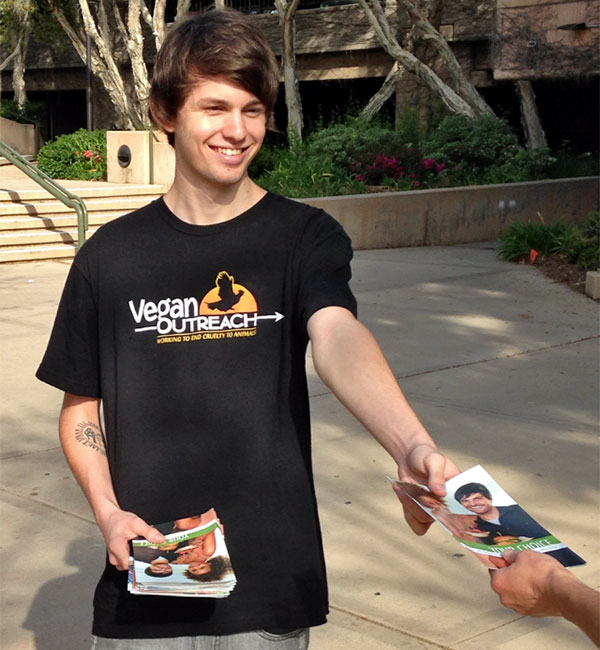 David Zeller and I had a really good day here at the Australian National University – high take rate and receptive students. We more than doubled the previous one-day campus record of 650 booklets.
I had a conversation with a lady who said she ate meat but always felt bad about it and wanted to go vegan but didn't know where to start, so I gave her a Guide to Cruelty-Free Eating and she said she was going to give it a go.
David had plenty more conversations with people who were interested in changing their diet, including a pescetarian who now wants to go vegan.
---
We visited a small but very interesting private school, the Alva Edison University, which promotes vegetarianism and veganism in the halls of the buildings! We were shocked to see posters of famous vegetarians and vegans such as Aristotle, Einstein, Da Vinci, Paul McCartney, Gandhi and many others [below].
The cafeteria is vegetarian and almost completely vegan. These conditions are due to the principal: he is vegetarian and a very nice man that we had the chance to meet. We had the support of a very energetic local group called MEDA; they are helping a lot, guiding us about the universities and introduced us to the principal [below].
Despite the fact that the school promotes these values, not many students eat veg and the principal was so happy to have us there that he granted us the authorization to visit all of the classrooms and give a brief speech. So every leaflet that we handed out today was followed by an explanation of its content, the impact of factory farming and veg eating, with personal examples and local information. A lot of students reacted in a very positive way; an amazing experience.
---
Right: Quinton, a student who is on the football team at Benedict College, received our booklets and is now interested in going veg!
---
Another amazing day leafleting Gainesville with Lynda Cozart! Day two and for a second time a leafleting record goes down. This outreach was orchestrated nearly perfectly, with me and her splitting up and each taking excellent posts on near-opposite ends of the Santa Fe College campus. Doing this we did 400+ on the first two class changes and at least 300 together for the rest. Great results for just the two of us!
Lyn had a faculty member come up to her at one point, thanking us for raising awareness and saying vegetarians were becoming lots more common on campus. I found four vegans and even more vegetarians on my side – more than we met last semester, it felt like. With the meat eaters we talked to, every one of them responded very positively to hearing that changing their diet to help animals wasn't an all-or-nothing proposition. At least three of them promised to do what the Even If You Like Meat asked and cut their meat consumption in half. One omnivore towards the end though did let me know she was so disturbed by the booklet, she was finished then and there eating meat; and even better, said she'd be interested in volunteering next visit! Excellent news there – she was the second of two signed up today to get active in the future for animals.
Super developments again coming out on another big day for us in central Florida!
—Yuri Mitzkewich, 3/10/15
---
Right: Damaris, a Rio Hondo College student who went pescatarian as a result of receiving a VO booklet in the past, now wants to go vegan and help her best friend make the switch!
---
Written to VO's Senior Outreach & Strategy Coordinator, Vic Sjodin:

Once again, I would like to express my gratitude. I was deeply touched by your presentation and Q&A [at Cypress College]. I am excited to start my new diet and journey in life. I am done crying and will focus that energy to spread veganism. I want to be an example to my family and friends. I am excited to continue learning about veganism and to spread that knowledge.…
I read the three leaflets you provided from cover to cover. Shed a few tears for the pictures of Kevin and Emily. I am excited to go to Trader Joe's, Sprouts, Fresh n Easy, and Whole Foods. The Guide to Cruelty-Free Eating is a tremendous help!
—TK, 4/17/15
---
Right: After reading the Your Choice she received at UCLA this semester, Leslie now wants to go vegan!
---
I leafleted for an hour today [at MiraCosta College]. The first person I gave a leaflet to had walked up to me with a plate of pepperoni pizza in his hand and, after receiving an Even If You Like Meat leaflet, said this pizza was the last meat he would ever eat. Another person said she is already a vegetarian but that she wants to reduce how much dairy she eats.… In one exchange, I handed a leaflet to a lady who then requested another to give to her coworker. A student later came up to me and told me that he supports the values of a vegan diet, that he is running for student government and that, if elected, he wants to work with me to propagate vegan philosophy on campus, after which statement he took five leaflets to distribute on his own. And on two separate occasions, students sought guidance as to how to volunteer with Vegan Outreach. I told them that they, too, could leaflet and referred them to our website to learn how to Adopt a College.
—Jason Pache, 4/2/15
---
Right: After hearing Vic speak at Chaffey College, Casey said, "I'm going full vegan!"
---
I ran into Max at the University of Nevada. He credits his veganism to conversations he had with the great Victor Sjodin six years ago at Penn State!
Special thanks to my gracious hosts, who have kept me well-fed and sheltered from the cold drizzle I always seem to bring to Reno with me!
—Steve Erlsten, 3/24/15
---
We had two volunteers today at the Instituto Tecnológico de Aguascalientes: Alondra Sarmiento [right] and Israel Rodriguez.
Alondra had never met another vegan or vegetarian in person before; she also had never done activism at all. She told us she was very happy to meet us and that she felt very good helping animals by leafleting for the first time. She's very shy and at the beginning she was having trouble doing it; but after some tips and jokes, she made it happen. She left with a smile knowing the positive impact she had on farmed animals, and decided to move from vegetarian to vegan.
Israel is not even vegetarian, but he has done activism for other causes before, such as screenings and a little bit of leafleting. He's an energetic young man, he helped a lot and we talked about factory farming while doing it; he is trying veg now.
Besides the positive experiences with the volunteers, we had a lot of good ones with people receiving the leaflets. Three or four people asked for another leaflet to share. Two girls that help dogs and cats engaged in conversations about factory farming that turned out with them trying veg. And finally, a girl stood 20 meters away from us and read the leaflet from cover to cover [shown]. It was an energy-recharging day.
—Emmanuel Marquez, 3/19/15
---
Today was the Ryerson Winter VegFest. I met someone who I remembered talking to during a previous leafleting session at Ryerson University. I was able to find my report from 4/26/13 – this is what I wrote back then:
I had several nice conversations today. One was with a young man who asked me if I was vegan and for how long. When I asked him the same back, he said he had been vegan for a month. I asked him what had prompted the change, and he said getting a Compassionate Choices and watching online videos. He is interested in learning how to eat better so was pleased to get a Guide, and I also gave him a Vegan button and took a photo. He also asked about volunteering, and I told him about Vegan Outreach as well as the Toronto Vegetarian Association.
He is still vegan! The photo [right] is the one from 2013.
I also met a man who initially refused a leaflet, saying that was no good, he needed to put on weight. I said I have the perfect one for you and whipped out The Compassionate Athlete. As he started flipping through it, he asked what it was about, and I said it was plant-based eating for athletes. He said he couldn't go vegan or he would die! I told him I have been vegan for 25 years and I'm not dead yet; he and his friends all laughed with me, and he took the leaflet – win!
I also chatted with the Toronto Vegetarian Association volunteer at the VegFest. She wants to help leaflet and is a Ryerson student, so I took her information. I got to the table later in the day and by then they were all out of leaflets. She said the most popular was The Compassionate Athlete.
—Alex Greenwood, 3/12/15
---
Such a good day! Phoenix College is the most interested and receptive campus I've ever leafleted. Dawn Ratcliffe and I must've had at least 20 productive conversations with students, as well as had a handful of students want to go veg on the spot.
Crystal [right, reading Your Choice] had no idea about factory farming and now wants to go veg. She text-message ordered a Guide to Cruelty-Free Eating and started telling her friends about what she learned!
We got some e-mail addresses and even some staff were interested in learning more. Energizing day.
—Rachel Black, 2/18/15
---
My sister-in-law gave me an extra pair of ski pants, and today they totally saved me in the ~15°F weather! I was super warm but many students were clearly caught off guard by the -15°F windchill, so the take rate was a little lower than usual here at Queens College.
One student stopped after having received a leaflet earlier, and asked, "Is all of that true? Does that stuff really happen?" She was looking for reasons not to believe what was clearly shocking to her, and even pointed out that she didn't see blood on the male chicks on the conveyor belt. I explained that they hadn't gone through the machine yet. She asked a number of questions about the male chicks, about why they would do this, what their bodies are used for afterward, etc. After a long conversation (10 minutes is long in this weather) during a non-rush period, she left saying that she couldn't go completely vegetarian yet, but would at least eat veg every other day.
She also said that she thought the use of attractive people in the leaflet was great marketing, and caught her attention enough to keep reading! She said she liked that the use of people making healthy choices throughout the leaflet seemed to have a more positive spin than how her veg roommate talks about the same issues.
—Eileen Botti, 2/24/15
The Compassionate Athlete booklet has been a total success for my four presentations, especially for the "Healthful Eating" one. I have never had so many students pick up booklets and read them from beginning to end during my Q&A session at the the end of the presentation.
—Lorena Mucke, 3/4/15
---
Great to have John Sakars return to me from Vegas. He recruited one of his internet contacts, Chris Siegel [right], to join today. Chris was lovely and really took to leafleting. Together, we reached more than 2,000 students at Long Beach City College.
I met Denzel [right] – we spoke for a long time; he's all about going vegan after reading the booklet. I also spoke to Gianpiero for over 20 minutes – he said it was a profound experience, talking with me and reading the booklet; he is well on his way and was telling me what he was going to say to his wife, and that he may join the VO mentor program. I had more than a half dozen other conversations – it's so good to be able to speak to people in person – it's one of the things I love most about Vegan Outreach on the pavement.
Another epic thing about this school is the long wait at the crosswalk where there are six lanes of traffic and a little island. I think the light changes every three minutes, so of course many read the booklets while waiting – many times I saw 10, 15, 18 reading. Bonus.
Really fantastic day that made me feel happy to be alive and thankful to be doing outreach. John is a real soldier and loves to leaflet.
—Vic Sjodin, 2/25/15
---
We tabled and leafleted indoors at Southwestern Illinois College today. One student decided to go vegan after visiting at our table. Another student told me that she went vegetarian after interacting with me last semester. I Guided both of them. A couple other students said they had reduced their meat consumption since getting literature from me in the past.
Alex [Astarita, below] had gotten a booklet from me at Saint Louis University in the past and went veg. Today was her outreach debut, and she did great! Big thanks to Alex for taking a three-hour-round-trip, four-train ride to join me for a great day of outreach!
—Rick Hershey, 1/21/15
---
Today's feedback from students at Berkeley City College was invigorating! First I heard from a student who went vegan after receiving a Your Choice booklet last year. Then a student named Mahsa [right] said she went vegan after receiving an Even If You Like Meat booklet last semester. Then another student said he went vegan a year ago because of a Your Choice booklet. And toward the end of the day, a fourth student said she went vegan after getting a booklet from me!
—Steve Erlsten, 2/4/15
---
Truly amazing day at the University of New Orleans! I was joined by friend and vegucator extraordinaire Mark Meunier – it was his second time out here at his alma mater, and together we reached more than 1,500 students! We topped the school record by over 400; and even better, students were coming up left and right telling us how moved they were by the literature. We had about 12 to 15 solid discussions in total, an amazing 5 of these with students promising to start eating veg from now forward!
An extra bonus was meeting Alexis again [below], who last semester said she was giving veganism a go after getting a leaflet that day. She stopped today to let us know she was still going strong and had no plans on going back! Another VO success story!
Devonte [below, left] stopped as he got his leaflet, saying he'd been thinking of trying to stop eating animals. He got the lowdown on where to easily find substitutes locally and said he'd be looking for foods to try beginning today.
Matthew [below, center] got a leaflet and within 5 minutes came back to us saying how disturbed he felt learning the horrors of the intense confinement shown in the Your Choice. He got extra info and after talking with us said he was going veg!
The amazing string of conversations continued with a student named Sean, who said he'd be trying the alternatives on sale at the Winn-Dixie where he worked. Then another named Jenna, who Mark talked up, was likely going to be looking for substitutes and eliminating her animal consumption.
Another great conversation Mark had was with Emily [above, right], a vegetarian who got an Even If You Like Meat and said she was going the whole way from getting the info today.
Amazingly, all this happened before 11 am today! A super start to what was overall a truly unbelievable day.
—Yuri Mitzkewich, 1/20/15
---
Today was my first time leafleting officially as a VO Outreach Coordinator – it was very exciting; I got to UANL very early in the morning and left at night. There were a lot of volunteers and support; and there were thousands of people because it was the first day of school for many and the last day for registering.
People were super receptive for printed material, as usual in Mexico. First a father and son came to me to congratulate us for the work we do and asked for more info of the organization and veg eating; the son is very into it. Then Ana [right], a vegetarian interested in going vegan, offered to help. Later on, Katia Rodriguez met Israel, a 22-year-old guy who after receiving the leaflet decided to go vegetarian and help out in that very moment. A couple asked for substitute foods, two guys asked us to go out to eat so they can know veg restaurants, and a bunch of people asked what they could do for animals to help more. An amazing day.
—Emmanuel Marquez, 1/19/15