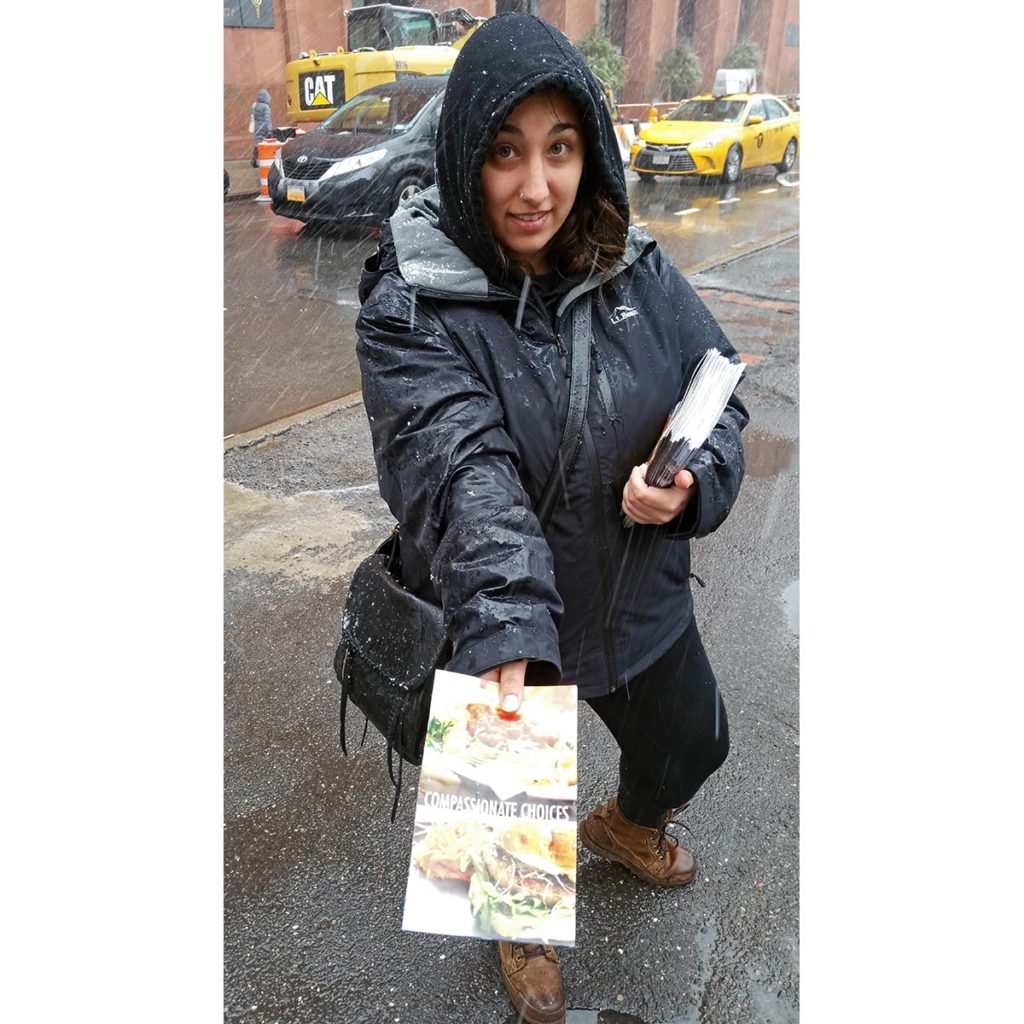 Continuing our series of activist profiles, today we talk to Vegan Outreach Intern Alexis Clark. A New Jersey native, Alexis was asked to leaflet colleges in her home state, as well as in New York City and Long Island, NY. To date, she's distributed over 12,000 booklets!
Where are you from and where do you live now?
I'm originally from Wall, NJ. And after leaving for a few years to attend various colleges, I'm back for the time being.
What got you interested in animal rights and veganism?
I started removing animal products during my first year of college when I realized how the food we eat affects not just our physical health, but our mental health as well. Although my original motivation was health, once I made the full transition I was ready to open my mind up to the ethical reasons of why veganism is necessary if we truly love animals and want a more peaceful world.
How did you get involved with Vegan Outreach and leafleting?
I actually found out about Vegan Outreach when I received a leaflet during my first year at Rutgers University! Once I became vegan, I immediately wanted to join the fight to end animal suffering. I contacted Vegan Outreach to ask about internships, and I was put in contact with Outreach Coordinator Kimberly Moffatt, and I joined her at several New Jersey schools for two weeks as a volunteer. Now I'm on my own tour!
Do you have a favorite leafleting moment to share?
By far the best moment I've had leafleting was when I gave a leaflet to a mother and her young son. They read the information and told me they were both going to stop eating meat. It was just so encouraging as an animal rights activist to see a mother give her child such important information at such a young age, knowing that he could make the connection.
What do you do for fun when you're not leafleting?
I love to travel! I'm currently planning a six-month cross-country trip for next year—I plan to visit a bunch of animal sanctuaries. I've been spending my spare time researching how to convert a cargo van into a livable space. I also paint!
Do you have anything else you'd like to add about leafleting?
It's such a rewarding experience knowing that you're getting information out to people who might have no idea what's going on inside the factory farming industry.
Can you tell us one of your favorite vegan products to share with our readers?
Look out for NUMU Vegan Cheese! It isn't currently available in stores, but you can have it on pizza at a number of restaurants in NYC—check out NUMU's Instagram for a list. If substituting cheese is something you're worried about, I'm telling you, you'll never miss real cheese again.