By Lisa Rimmert, Director of Development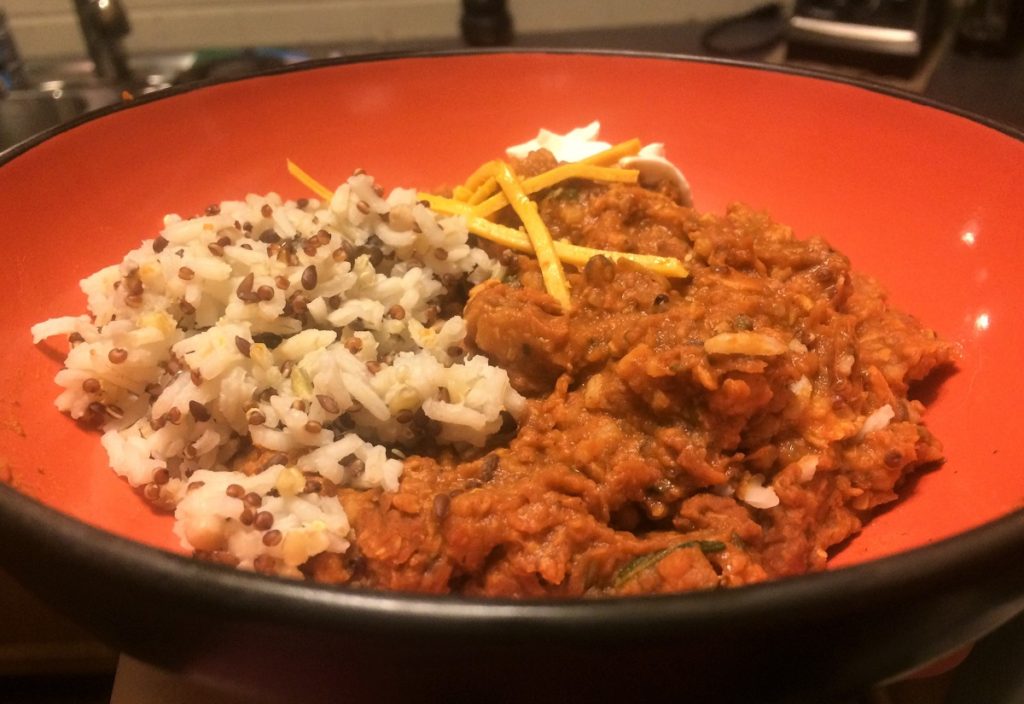 "Can you cook?" It's a question I never really know how to answer. If qualifying as a good cook simply requires possessing the ability to read and follow instructions, then yes, I can cook. Though some of my high school teachers would scoff reading that! If, on the other hand, it requires being able to create original recipes that taste good, then no, I can't cook.
Usually, when I cook a meal without a recipe, I end up wishing I had at least glanced at other similar recipes to get an idea of what to do. This chili is a rare exception to that. And despite the fact that I, ahem, meant to make soup, this chili is now my pride and joy! I hope you like it as much as I do!
Southwestern Bean and Rice Chili
Yields 2-3 servings.
Ingredients
1 cup brown rice
2 tablespoons of oil
Handful of Beyond Meat chicken strips
1 can pinto beans
1 beefsteak tomato
1 small can tomato paste
2 teaspoons chilis in adobo sauce
1 cup vegetable broth
Handful of spinach
Salt and pepper (if needed)
Vegan sour cream, cheese shreds, and tortilla chips (optional)
Directions
Cook the rice according to directions on package.
Meanwhile, heat 1 tablespoon oil on non-stick skillet and add Beyond Meat strips over medium heat. Cook, flipping as needed until lightly browned and heated through.
Remove Beyond Meat strips from heat and set aside.
Drain the beans and wash and chop the tomato.
Add beans and tomato to skillet and cook until softened.
Add tomato paste and chilis in adobo sauce. Mix well.
Add broth and spinach and continue cooking for 1 to 2 minutes, until spinach is a bit wilted. Remove from heat.
Carefully add rice and bean mixture to food processor and mix well. Add more broth if needed to thin out the chili. Taste and add salt and pepper if needed—make sure you taste first because the adobo sauce and the broth already have salt.
Garnish with vegan sour cream, cheese shreds, and tortilla chips if you like, and enjoy!