By Lori Stultz, Communications Manager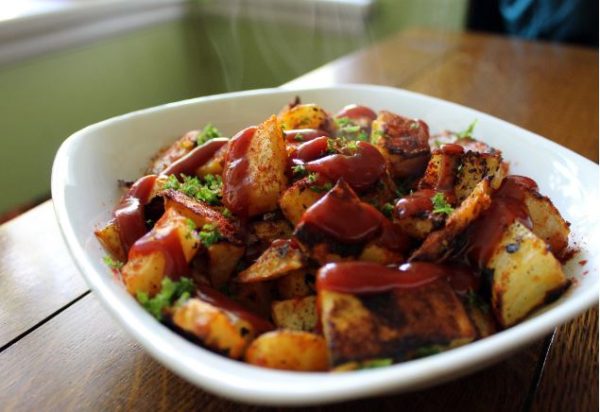 I think we can all agree that there's something extra special—and tasty—about homemade French fries. Renee Press with Fire and Earth Kitchen puts a spin on these spuds that ketchup lovers are going to drool over!
Ketchup Baked Home Fries
Yields 2-4 servings.
Ingredients
1-2 tablespoons neutral oil (avocado, grape seed, or canola)
5-6 medium Yukon gold potatoes, cubed (no need to peel)
2 cloves garlic, finely chopped (optional)
¼ cup potato starch (or corn starch)
⅛ cup ketchup
1 teaspoon paprika
1 teaspoon salt
1 teaspoon black pepper
1-2 tablespoons freshly chopped parsley (optional)
Directions
Preheat oven to 425°F, lightly oil baking sheet, and set aside.
Cut potatoes into roughly 1″ cubes and place on baking sheet. Cover with remaining ingredients

—including ketchup, but not parsley—

and use your hands to toss to coat.
Spread into an even layer on baking sheet and bake for 15 minutes. Remove from oven, flip potatoes and bake for another 5-10 minutes.
Serve sprinkled with fresh parsley, if desired, and more ketchup drizzled on top. Enjoy!
You can get Renee's original recipe here.