By Lisa Rimmert, Director of Development, and Taylor Radig, Campaigns Manager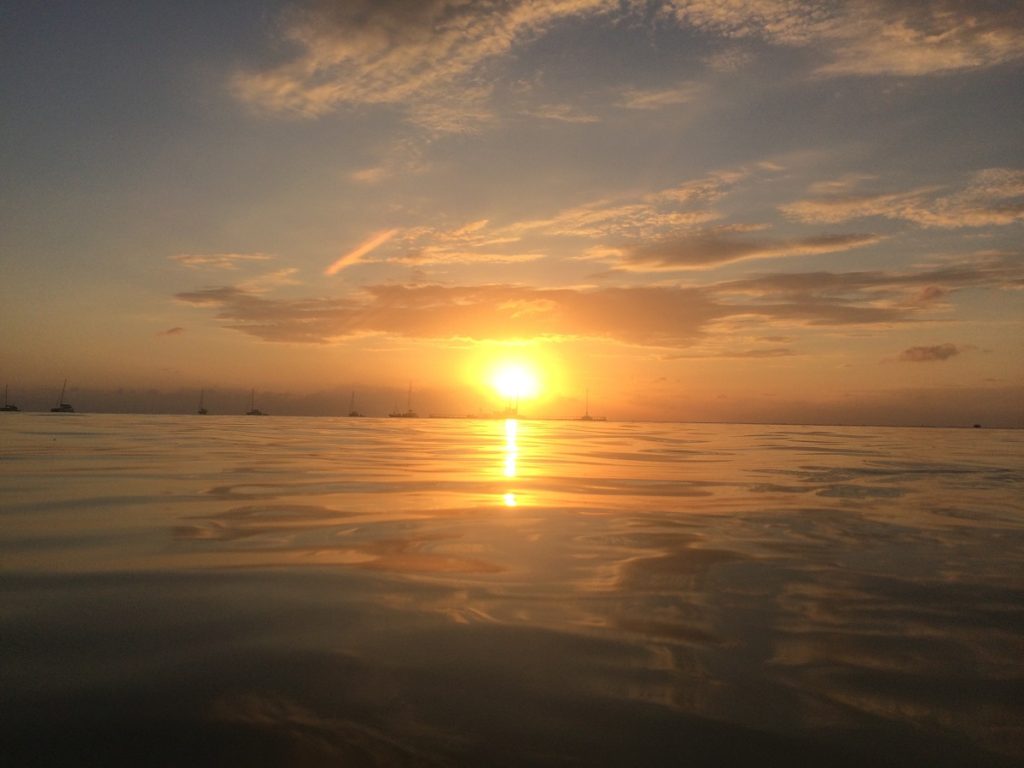 Recently, we visited the Central American country of Belize. We didn't go together, although that would have been a blast—rather, we traveled with our respective partners. We both had such an unbelievable (unBelizeable) time!
We've received a lot of questions about what we did there and whether it's hard to find vegan food, so we decided to team up and write a two-part blog post about our travels. This one, my friends, is all about food! To give two perspectives, you'll hear from each of us about our experiences and recommendations. We hope you get to visit Belize at some point in your lives—and while we'd both describe it as "once in a lifetime," we both plan on returning soon!
Lisa Rimmert
My husband Brad and I like to eat at restaurants. I knew this would be a bit of a challenge in Belize, but I was up to the task. Overall, I would describe eating vegan in Belize as easy enough, but pretty unexciting. A vegan certainly won't starve in Belize—there's rice, beans, and of course a wide variety of fruits. But most of the restaurant owners don't get too creative with veggies. Typical finds in Belize eateries include iceberg lettuce salads, rice, steamed vegetables, fruits, and sometimes pasta.
That said, there were two restaurants in Belize that really stood out to me as great options for vegans in Belize—Vegan Bites in Belize City and Veggie Garden in Belmopan.
When you fly into Belize, you land in Belize City. Most people say to leave the city as soon as you can—and I agree—as the most interesting sights and activities are beyond city limits. We stayed in Belize City our first and last nights in the country, so we'd be nearby the airport. I was delighted to discover the hotel we chose is just next door to a vegan eatery called Vegan Bites!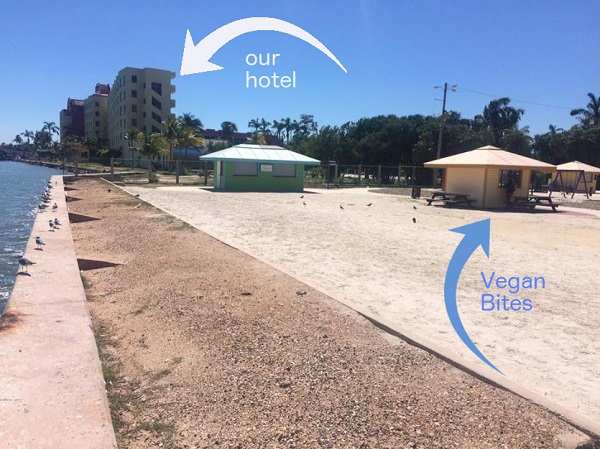 Vegan Bites is a food hut located among others in BTL Park, an oceanside recreation area and the landing site of Charles Lindbergh's Spirit of St. Louis in 1927. Vegan Bites is open for lunch and dinner, though your lunch will provide enough food to eat leftovers for dinner!
The staff was very friendly, and they politely explained what dishes were available that day. There were about ten options ranging from cooked greens to bean dishes to vegan meats. Everything looked so good, and I had trouble deciding! Brad and I chose similar items, including two vegan meat dishes and a veggie dish, and we each got a fresh juice.
The food at Vegan Bites was excellent and very filling, and we got to enjoy it with a view of the Caribbean Sea!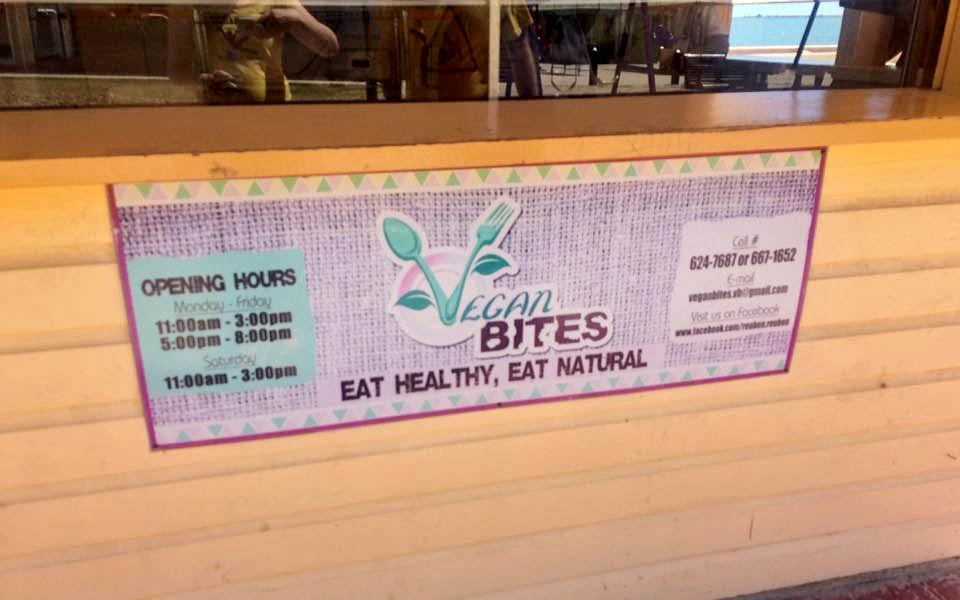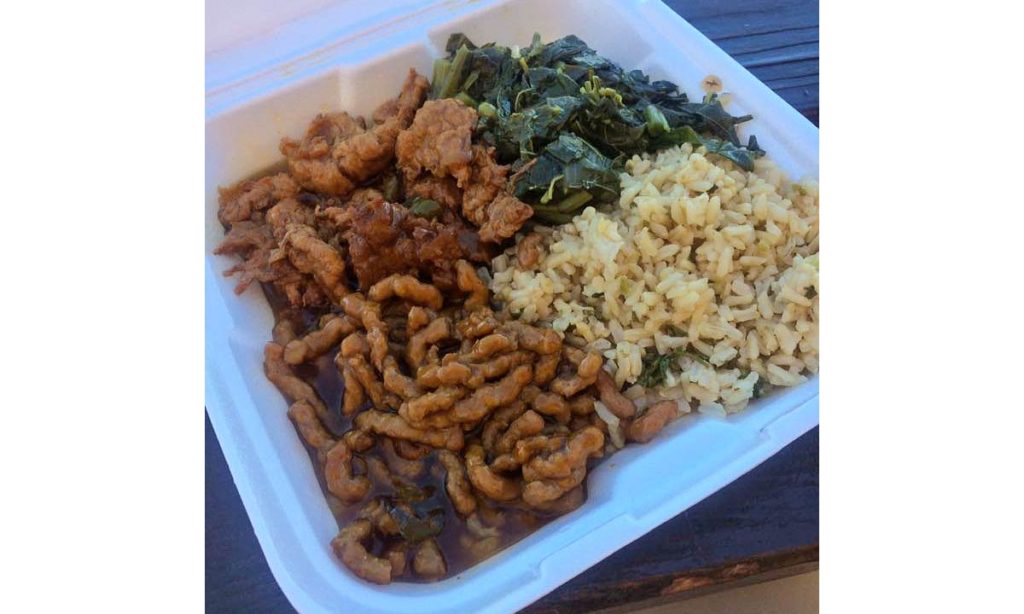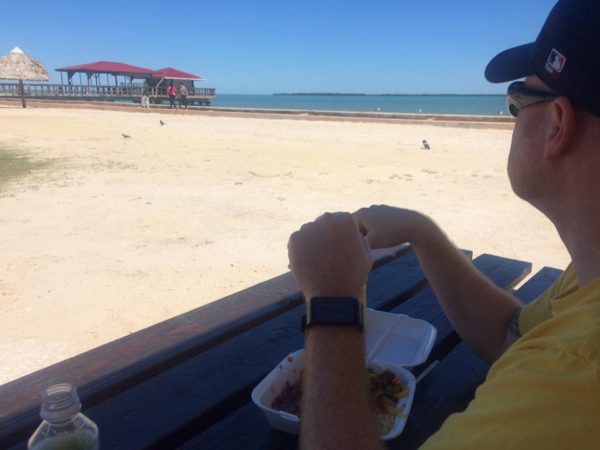 My second favorite restaurant, Veggie Garden, is located in Belmopan, the capital city. Belmopan is about an hour west of Belize City on the way to San Ignacio, a must-visit for tourists. Veggie Garden is a Chinese restaurant tucked away just off Hummingbird Highway. You have to be looking for it to find it, and you should be!
The service was great in this eclectic restaurant that seemed to double as a store. We ordered spring rolls, fresh juices, sweet and sour soy meat, and curry veggies. It was all very tasty. My favorites were the pitaya juice and the sweet and sour soy meat, which Brad described as "like candy!" We enjoyed the meal, and he enjoyed the leftovers for dinner!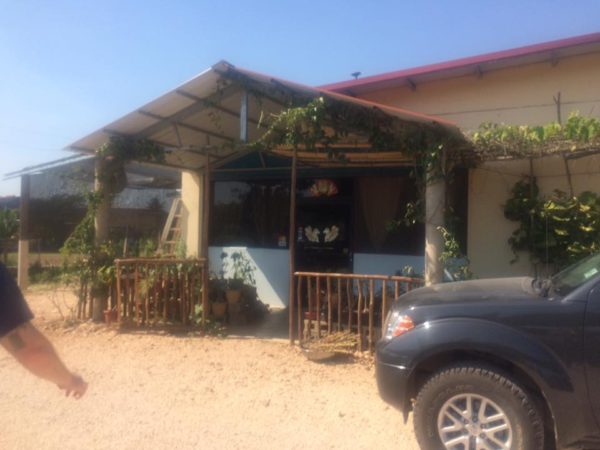 Vegan Bites and Veggie Garden were my two favorite places to eat in Belize, but I also want to mention a few other places that we, unfortunately, didn't get a chance to try—Casa Cafe in Belmopan and Roots Wraps & Smoothies in San Ignacio. Both sounded like fantastic options for vegan food.
Taylor Radig
Before we took off to Belize, my partner Ezra and I did a hefty amount of research, especially on vegan food options. The main purpose of our trip was to do as much scuba diving as possible, which we knew was going to get expensive. We read online that food was pricey on the islands off the coast of Belize and that vegan options were less than popular. On top of that, we knew that we'd need to be eating high-calorie snacks in between our dives to avoid getting fatigued underwater—something that surprisingly can pose serious risks. Typically, we don't mind spending money on local vegan fare here in Denver, CO, but for this trip, we decided to try to limit our food expenses to the bare necessities.
A couple days before our trip, Ezra and I went to a Sprouts Farmers Market grocery store and then to a local vegan market to find some goodies to take with us. We bought about five of the dried green chile white bean soups, a big bag of Leahey Gardens' Cheese Type Broccoli Soup and a few bags of their Red Beans and Rice. I eat both of these products at home and highly recommend them as a delicious option that travels well! We also made sure to pack a few of the Clif protein bars that we could take on the boat out to the dive sites.

On both of the main islands off the coast of Belize—Caye Caulker and Ambergris Caye—there are small grocery stores everywhere that had a surprisingly fair amount of vegan options. We found items like meat-free soups, tofu, ingredients for a hearty pasta or Mexican dish, chips, salad dressing, and even a variety of flavored almond and soy milks—pretty much everything you'd need for either a balanced vegan diet or an exciting junk food journey!
Outside of the food we packed, I was ecstatic with the amounts of fresh coconuts and fruit juice that was available around the islands. While walking around Caye Caulker, we spotted a tiny shop that offered fresh juice. The juice was made throughout the day and the shop was run by local women, so how could we not? We ended up buying a big bottle of their watermelon, apple, and grapefruit juice.
Our favorite restaurant in San Pedro on Ambergris Caye was Caliente. I ordered the veggie burrito without cheese or sour cream, and Ezra ordered their fajitas plate. Not only were they delicious, but we were able to eat out on the beach, which allowed us to meet some adorable street dogs.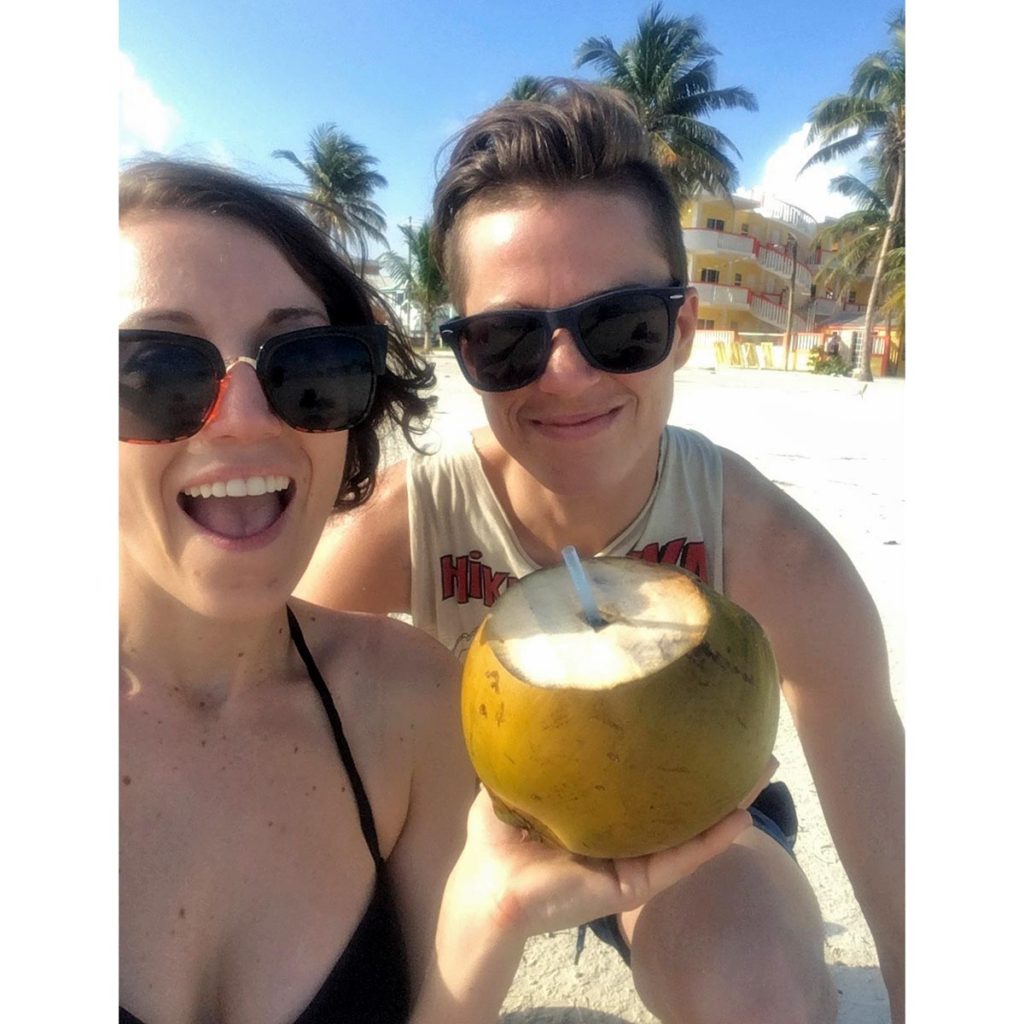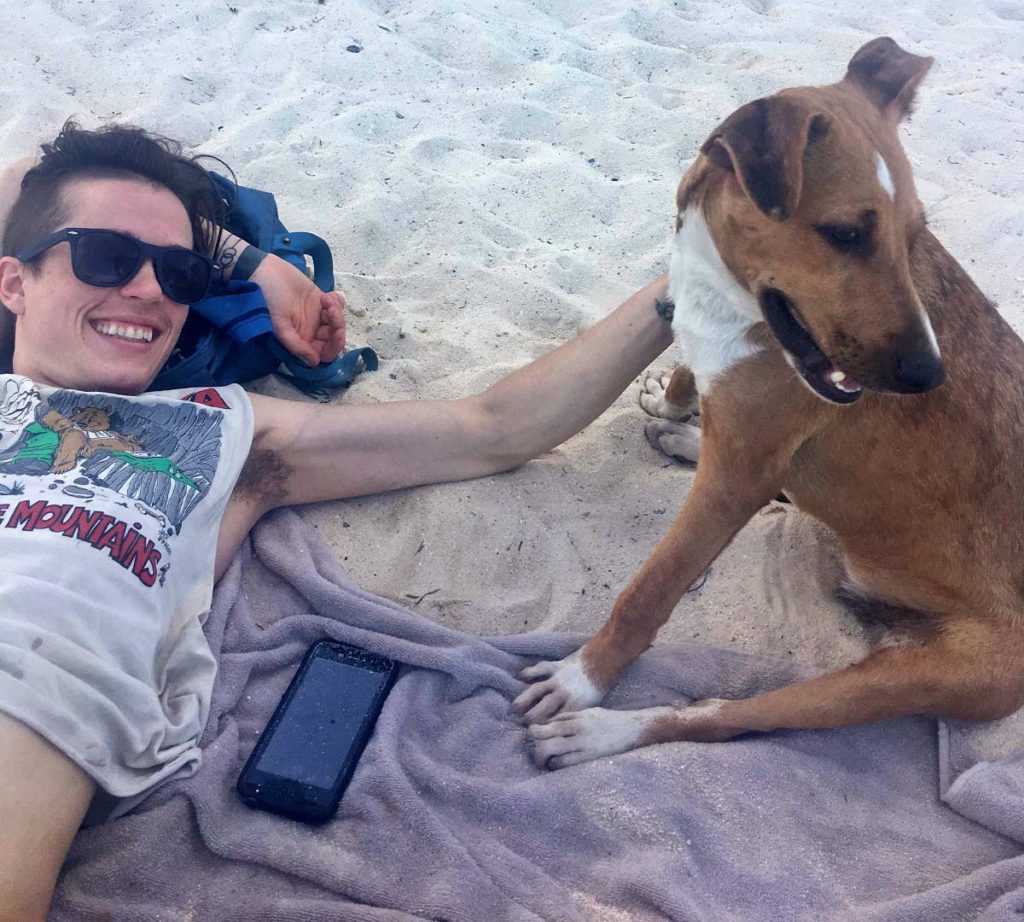 While Belize isn't best known for its amazing vegan food, it was by far one of our favorite vacation spots. Stay tuned for Part 2 of this post, when we tell you about the incredible activities we took part in—including swimming with sharks and feeding howler monkeys! You better Belize it!