By Lori Stultz, VO Rocky Mountain Outreach Coordinator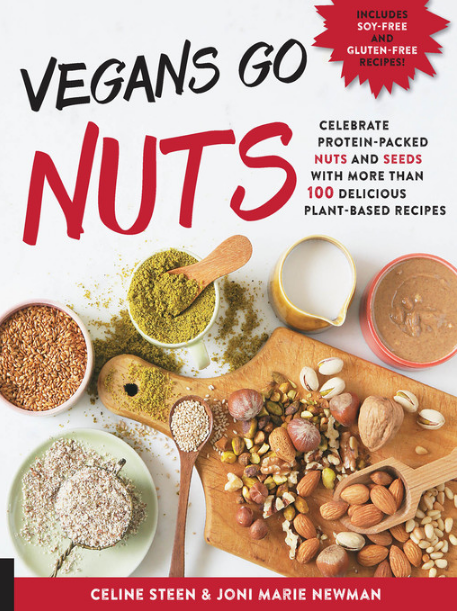 One of the most fun culinary hacks I've discovered since going vegan is all of the different ways nuts and seeds can be used. Gone are the days of simply grabbing a handful of almonds or sunflower seeds for a quick snack—even though that's still a great way to enjoy them. I mean, just think about it. Nuts and seeds can be made into a variety of different oils, flours, butters, milks, sauces, and more!
Lucky for us nut and seed lovers, Celine Steen and Joni Marie Newman put together a beautiful cookbook all about, you guessed it, nuts and seeds!
Their book is titled Vegans Go Nuts, and I highly recommend it to anyone who keeps nuts and seeds as staple food items in their kitchen. It really doesn't matter what kind you keep on hand—I can guarantee there'll be at least a few recipes in this book that utilize whatever kind of nut or seed you have in your pantry.
For me personally, there are two main reasons why I liked the book. First, the authors offer helpful tips, like how many hours each type of nut or seed should be soaked if a recipe calls for a soaked batch.
Second, you don't have to be a master chef or have a bunch of extra time on your hands to use this cookbook. Sure, it would be great if you could make your own nut butter, flour, or milk every time a recipe calls for it, but let's be real—neither you nor I want to do that.
With this book, you have the luxury of having that information, but you can also just sub out store bought ingredients and still get fantastic results!
It took me quite a while to decide what I wanted to make and share, but I finally opted for this Cheesy Almond Gravy recipe. It's a vegan spin-off of a non-vegan dish called poutine. I opted to pour it over roasted acorn, cauliflower, and broccolini instead. The results were great, however, I highly recommend cutting the recipe in half if you won't be sharing it with anybody else. This recipe makes A LOT of gravy!
Enjoy!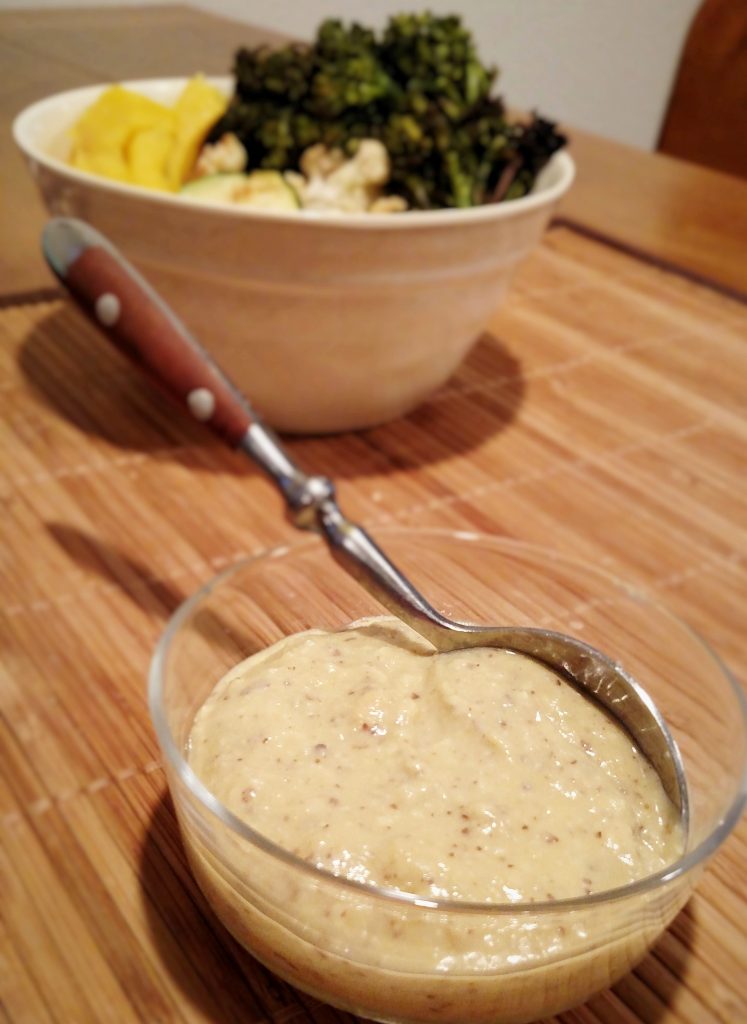 Cheesy Almond Gravy
Yields about 4-5 servings (2 ½ cups).
Ingredients
2 tablespoons vegetable oil
1 tablespoon minced garlic
¼ cup whole wheat pastry flour (if you're gluten-free, any type of all-purpose gluten-free baking flour will work)
1 cup unsweetened almond milk
1 cup vegetable broth
1 cup almond meal
¼ cup nutritional yeast
½ teaspoon black pepper, to taste
1 tablespoon yellow miso
Directions
Heat the oil over medium-high heat. Add in the garlic and sauté for 2 to 3 minutes, until fragrant. Whisk in the flour. Continue to cook and stir until a golden paste forms, about 2 to 3 minutes.
Slowly whisk in the almond milk, vegetable broth, almond meal, nutritional yeast, and pepper. Continue to cook and stir until thickened and no lumps remain, about 5 to 7 minutes (if you prefer silky smooth gravy, blend with an immersion blender or transfer to a blender and mix until it reaches the desired consistency).
Remove from the heat and stir in the miso.