By Josie Moody, Office Manager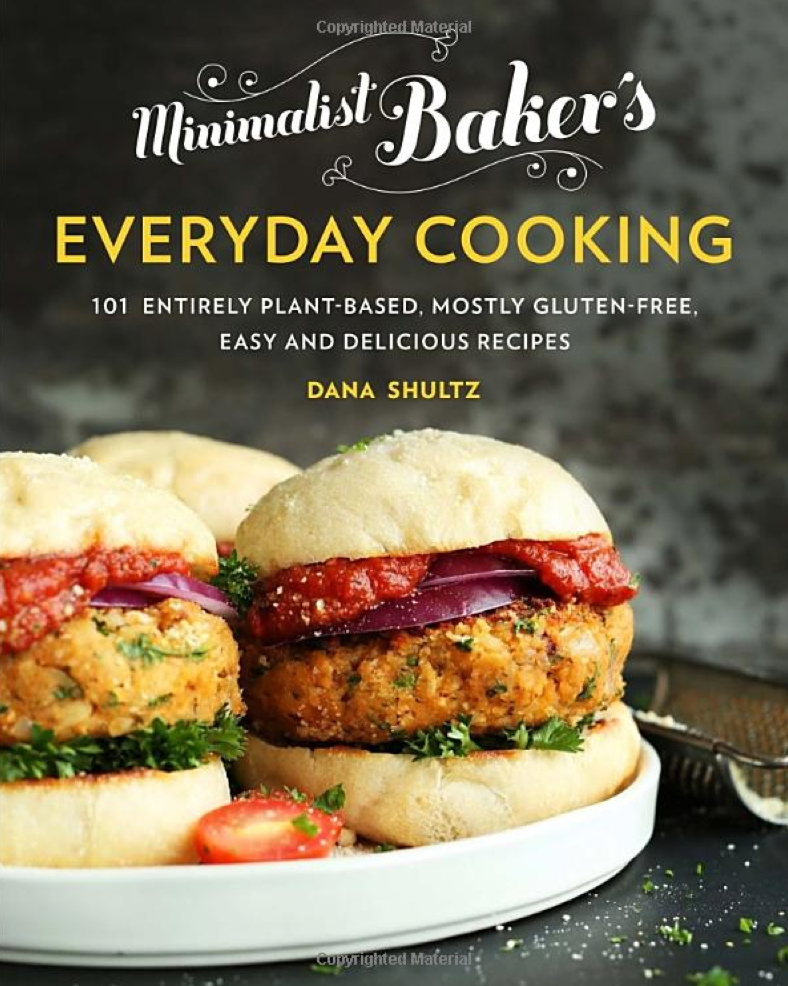 I was really excited to discover that the Minimalist Baker had collected their online recipes into a cookbook!
I had a dinner party to attend the same night that I received Minimalist Baker's Everyday Cooking in the mail. The majority of attendees were not vegan, so I wanted to make a recipe that had ingredients that were familiar to everyone. I'm pretty sure you can't go wrong with cookies, especially when you combine peanut butter with chocolate!
After making this recipe—without exaggerating—I can say I've never received so many compliments for anything that I've cooked or baked before! Needless to say, I returned home with no cookies and even received a follow up text asking for the recipe. I hope you'll have a similar experience!
I can't wait to make these again!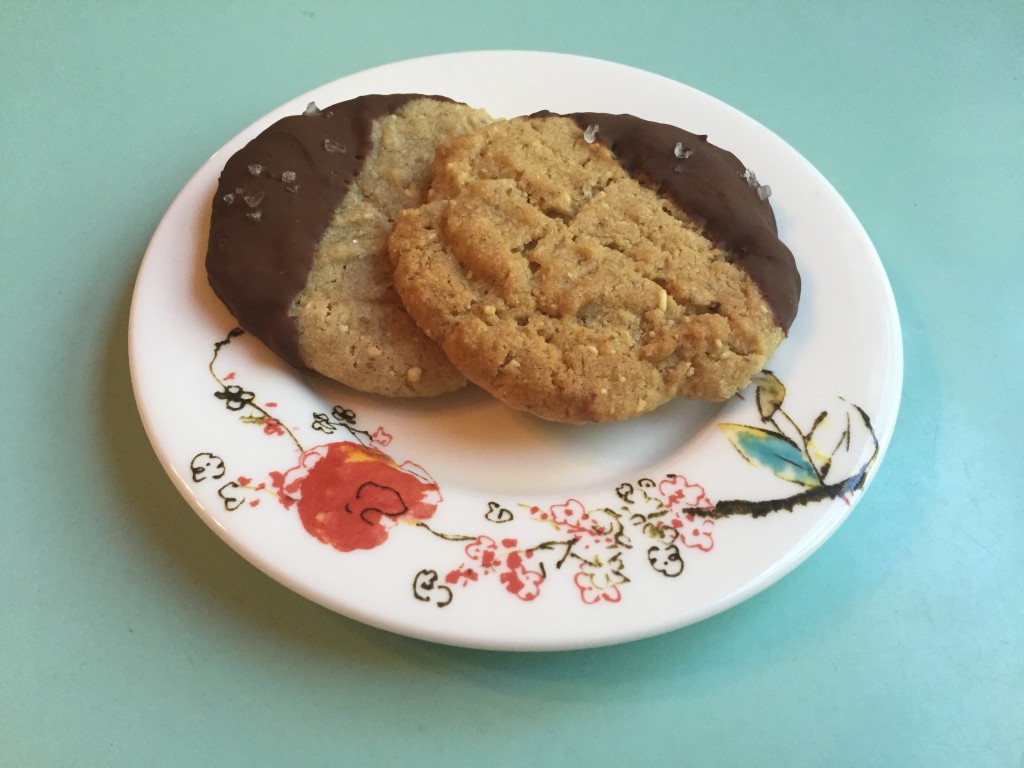 Yields about 20 cookies.
Ingredients
1 stick (½ cup or 112 g) vegan butter, softened (see Recipe Tips note below)
½ cup (128 g) creamy salted peanut butter or almond butter
¼ cup (50 g) organic cane sugar, plus more for topping
½ cup (110 g) organic brown sugar, packed
1 teaspoon pure vanilla extract
2 ½ tablespoons (31 g) pumpkin puree (see Recipe Tips note below)
1 ¼ cups (170 g) unbleached all-purpose flour
¼ teaspoon sea salt, plus more for topping
½ teaspoon baking soda
½ teaspoon baking powder
1 ½ teaspoon cornstarch or arrowroot starch
1-3 tablespoons (15-45 ml) unsweetened plain almond milk
1 cup (180 g) dairy-free dark or semisweet chocolate chips (or bar, chopped)
Optional: 1 teaspoon coconut oil
Directions
Add the softened butter to large bowl. Cream using a standing mixer for 1 minute.
Add the peanut butter, cane sugar, brown sugar, and vanilla. Beat for 1 minute.
Add the pumpkin puree, then mix once more.
Set a sifter (see Recipe Tips note below if you don't own a sifter) over something that will catch fallout (such as paper) and add the dry ingredients in this order: ½ cup (68 g) flour, salt, baking soda, baking powder, cornstarch, and the remaining ¾ cup (102 g) flour. Use a spoon to gently stir, then sift over the wet ingredients, and beat to combine.
If the dough appears crumbly, add 1-3 tablespoons (15-45 ml) almond milk until dough is formed. Otherwise, skip this step.
Cover and freeze the dough for 20 minutes, or refrigerate for 35 minutes (or chill overnight).
Preheat the oven to 350°F (176°C). Position the rack in the center of the oven.
Scoop out roughly 2 tablespoons (36 g) amounts of dough, and form into balls with the warmth of your hands. Gently press into loose discs with your palms.
Use a fork to squish the cookies down a little more and form a crosshatch pattern on top. (For smaller cookies, scoop out heaping 1 tablespoon (20 g) amounts and repeat the same process).
Place the cookies on a baking sheet 2 inches apart to allow for spreading, and bake on the center rack for 12-16 minutes (or 8-10 minutes for smaller cookies), or until very slightly golden brown on the edges.
Remove from the oven and let rest on the baking sheet for 5 minutes, then transfer to a cooling rack to cool completely.
In the meantime, rinse and dry the large bowl, and add the chocolate and coconut oil (optional). Melt in your microwave in 30-second increments (or over a double boiler), being careful not to overheat the mixture.
Line a clean plate or baking sheet with wax paper or parchment paper to receive the dipped cookies. Dip the cooled cookies halfway into the chocolate, gently shake off any excess, and place on the prepared surface. Sprinkle with sea salt (optional).
Let dry at room temperature until set. Serve the cookies chilled or at room temperature.
Store leftovers in a covered container in the refrigerator or at room temperature for up to 3 days, or freeze for up to 1 month. Best when fresh.
Recipe Tips
To speed the softening process, slice the vegan butter into ¼-inch pieces.
If you do not have pumpkin puree, substitute a comparable amount of applesauce, or 1 prepared flax egg. I used one flax egg (1 tablespoon ground raw flax seed plus 2 ½ tablespoons of water, combined together and left to sit/thicken for 5 minutes) in lieu of pumpkin puree and substituted vanilla extract for the almond extract.
If you do not own a sifter, simply whisk together the dry ingredients in a separate bowl, and add them to the wet ingredients as instructed.
Have you cooked anything from Minimalist Baker's Everyday Cooking? Share your thoughts in the comments below!