By Constance James, Guest Contributor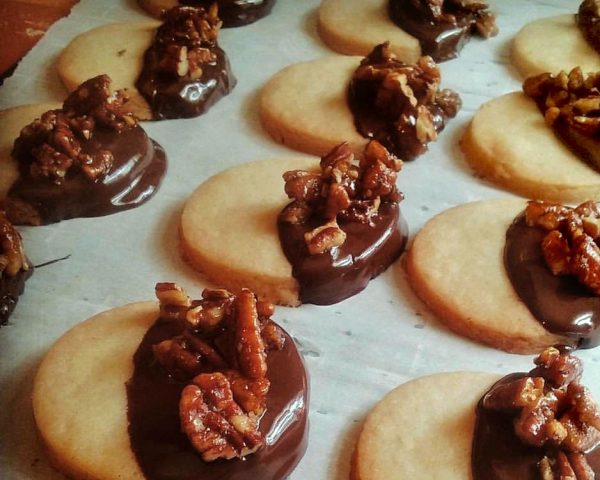 If you're looking for a dessert recipe to impress your friends—especially your non-vegan friends—this Chocolate Pecan Shortbread recipe is for you. The process of making these cookies is bit more involved than your go-to chocolate chip recipe, but the end results will be well worth the extra effort.
A big thanks to our friend, Constance James, for sharing this yummy cookie recipe!
Chocolate Pecan Shortbread Cookies
Yields about 30 cookies.
Ingredients
Shortbread Cookies
1 cup melted coconut oil—not hot, slightly warm is OK
½ cup granulated sugar
1 tablespoon vanilla extract
1 teaspoon Grand Marnier—or a splash of rum
4 tablespoons warm water—cold water will seize up the dough and you'll end up with lumpy cookies
2 ½ cups all-purpose flour, sifted
¼ teaspoon mace—not required, but a delicious variation
½ teaspoon salt
Chocolate Ganache
8 oz vegan chocolate chips
2 teaspoons coconut oil
Lazy Glazed Pecans
1 ½ cup whole pecans
Splash of bourbon
½ teaspoon sea salt
¼ cup brown rice syrup
Directions
For the Cookies

: Preheat oven to 350°F.
Briskly whisk coconut oil and sugar in a large mixing bowl.
Whisk vanilla extract, Grand Marnier or rum, and warm water into the coconut/sugar mixture.
Combine sifted flour, mace, and salt in a separate bowl.
While stirring the liquid ingredients, slowly stir in dry ingredients. A dough will quickly form. Stir until thoroughly combined.
Let dough rest at room temperature for about 5 minutes. Meanwhile, lightly dust a clean, flat surface with flour.
Lay the dough on the floured surface and press flat. Lay a sheet of parchment paper over the dough and roll out dough with a rolling pin to a ⅓" sheet. Rolling the dough with parchment on top ensures a smooth top instead of a lumpy one.
Line a cookie sheet with parchment paper or lightly grease with coconut oil or vegetable oil.
Using a cookie cutter of any shape, cut out cookies and transfer to cookie sheet using a spatula.
Place cookies in the oven for 20 minutes, rotating them about halfway through. The cookies will be golden brown when they're done. Allow to cool on a rack.

For the Ganache

: Using a double boiler, melt chocolate chips and coconut oil together over medium heat.
Stir constantly until melted and thoroughly combined. Remove from heat.

For the Lazy Glazed Pecans

: Place pecans on a cookie sheet and spread out evenly.
Roast pecans at 350°F for 8-10 minutes. Remove from oven and allow to cool.
Place pecans in a bowl and add bourbon and salt. Stir.
Add brown rice syrup and stir until each pecan is coated and glossy.

To Finish

: Dip the cookies in the ganache halfway. Allow excess chocolate to drip off before placing the dipped cookie back on the rack. Repeat until all cookies are dipped and let cool.
Once the ganache has set, gently place the glazed pecans on the chocolate portion of the cookies. Serve and enjoy!