Welcome to Part III of the Spring 2017 Top Leafleters series! The past two weeks we've turned the spotlight toward the spring semester's top 15 leafleters of Vegan Outreach's Adopt a College Program.
We've asked each activist to share their favorite memory of the semester, and we think their responses will leave you feeling very optimistic about the future of veganism.
If you didn't read Part I and Part II, make sure you check them out!
Sam Tucker, Australia and New Zealand Outreach Coordinator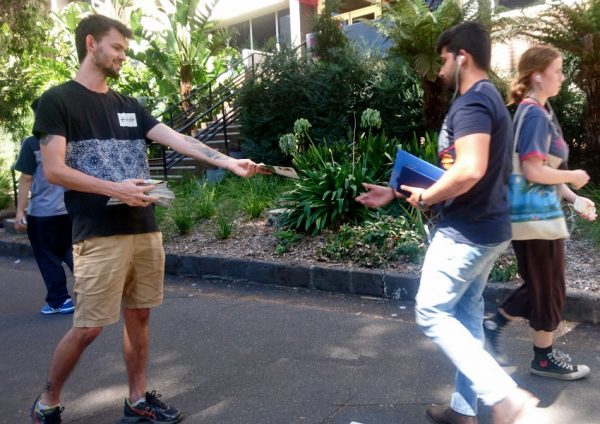 "On the first day of the semester, I set a personal record for the most leaflets I'd ever handed out in a single day—2,500 leaflets at Monash University!
"Then later in the semester that a student contacted Vegan Outreach to tell us they'd received a leaflet at Monash, and for the next couple of days it was all they could think about. They said the booklet was 'equal parts informative, empowering, distressing, and also able to give me the basic tools to change my lifestyle to one that I am proud and in control of.' "
Sam leafleted at 36 schools this semester and distributed 50,017 leaflets.
Yuri Mitzkewich, Southeast Outreach Coordinator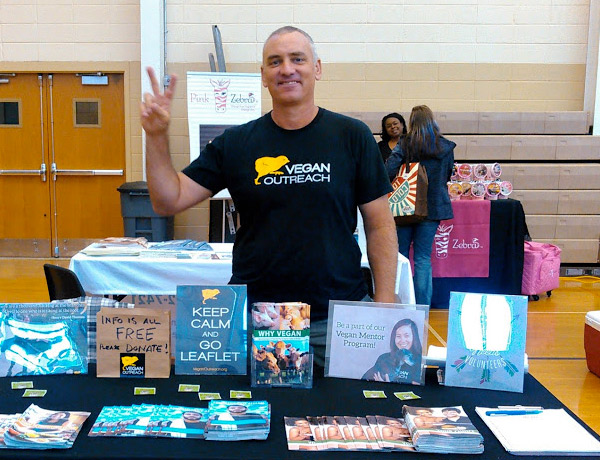 "My favorite memory was from Texas A&M University in College Station. I leafleted with local volunteers and the Vegetarian/Vegan Aggies student group. They all did amazing work getting student after student to come over to our table to talk and view Animal Equality's iAnimal Virtual Reality video. Most of the conversations ended with people thanking us for being there and stating that they planned to change their eating habits to help animals."
Yuri leafleted at 68 schools this semester and distributed 50,587 leaflets.
Jevranne Martel, Canada Outreach Coordinator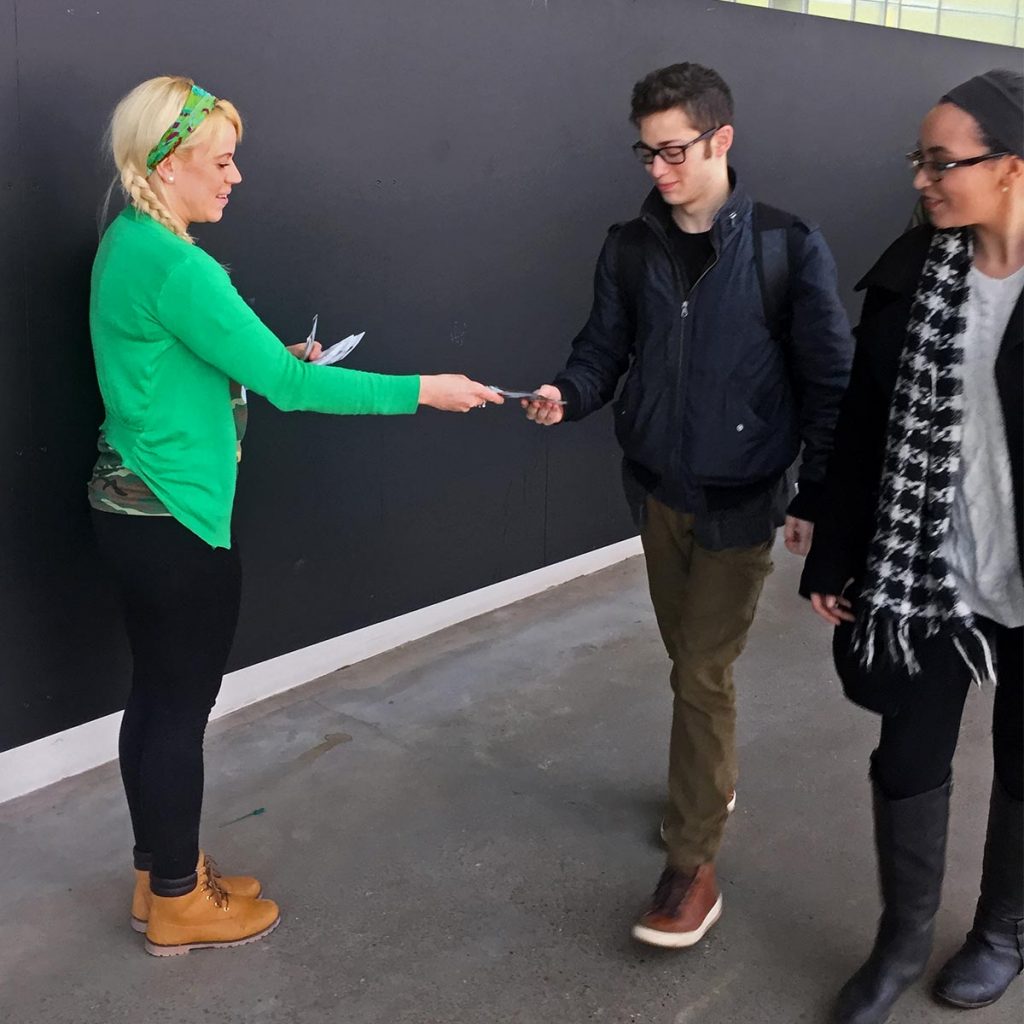 "My favorite memory is from the University of Toronto Mississauga. I was given a fair bit of support from both the students and faculty. One student stopped and told me he'd been wanting to make some positive changes in his life after having some recent health scares. He admitted the cruelty we inflict on farmed animals is unnecessary and wrong. He left with a Guide to Cruelty-Free Eating and a few other resources I recommended."
Jevranne leafleted at 61 schools this semester and distributed 35,879 leaflets.
Emmanuel Márquez, Mexico Outreach Coordinator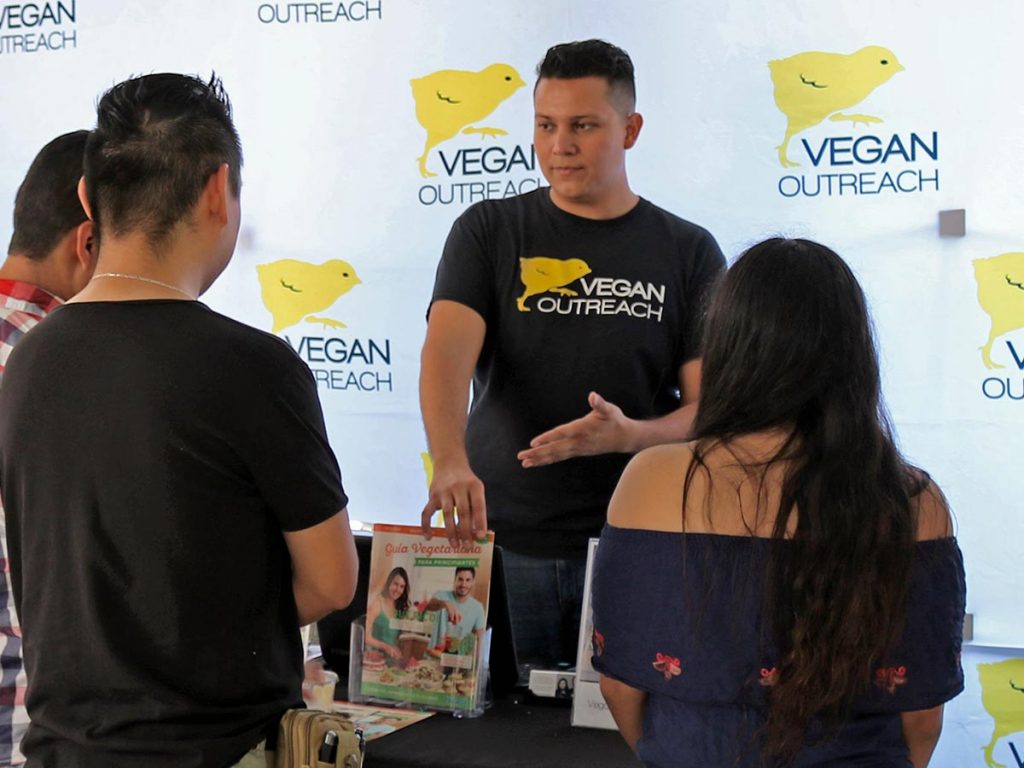 "My favorite outreach memory was at the Universidad Autónoma de Nuevo León. I met a student who told me she'd recently started to reduce her meat consumption and planned to go completely vegan. We talked for some time, and I helped clear up some of the doubts she had about going vegan. I gave her a Guide to Cruelty-Free Eating and information about some resources Vegan Outreach has for new vegans, like the Vegan Mentor Program. She was very grateful.
"I had several people stop and thank me for advocating for animals. And I heard from students who were already vegan or vegetarian and wanted to help leaflet next time I'm at the university."
Emmanuel leafleted at 72 schools this semester and distributed 37,616 leaflets.
Steve Erlsten, Northern California Outreach Coordinator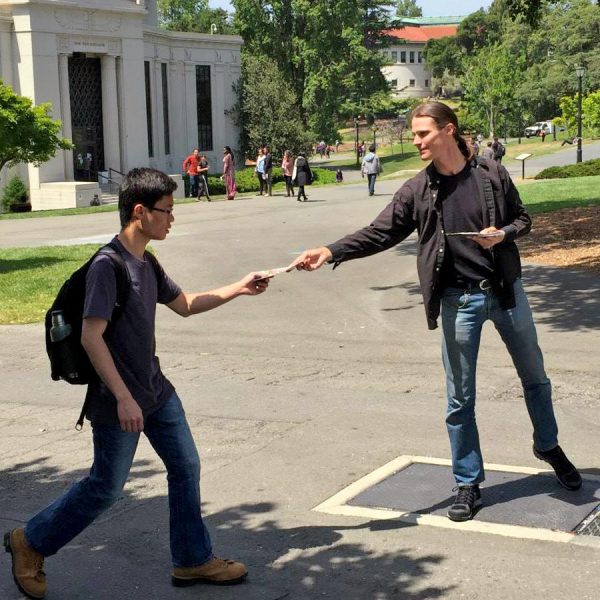 "One highlight of the semester was meeting a student who said she'd been hoping to run into activists on campus. She'd been wanting to go vegan and was excited to take a Guide to Cruelty-Free Eating!"
Steve leafleted at 97 schools this semester and distributed 77,110 leaflets.
Join me in giving one last shout out to these dedicated and passionate activists! They all work tirelessly to raise awareness about farmed animals and about how people can make positive changes for the world by choosing a veg lifestyle!