We're officially wrapping up the school year by turning the spotlight toward the spring semester's top 15 leafleters of Vegan Outreach's Adopt a College Program.
We've asked each activist to share their favorite memory of the semester, and I think their responses will make you smile just as big as we did.
If you didn't see Part I of this three-part series, make sure you get caught up! Today we'll hear from more of the top activists who went above and beyond to help raise awareness about farmed animals.
Sean Hennessy, Greater Ohio Outreach Coordinator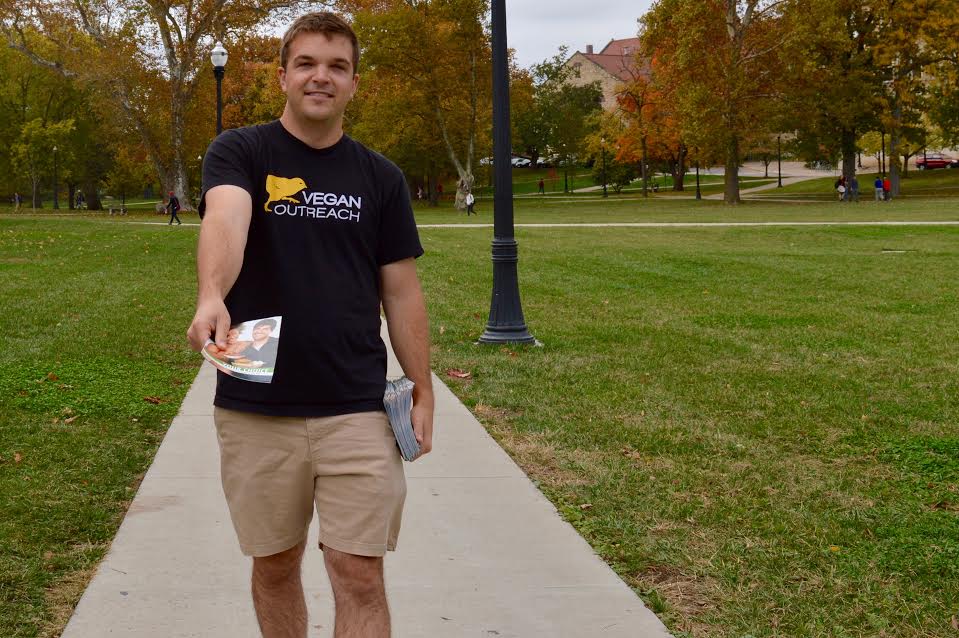 "We don't always see our impact immediately when leafleting because dietary change is often a complex process, but one exception came when I was leafleting at Clarion University. Within hours of handing a student a leaflet, she came back and told me she planned to go vegetarian and work her way toward going fully vegan."
Sean leafleted at 43 schools this semester and distributed 32,962 leaflets.
Katia Rodríguez, Mexico Campaigns and Spanish Media Coordinator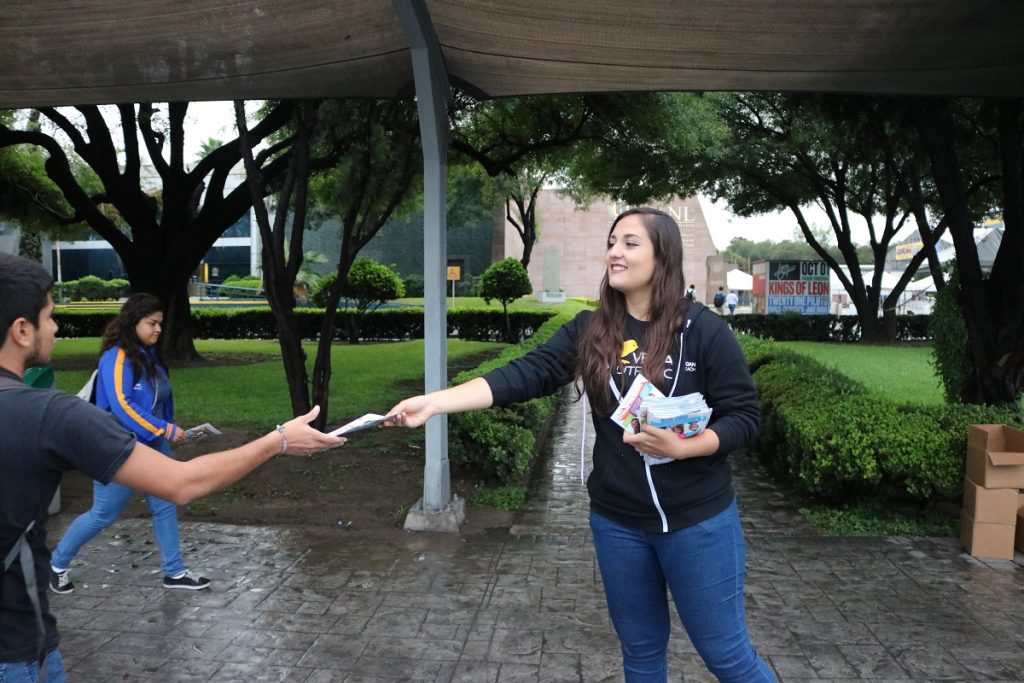 "One of my favorite leafleting moments from the spring semester was at my alma mater, the Universidad Autónoma de Nuevo León where several volunteers, VO's Mexico Outreach Coordinator Emmanuel Márquez, and I handed out 22,805 leaflets in a single day!
"We met a young student who, after reading a leaflet, expressed his gratitude and told us that he planned to go vegan. He was already excited about cooking new recipes and sharing them with family and friends as a way to help motivate them to go vegan."
Katia leafleted at 36 schools this semester and distributed 18,426 leaflets.
Chris Shapard, Outreach Coordinator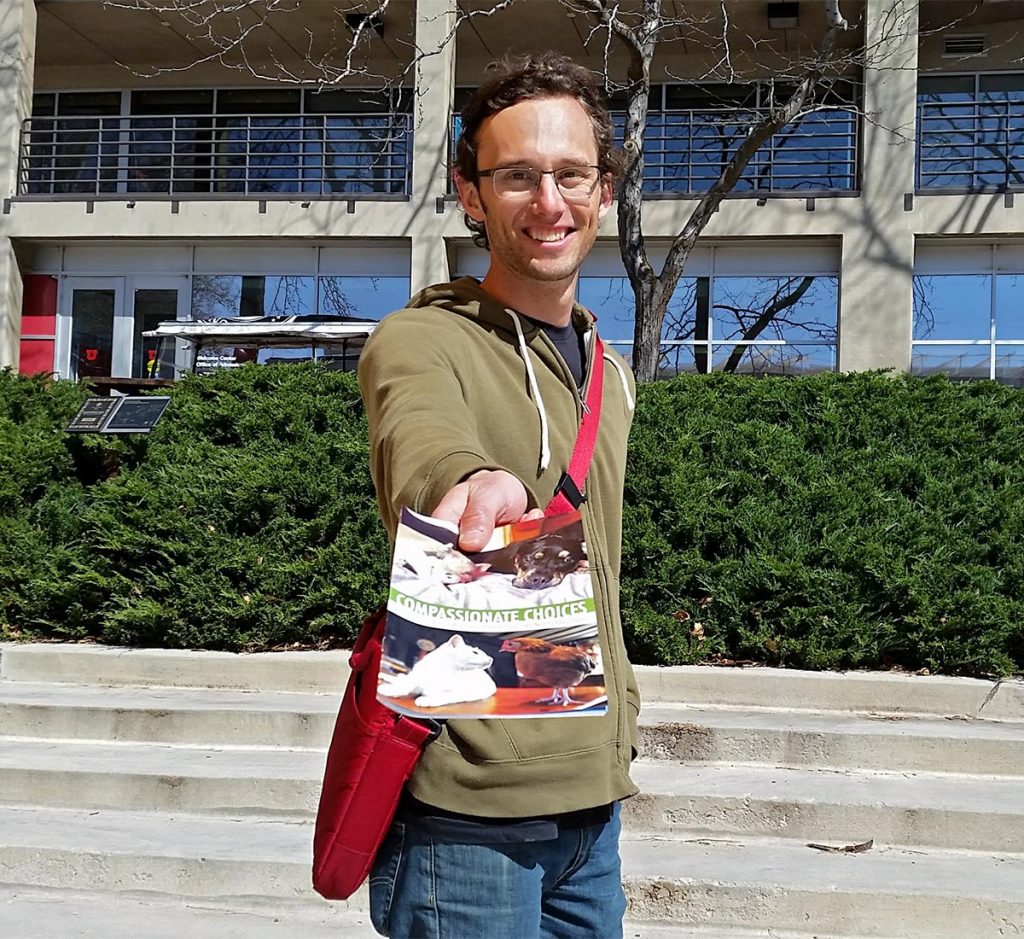 "One memory that stands out is when I was leafleting at Montana State University. There was a religious student group doing outreach in the quad, which was where I was handing out leaflets. One of the group members walked past me and shouted back, "I love chicken—it's delicious! God put chickens on earth for us to eat!" Later in the day, I ended up having a conversation with her and we talked about how unnatural factory farming is and how the suffering inflicted on animals is unnecessary. The interaction quickly went from confrontational to conversational. We ended with some light conversation and even some laughter."
Chris leafleted at 20 schools this semester and distributed 12,144 leaflets.
Rachel Shippee, Outreach Coordinator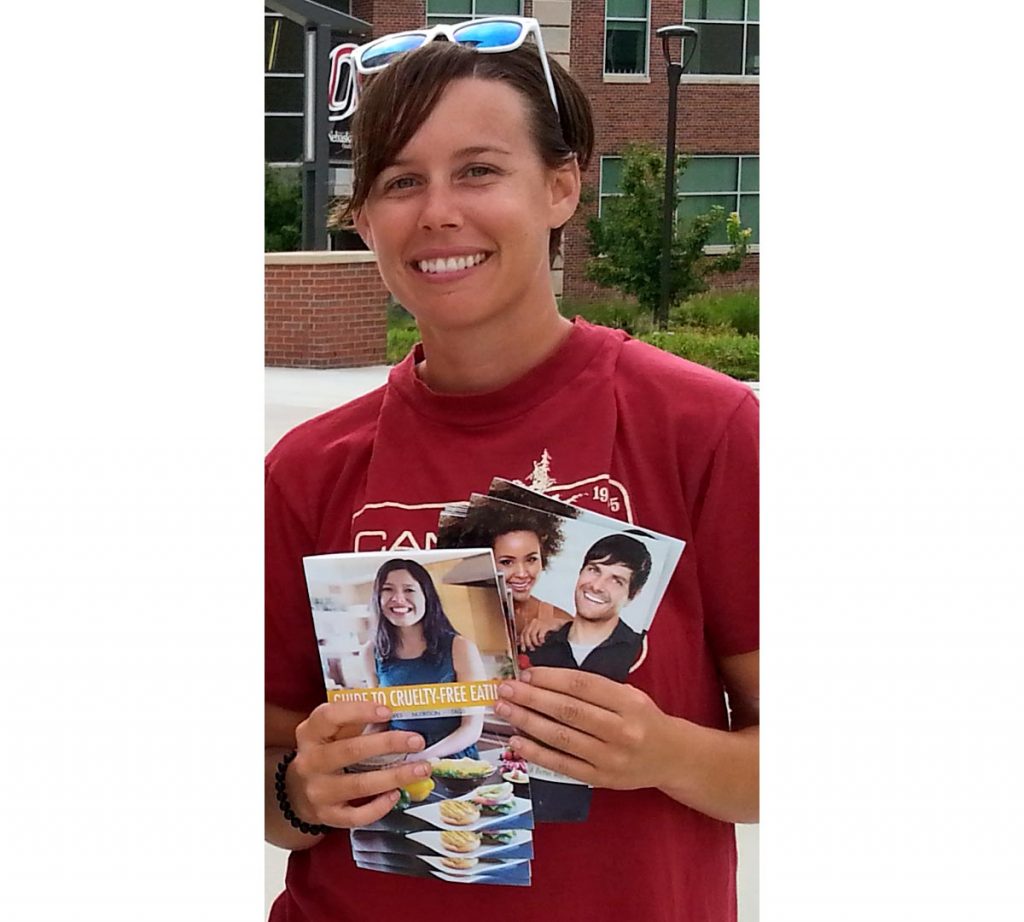 "My favorite memory was from Kalamazoo Valley Community College when a student stopped to tell me that the leaflet I'd given him was another 'sign' he'd recently received that was pointing him toward veganism. A few of his friends had gone vegan and his girlfriend was vegan. Getting the leaflet was the final push he needed to commit."
Rachel leafleted at 19 schools this semester and distributed 18,034 leaflets.
John Deetjen, Outreach Coordinator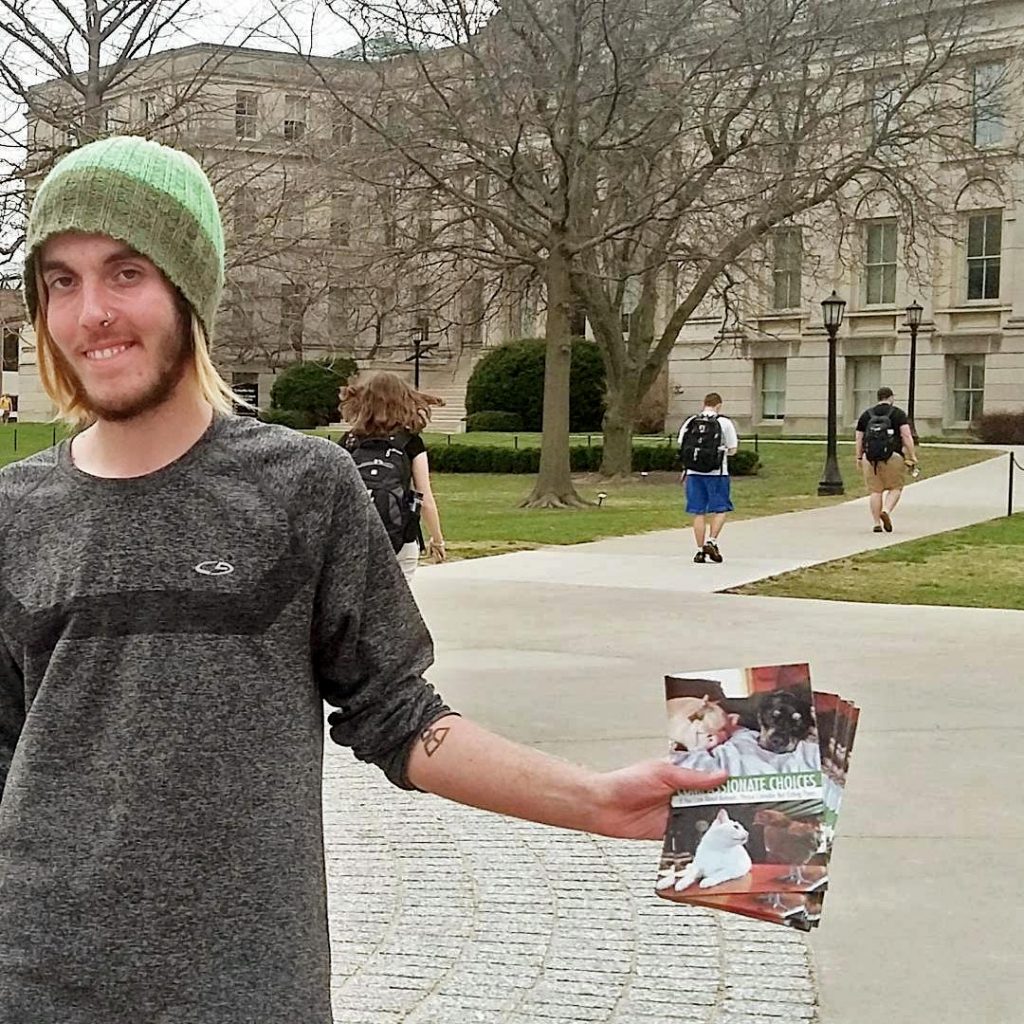 "My favorite leafleting experience this semester was at South Dakota State University, which is located in a small town called Brookings. The town is surrounded by miles of rural Midwestern farmland—not the first place you'd imagine finding an audience interested in learning about veganism. To my surprise, I met a student who, after reading the leaflet, decided to go vegan on the spot! And with the help of our Guide to Cruelty-Free Eating, I'm confident he's on the path to vegan eating! This goes to show that there are people in all sorts of places just waiting for the information to make the change."
John leafleted at 73 schools this semester and distributed 33,955 leaflets.
We'll return next week with the final Part III of this three-part series for more leafleting highest achievements from the spring semester!