By Allison Rivers Samson, Guest Contributor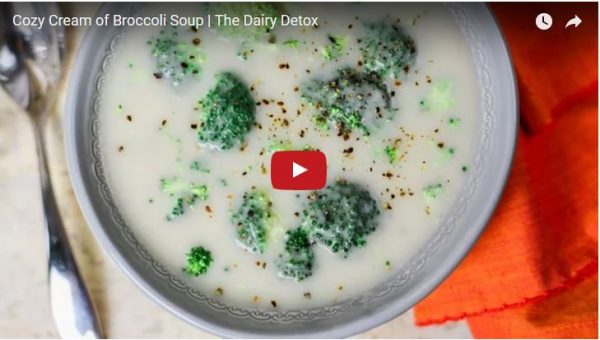 In the spirit of Vegan Outreach's June giveaway, we're bringing you a recipe from The Dairy-Freedom Cookbook! Co-author Chef Allison Rivers Samson demonstrates how easy it is to transform plants into delicious, familiar dishes like this creamy broccoli soup.
Cozy Cream of Broccoli Soup
Yields about 6 servings.
Ingredients
1 cup raw, unsalted cashews, soaked at least 4 hours, and drained
8 cups water, divided
1 tablespoon olive oil
1 cup diced yellow onion
1 medium head cauliflower, leaves removed, cored, and cut into medium chunks—about 3 cups
3 medium stalks broccoli, separated into bite-sized florets—about 4-5 cups—and peeled stems cut into medium chunks—about 1-2 cups
1 teaspoon dried marjoram
1 clove garlic, minced
1 tablespoon salt
1⁄4 teaspoon freshly ground black pepper
Directions
In a blender, process cashews and 1 cup water to make a completely smooth cashew cream.
Heat a large stock pot over medium-high heat and add oil. Sauté onion, cauliflower, broccoli stems only, and marjoram for 5 minutes. Stir in garlic and cook for 2 minutes more. Add remaining 7 cups water, cashew cream, and salt. Bring to a boil, then lower to medium heat, cover, and cook until vegetables are very soft—approximately 20 minutes.
Using an immersion blender, or carefully in 2-3 batches using a standard blender, purée soup base until completely smooth. Add broccoli florets and cook over medium heat for 5-7 minutes until broccoli is bright green and tender. Add pepper to taste and serve hot.
Recipe Tips/Variations
This soup is exceptionally versatile. If broccoli isn't your favorite, feel free to substitute different veggies instead—like potatoes, mushrooms, asparagus, or corn.
Visit World of Vegan for the original recipe.