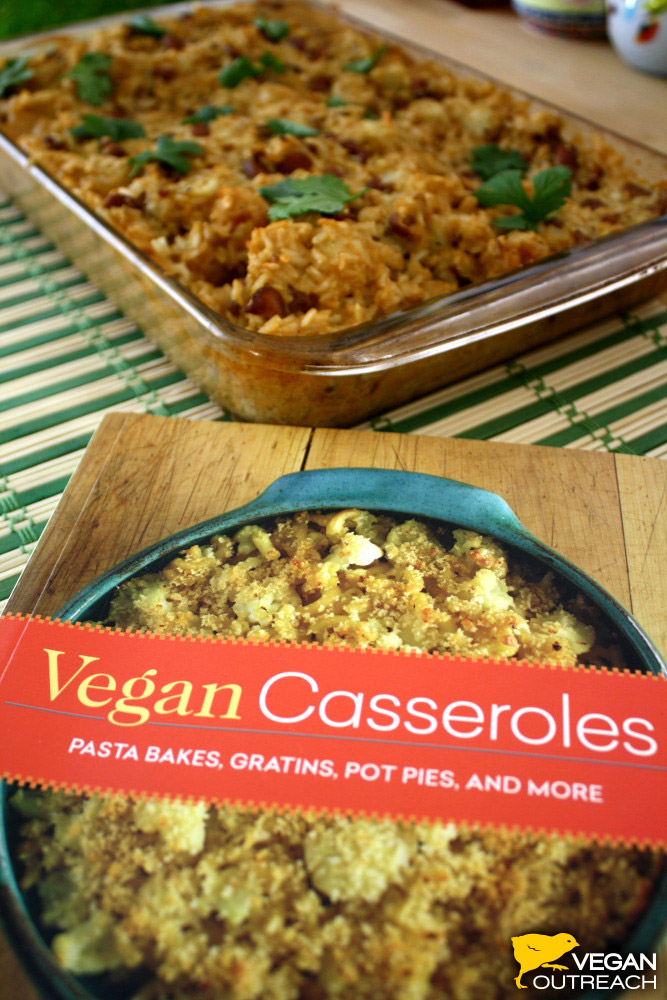 Reviewed by Toni Okamoto
With winter quickly approaching, I suggest you go out and purchase this book as soon as possible! It contains recipes for classic comforting favorites, such as: Shepherd's Pie, Chili Mac, Potato Gratin, Pot Pie, Vegetable Stew, and many other mouth-watering recipes that are sure to bring back childhood memories.
I love that Vegan Casseroles has everything I look for in a cookbook. As a very busy person, I especially appreciated that the recipes were versatile, prep was minimal, and that all the ingredients used were easily found at my local conventional grocery store — with many already stocked in my own pantry. However, the most important reason I recommend this cookbook, is because I feel completely comfortable using it to impress my non-vegan friends and family.
If you're looking to buy a friend a good book for the holidays, this one is it!
Bean and Rice Casserole
While browsing through the book, two recipes caught my eye as potential staples for my household: the Bean and Rice Casserole and the Nacho Tots Casserole. Because I am impatient and needed to consume them both immediately, I combined the two by adding tater tots to the Bean and Rice Casserole. Best idea I had that week.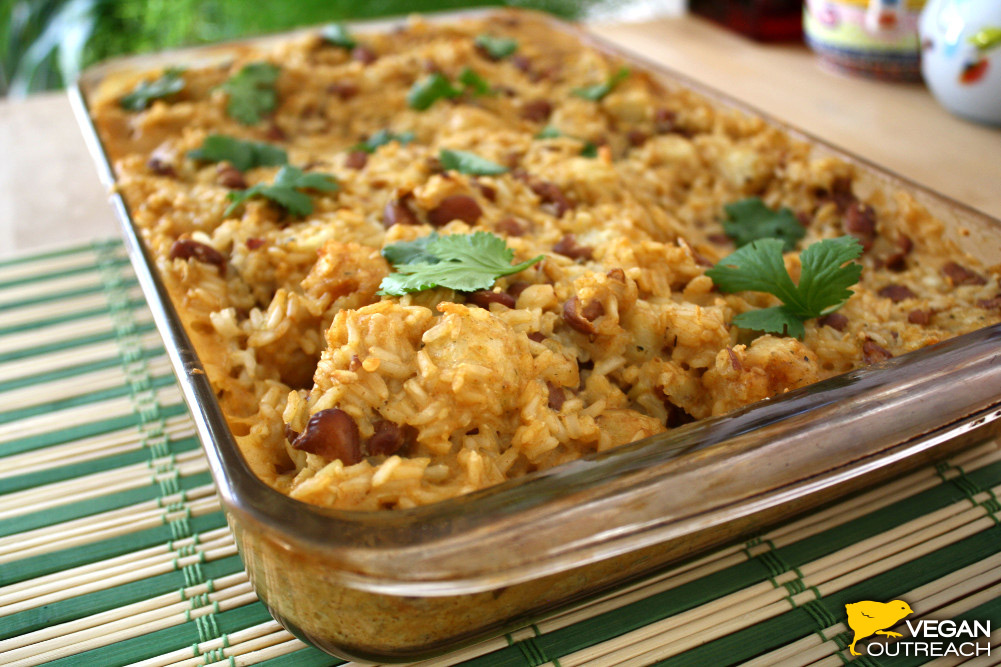 Serves 6-8
Nacho cheese sauce (recipe below)
3 cups cooked and drained pinto beans
2 cups cooked long grain white or brown rice
Salt and freshly ground black pepper to taste
Crushed tortilla chips, for garnish
Chopped fresh cilantro, for garnish
Small bag of frozen tater tots (optional)
Nacho Cheesy Sauce recipe:
3 cups plain unsweetened non-dairy milk
6 tablespoons nutritional yeast
1/2 raw unsalted cashews, soaked for at least two hours and drained
3 tablespoons oat flour
2 tablespoons cornstarch
2 teaspoons granulated onion
1 teaspoon granulated garlic
1 1/2 teaspoon chili powder
1 1/2 teaspoon smoked paprika
1 teaspoon fine sea salt
1/2 teaspoon ground cumin
Hot sauce, to taste
Preheat oven to 400°. Grease an 8 inch pan square glass  or ceramic baking dish — if using tater tots, use a larger rectangular glass pan.
For the cheese sauce: In the jar of a blender, combine the soymilk, nutritional yeast, cashews, oat flour, cornstarch, granulated onion, garlic, chili powder, paprika, salt, and cumin. Blend the mixture at a high speed until completely smooth and no bits of nuts remain. If you don't have a big blender, blend the mixture in two batches.
Transfer the mixture to a large saucepan and place over medium heat. Bring the sauce to a simmer, whisking continuously. Once the mixture comes to a simmer, reduce heat slightly and cook, whisking continuously until very thick, for 5-10 minutes. If desired, add hot sauce and salt to taste.
For the casserole: In a large bowl, mix together the prepared cheese sauce, beans, rice, and tater tots. Add salt and pepper to taste. Scoop the mixture into the prepared baking dish. Bake for 20-30 minutes (if using tater tots, cook using bag instructions), or until hot, with a nice crust on top. Remove from the oven and top with crushed chips and a sprinkling of cilantro. Serve hot.
Bumbleberry Cobbler
If you're looking for a quick and easy dessert, this is your new go-to recipe. I lessened the sugar by 1/4 cup (3/4 instead of 1cup) in the batter and it still tasted fantastic. Serve with some non-dairy vanilla ice cream and it is perfection!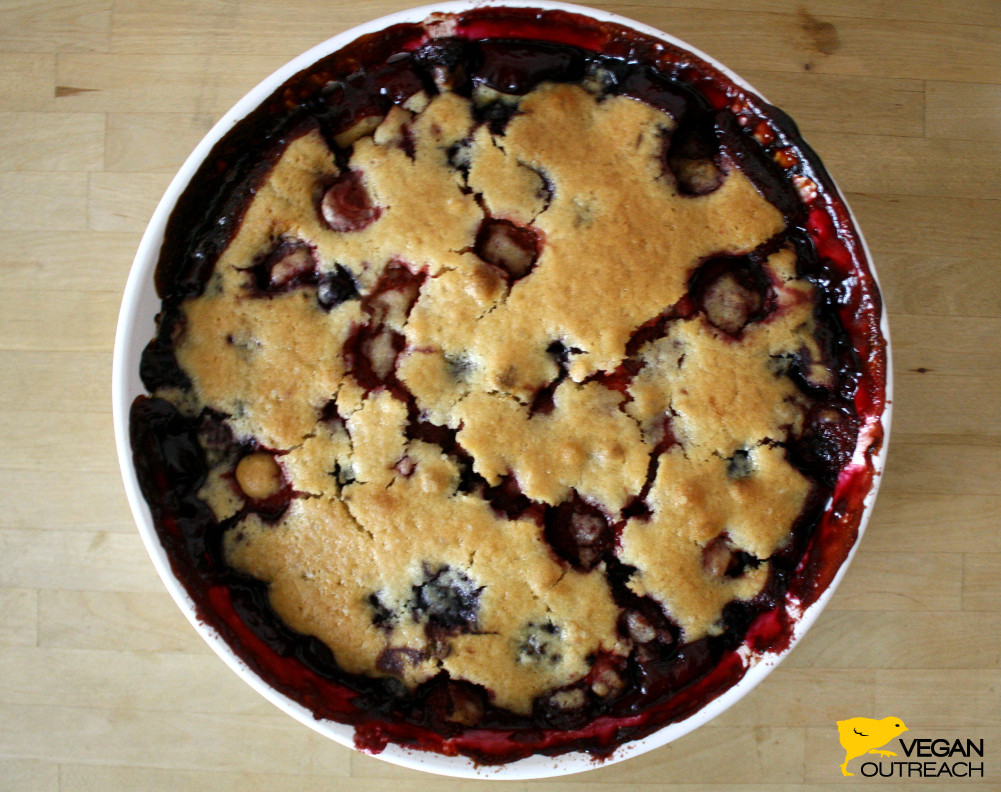 Serves 4-6
4 cups fresh or frozen mixed berries
1 cups granulated sugar, divided
1 cup unbleached all-purpose flour
2 teaspoons baking powder
1/8 teaspoon salt
3/4 cup plain unsweetened non-dairy milk
1/3 cup non-hydrogenated vegan margarine, melted
1 teaspoon pure vanilla extract
Preheat oven to 350°F. Grease an 11×7-inch glass or ceramic baking dish.
In a medium bowl, toss the berries with 1/4 cup of the sugar.
In a separate medium bowl, whisk together the flour, baking powder, salt and remaining 3/4 cup sugar. Add the soymilk, melted margarine, and vanilla, whisking to combine.
Scrape the batter into the prepared baking dish. Scoop the berries evenly on top of the batter (don't stir, as the batter will rise to the top as it bakes).
Bake for 65-70 minutes, or until the top crust is nicely browned and looks cooked through and the berries formed a thick sauce. If it looks like there are a few spots where the batter isn't cooked all the way through, which you can confirm by lightly touching the spots with your finger, continue baking for another 5-10 minutes, or until fully cooked through. Let the cobbler cool on a rack for 15 minutes before serving.