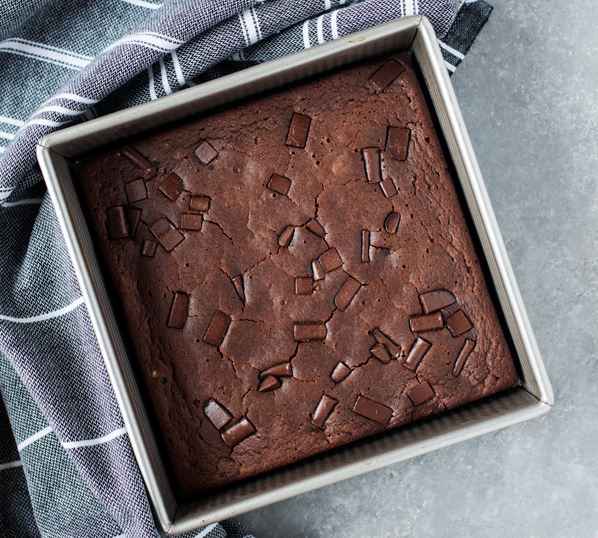 Coffeeholics and chocoholics rejoice! Today we're sharing Gena Hamshaw's scrumptious Dark Chocolate Espresso Brownie recipe—the perfect flavor duo for these highly sought out indulgences.
For those of you who avoid gluten, you can also rejoice because these brownies are gluten-free! For those who eat gluten, you can swap out the gluten-free flours for equal amounts of spelt, whole wheat pastry, or all-purpose flour.
Dark Chocolate Espresso Brownies
Yields 9 brownies.
Ingredients
3 tablespoons lukewarm water
1 tablespoon ground flaxseeds
1 cup sorghum flour
½ cup oat flour
1 ¼ cup sugar—you can use 1 cup to make less sweet
½ cup unsweetened cocoa powder
½ teaspoon baking powder
¾ teaspoon salt
1 cup almond, soy, or rice milk
¼ cup brewed espresso—2 ounces or 2 shots—or very strongly brewed coffee
⅓ cup safflower, grapeseed, canola, or melted coconut oil
⅓ cup applesauce
1 teaspoon vanilla extract
¾ cup vegan dark chocolate chunks or chips
Directions
Preheat oven to 350°F and lightly oil and flour an 8-inch square baking dish.
In a small bowl, whisk together the flax seeds and warm water. Set aside.
In a large mixing bowl, whisk together the flours, sugar, cocoa powder, baking powder, and salt.
In a medium sized mixing bowl, whisk together the non-dairy milk, espresso/coffee, oil, applesauce, vanilla, and the flaxseed mixture.
Add the wet ingredients to the dry ingredients and mix until they're combined. Fold in the chocolate chunks or chips, reserving a few to sprinkle on top of the brownies.
Bake for 25-35 minutes, or until a toothpick inserted into the brownie center emerges with just a couple crumbs. Start checking the brownies at the 22 minute mark, just to be safe. If they're burning at the edges or getting very firm in the middle, use a toothpick to check. You want to avoid overcooking for a perfectly moist, chewy texture!
Transfer the baking dish to a wire cooling rack and allow the brownies to cool for 30 minutes before cutting and serving. Enjoy!
Click here for Gena's original recipe.