By Lisa Rimmert, VO Director of Development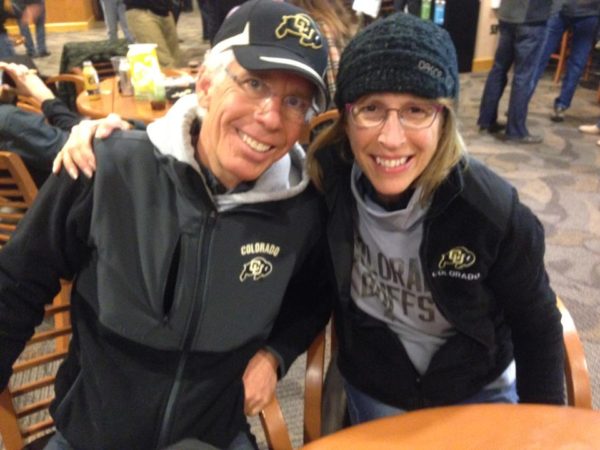 Living in Colorado, I'm very lucky to be surrounded by dedicated Vegan Outreach donors. I don't know what brought them all here—maybe the buffalo seitan wings at City, O' City in Denver—but there's a concentration of supporters in this area. Two of these great people are my friends Laura and Rick Bruess.
The Bruesses are wonderful—incredible activists and very fun to spend time with. They're also very impressive athletes, and after hearing that Laura set a huge record this year, I wanted to highlight her on the VO blog.
We discussed veganism, running, activism, and more. Everybody, meet Laura Bruess!
Lisa Rimmert: Tell us about yourself, Laura!
Laura Bruess: I live in Boulder with my husband, Rick, and two rescue dogs. Rick and I sold our optometric practice two years ago and are happily retired. We run every day, 60 miles a week—often with our dogs—and Rick coaches our running club, Athletics Boulder.
Lisa: What inspired you to become vegetarian and then vegan?
Laura: Rick and I went vegetarian about 30 years ago. I was in my early 20s and I saw a really young calf laying in a field alone. I felt sad for him and wondered where his mother was.
The next day, I was eating a hamburger and it just hit me. What a hypocrite I was! How could I eat him? We stopped eating animals then.
Unfortunately, we still believed all the lies about happy dairy cows and free-range eggs. When we finally looked closer at it and realized that eggs and dairy are every bit as cruel as meat, we went vegan—that was about 10 years ago.
Lisa: You and Rick are generous donors to Vegan Outreach, and you've also leafleted and done other forms of activism. How did you get involved with VO?
Laura: We learned about Vegan Outreach through the late Lisa Shapiro. She lived in Boulder and dedicated her entire life to reducing animal suffering and helping people transition to a more compassionate lifestyle. She was a true hero.
I appreciate everyone involved in animal activism. I love Vegan Outreach because I believe that leafleting is the most effective way to reach people—to show them what is so well hidden. No one wants to harm animals, and it's so easy not to.
Lisa: You and Rick are incredible runners! How long have you been running?
Laura: Rick and I have been running together for over 30 years.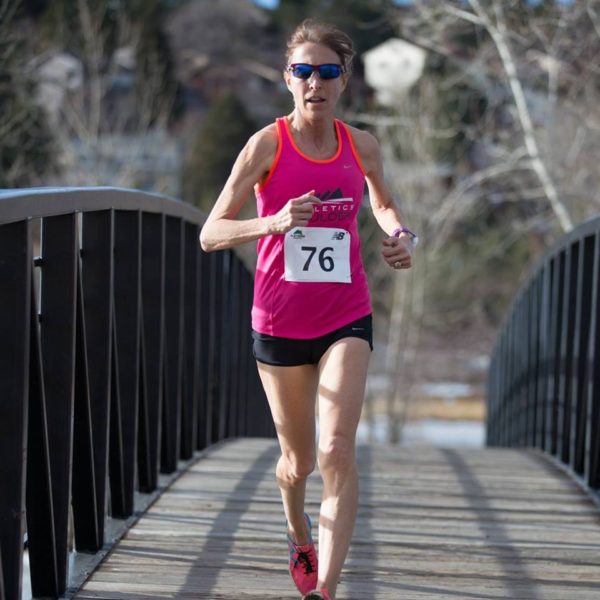 Lisa: You set a big record this summer. Tell us about that!
Laura: I set the 10,000 meter American record, for women ages 55-59, at the USA Track and Field's West Region Masters Track Championships in Norwalk, CA. I ran 39:37.05, just beating the old record set in 2007 in Orono, ME. I had also just run probably the best race of my life at Bolder Boulder, setting a new all-time age record.
Lisa: That's amazing, Laura! Congratulations! What effect, if any, does being vegan have on your running success?
Laura: Since going vegan, our running has improved—Rick's and mine. We eat nutrient dense foods and recover from hard workouts quickly.
I wish I had become vegan sooner. I thought I needed animal protein, but I couldn't have been more wrong. Not only was it so much easier than we thought it would be to go vegan, our health is perfect. We are in our mid 50s and take no medications. At my last physical my doctor said I had the blood pressure of a baby.
Lisa: What's your favorite vegan snack?
Laura: My favorite snack food is probably kale chips with nutritional yeast. We have them every night. Our grocer once called us the kale hogs because we buy six pounds at a time!
Lisa: Thank you, Laura, for taking time to chat with me!
There you have it folks! A big dose of inspiration for all active vegans and any athlete who may be curious about eating a vegan diet!