By Lori Stultz, VO Communications Manager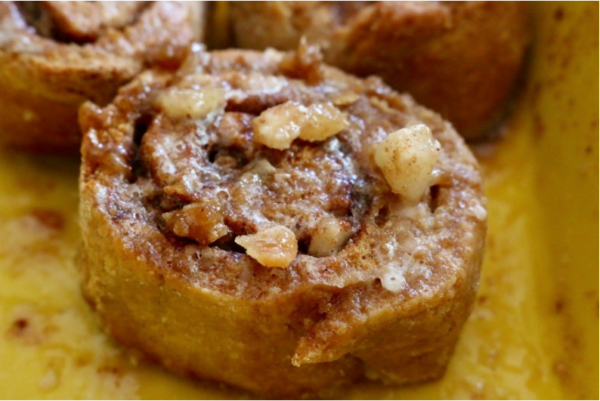 The moment I saw Sharon Palmer's delicious Easy Coconut Cinnamon Rolls recipe, I knew exactly what I'd be making Christmas morning for my family.
But who says you have to wait for a special occasion? I think any morning would merit an hour or so to make these undeniably tempting cinnamon rolls!
If you make them before I do, please leave a comment and let Sharon and me know how much you liked them!
Easy Coconut Cinnamon Rolls
Yields 12 rolls.
Ingredients
1 cup coconut milk beverage (not canned coconut milk, but the refrigerated coconut milk available in the dairy section)
1 tablespoon coconut palm or maple sugar (may substitute brown sugar)
1 package instant yeast
3 tablespoons coconut oil
1 cup coconut flour
¼ teaspoon salt
2 cups white whole wheat flour (may substitute half enriched flour, if desired)
Filling
2 tablespoons melted dairy-free margarine
⅓ cup dried coconut strips, finely diced
2 tablespoons coconut palm or maple sugar (may substitute brown sugar)
1 tablespoon cinnamon
Directions
Heat up coconut milk in microwave until lukewarm (about 110°F; should feel warm but not hot to your wrist). Add to a mixing bowl.
Stir in sugar and sprinkle with yeast. Let stand for 10 minutes (should start to bubble on the surface).
Mix in coconut oil.
Add coconut flour and mix well.
Add salt and remaining flour, ½ cup at a time, until you get a nice dough that is cohesive but not overly dry.
Turn dough out on a very lightly floured surface and knead for 2 minutes.
Oil a medium bowl and place dough in it, with a towel over it, and let rise in a warm place (an oven at about 80°F is a great place) until doubled in size (about one hour).
Punch down dough and remove from pan. Place on the lightly floured surface and roll out to a rectangle in size.
Preheat oven to 350°F. For the filling, spread margarine evenly over surface of dough. Then sprinkle evenly with coconut, sugar, and cinnamon. Roll dough from the longer side of the rectangle, squeezing tightly.
Slice into 1 ½ – 2″ circles to make 12 rolls.
Spray a 9″ × 9″ inch baking dish with nonstick cooking spray. Arrange rolls in baking dish. If desired, dust with additional cinnamon, sugar, and diced coconut.
Bake for about 30-35 minutes, until golden and cooked through.
Recipe Variations
If you really want to sweeten up these cinnamon rolls, whip up this glaze and give them a hardy drizzle.
1 cup powdered sugar
1 tablespoon coconut milk
Make a thin glaze by mixing powdered sugar and coconut milk together. While rolls are warm, drizzle with glaze.