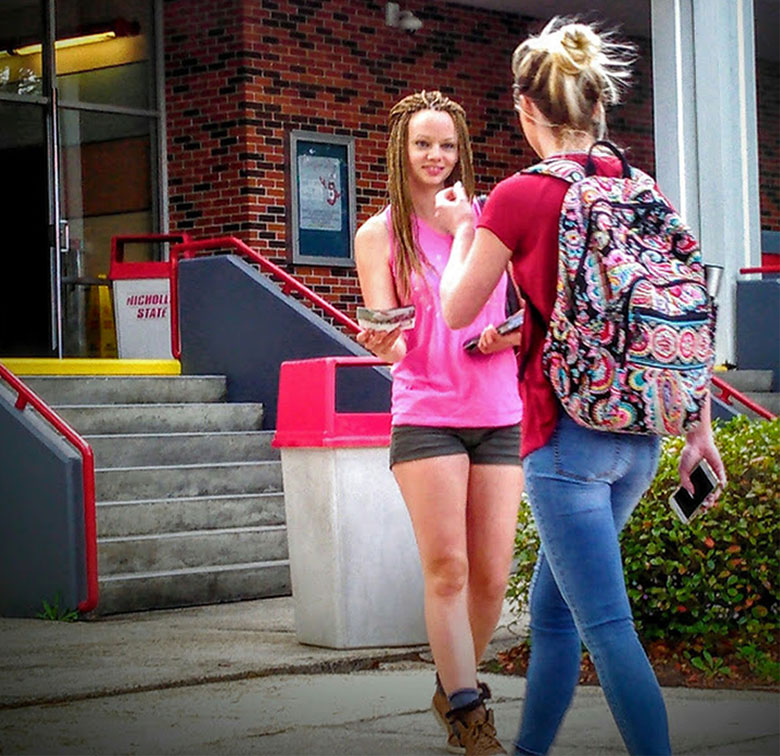 Continuing our series of activist profiles, today we interview Doris Schneeberger. For a few weeks this spring, Vegan Outreach was lucky to have Doris join Yuri Mitzkewich on his tour across the southern states. By the time her internship was over, she had passed out 17,668 booklets! Thank you, Doris, for using your time in the United States to make a difference for animals everywhere.
Where are you from and where do you live now?
I'm from Austria, where I live in a village on the countryside.
What got you interested in animal rights and veganism?
I've always loved all kinds of animals and I've always been a philosophical person. After high school I studied philosophy and focused on animal ethics. I wrote my PhD thesis on possible future Universal Declarations of Non-Human Animal Rights.
The misery of non-human animals in our society bothers me every day. The way humans treat (especially) farm and lab animals is horrifying and deeply unjust. Many of those who have woken up out of the Matrix, and are now able to see that what we do to fellow beings is an atrocity, feel the need and obligation to stand up for those who cannot stand up for themselves.
I'm deeply grateful for each and every animal rights advocate who works towards a better world for all sentient beings on this planet. Every one of them is a multiplier, their influence and existence as an example for others are highly important for the moral advancement of humanity, which is vital for a peaceful future and the preservation of the integrity of our planet and its natural resources that all of us depend on.
Moral progress includes less unnecessary harm, violence and injustice and more peace and respect for the life and welfare of others. Those who are the most vulnerable and powerless are in need of the greatest protection.
It feels great to be a vegan. Everyone who distances him- or herself from the unnecessary exploitation and killing of fellow beings that the production of meat and animal products entails is another human who doesn't participate in the human warfare against other animals. Veganism is a vote against speciesism, and a vote for peace, non-violence, justice and the protection of our planet instead.
How did you get involved with Vegan Outreach and leafleting?
I saw Vic Sjodin's talk last year at the International Animal Rights Conference in Luxembourg. My impression was that he was a humble, honest, down-to-earth and friendly animal rights activist, and that's how I first got to know a little bit about Vegan Outreach. I spent two months at Georgetown University in Washington, DC, as a visiting researcher writing a paper about my thesis in February and March of this year. I was looking for meaningful activities for animals which I could get involved in here in the US and I found out about possibilities of volunteering with Vegan Outreach. I contacted Vic and he was truly welcoming. I just finished traveling the southern states with vegan superhero Yuri Mitzkewich for a few weeks, leafleting at universities and colleges.
On this journey, I was not only able to gather experience on how to advocate for animal rights effectively, I also got to see parts of the US I would never have seen otherwise and met and learned from a lot of great and inspiring people who are involved in working for animal rights.
Do you have a favorite leafleting moment to share?
I'm always thankful if people take some time to talk to us a little bit—it's really interesting to hear people's opinions on the topic. You get a better idea of how people think and where they're coming from, which allows you to adjust your approaches to make your advocacy more effective. The most valuable situations are probably those when people take the brochure, walk past you and then return a few minutes later to ask questions. I also like it a lot when the leaflets spark conversations about the issues revolving around eating meat and animal products among groups of students. After all, our main objectives are to provide information and get people to rethink old mindsets and make better decisions in the future.
What do you do for fun when you're not leafleting?
I love sports, nature and music. I'm really eager to improve my skills and myself in all kinds of directions and enjoy beautiful moments and times whenever they present themselves. I try to do something meaningful and learn and grow every day. As a social animal, I like spending time with human and non-human friends daily.
Can you tell us one of your favorite vegan products to share with our readers?
I love all kinds of vegan products—it's hard to pick one actually. I especially love cooking and eating vegan dishes for and with friends as it's an easy and enjoyable way to gather and spread knowledge about tasty and healthy vegan products and dishes. Even if there are a few products one especially enjoys eating, diversity is crucial in a healthy vegan diet: firstly because you thereby make sure you consume all the nutrients, vitamins and minerals your body needs; secondly because you can enjoy and continue to learn about all the manifold magnificent products and dishes a wholesome vegan diet entails; and thirdly because others also see the healthiness, deliciousness and diversity of tasty and healthy vegan dishes.