By Josie Moody, VO Office Manager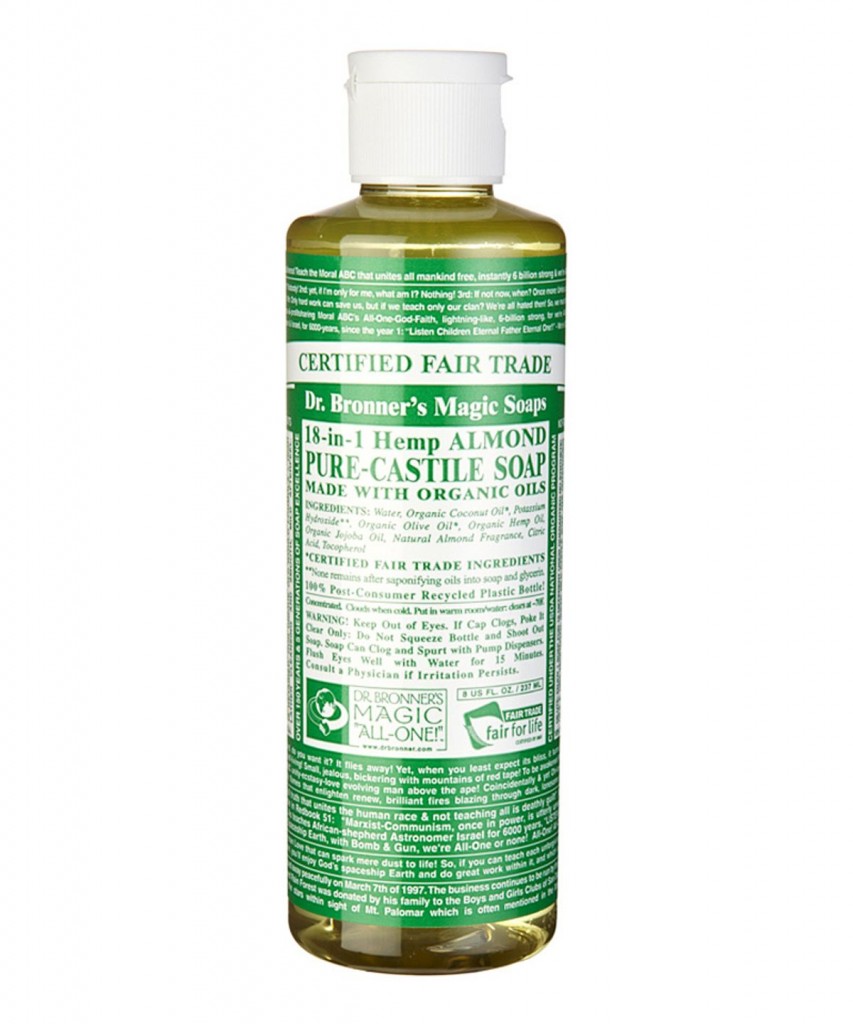 This week (June 6-12) is Hemp History Week, so we're highlighting on the blog a few products and recipes containing hemp—all vegan of course!
Our friends at Dr. Bronner's Magic Soaps invited us to participate, so we're dedicating this first blog post to them. Dr. Bronner's uses hemp oil in all their soaps because of its essential fatty acid (EFA) content. It makes their soaps lather smoothly and be less drying, and it serves as a great moisturizer in their lotions and balms.
Dr. Bronner's makes a variety of products, all wonderful. I decided to review their 18-In-1 Hemp Almond Pure-Castile Soap.
The 18 suggested uses (recommended on the side of the bottle) include using it to wash your hair, face, body, and hands, around the house as an all-purpose cleaner, on the floor, and as a laundry detergent, diluted and sprayed on plants to ward off bugs, to wash your fruits and veggies, and even to clean your dog!
I put it to the test by washing my skin, hair, dishes, counters, cupboards, and bathtub with it. The first thing you'll likely notice (unless you choose unscented) is that it smells wonderful! As I was cleaning, I thought about how much more pleasant it was to clean while smelling almonds, versus the stringent smell of other cleaners. It also made me think, why would I clean my tub (and other surfaces) with a cleaner that isn't good for your skin or body, when my skin is the only thing that would touch any surface in the tub?!
(Watch our video on How To Give Your Home a Cruelty-Free Makeover).
Needless to say, I thought it worked great as a multi-purpose cleaner, on my dishes, and on my skin. I was concerned it might leave a residue on my dishes or counter, but it didn't. I did use it in my hair, and had a hard time rinsing it all out. However, I'm glad that I know that in a pinch it is safe to use in my hair as well. (They do have hair specific products too. Check them out here).
One of the most distinguishable features of any Dr. Bronner's product is all of that text on the labels! I took the time to read it all, and after reviewing this product, I have to agree with their advice: "Enjoy only 2 cosmetics, enough sleep & Dr. Bronner's Magic Soap!"
What else do you use Dr. Bronner's Magic Soap for? Let us know in the comments below!