By Lori Stultz, Communications Manager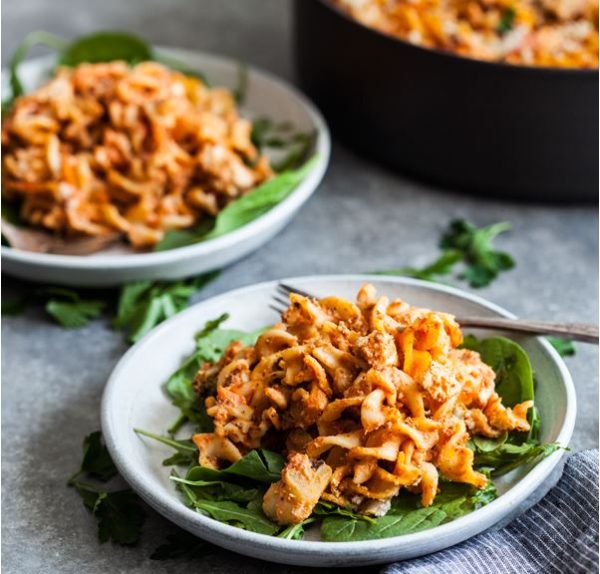 If this Pizza Pasta Bake doesn't scream comfort food, then I don't know what does. Don't wait to give this meal a try if you're looking to whip up a little TLC in your kitchen.
As an avid blog follower of Gena Hamshaw's The Full Helping, it's always a pleasure to share her unique food creations with our readers.
Easy Vegan Pizza Pasta Bake
Yields 6-8 servings.
Ingredients
1 lb pasta of choice
2 cups marinara sauce (homemade or store-bought)
1 cup cashew cream (you can substitute unsweetened, non-dairy creamer)
¼ cup tomato paste
1 teaspoon dried oregano
1 teaspoon dried thyme
1 16-oz bag frozen vegetables, cooked according to package instructions, or 5 cups steamed, chopped vegetables of choice (broccoli, carrots, green beans, peppers, zucchini, and cauliflower are all great)
1 batch tofu feta (reserve all of the marinade)
Black pepper and salt to taste (or nutritional yeast)
¼ cup vegan parmesan topping or hempesan
Directions
Preheat your oven to 350°F. Bring a pot of water to boil and cook pasta according to package instructions, until it's al dente.
While the pasta cooks, mix the marinara sauce, cashew cream, tomato paste, oregano, and thyme. When the pasta is ready, drain it and return it to the pot. Add the marinara mixture, the frozen vegetables, and the tofu feta (tip: don't forget to include the tofu feta marinade, which is super flavorful!). Taste and add black pepper to taste, as well as salt (or some nutritional yeast, if you like).
Transfer everything to your casserole dish and top with the parmesan. Bake for 35-40 minutes, or until the pasta is bubbly and the top is just a little crispy. Serve.
Recipe Tips/Variations
In place of tofu feta, you can substitute 1 ½ cups of your favorite vegan cheese. Add a tablespoon of lemon juice and 1-2 tablespoons nutritional yeast (to taste) to the recipe.