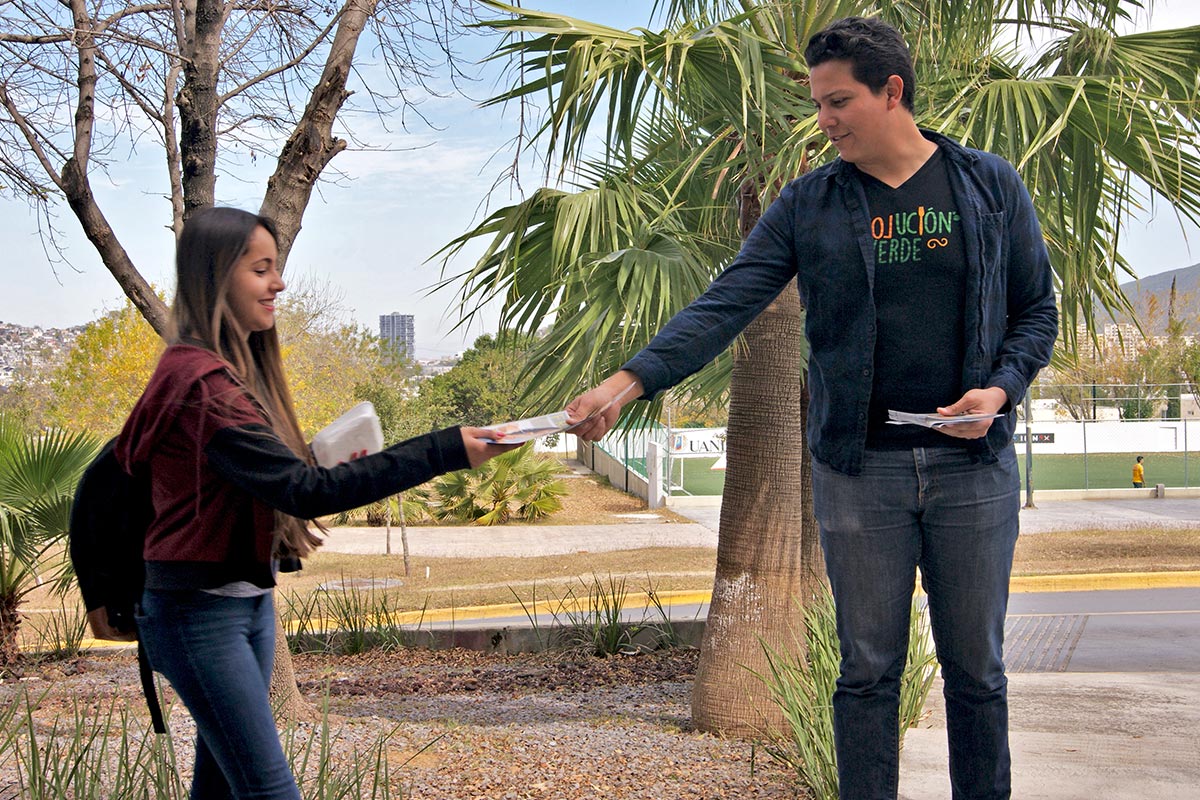 Continuing our series of activist profiles, today we talk to Vegan Outreach's Mexico Outreach Coordinator, Emmanuel Marquez. Since he began in January 2015 as our first full-time Outreach Coordinator in Mexico, Emmanuel has been an invaluable asset to the Vegan Outreach team. On the first stop of his initial tour, he had a record-breaking day at the Universidad Autónoma de Nuevo León, passing out 5,500 booklets in one session! Emmanuel has now leafleted 137 different schools, reaching more than 144,000 students. Take a moment to get to know Emmanuel a little better below.
Where are you from and where do you live now?
I'm from Monterrey, Mexico, and I live there as well.
What got you interested in animal rights and veganism?
Growing up, I constantly shared my home with dogs, fish, hamsters, and many other animals. I learned to love all of them – even insects, reptiles, and others that many people don't like. Some years ago, I saw a video on the Internet about factory farming. I was shocked and outraged, and I decided to change my diet immediately. I also felt the urge to share what I had just learned. As soon as I finished watching the video, I showed it to my brothers, and they are now vegan.
How did you get involved with Vegan Outreach and leafleting?
I started to get involved with different kinds of activities with local groups to help animals, such as demonstrations and signing petitions. As a result, I learned about the Animal Rights National Conference in the US, and I attended for the first time in 2013. There, I met Victor Sjodin, Director of Outreach for VO. Victor was about to begin a tour in Mexico, and I volunteered to help him in my hometown. We visited the main universities in Mexico and had a very positive response. Later, I was offered a position with Vegan Outreach as an Outreach Coordinator traveling all over Mexico, visiting universities to speak up for farmed animals, and here we are.
How is the response to VO literature in Mexico?
It is wonderful. When I'm on tour, almost every day I get to meet someone who is interested in changing their eating habits to help animals, thanks to a leaflet they've received from us. It's sometimes overwhelming to see so many students reading the booklets on a campus we are visiting!
Tell us what you like about leafleting.
I love leafleting because it is a very simple and effective way to help animals and to change people's lives. Everyone should give it a try, even if you are introverted. I used to be hesitant about doing it on my own since I'm naturally shy, but after doing it for some time, it has helped me to be more confident in general and better at interacting with people. It is easier than it looks and the more you do it, the easier it gets. Leafleting with a friend and smiling always helps.
Do you have a favorite leafleting moment to share?
I have different moments that I like a lot, but I think my favorite was when I was visiting the Tech Institute of Querétaro with Carlos Contreras. Our day was made when a guy named Luis [below] was standing with his guitar very close to us, waiting for someone outside the main gate; we gave him a leaflet, and he read it completely while we kept leafleting. After he finished, I approached him and asked for his thoughts about it, and he said "I'm not eating meat anymore" right away! We had a long talk with him about dairy and eggs and gave him some advice on how to make the transition to veg easier and more likely to last. It was one of those times where you get to see the effect of leafleting on people firsthand – there are many people who react like Luis when they receive a leaflet, but you don't get to see them.
What do you do for fun when you're not leafleting?
I like to watch movies, spend time with friends and family, go hiking, visit museums, attend concerts, and play video games.
I'm also proud to share that my family runs a vegan taco business. My older brother Eleazar started it almost three years ago. Now my parents, Eliazar and Mary, and my younger brother Isaac all sell them in farmers' markets and at other events, and cater as well. They are made of oat chicharron, amaranth picadillo, beans, and potatoes. I love to see people enjoy them. Vegans and non-vegans go wherever they are sold to eat delicious and accessible plant-based food.