VO Outreach Coordinator Thomas Goodman (below, left) has personally handed booklets to 23,340 students at 38 different campuses this semester! And longtime Adopt a College activist John Sakars (below, right) is this fall's most prolific volunteer – traveling with Thomas through Canada and Upstate New York, and later with Yuri Mitzkewich, VO's Southeast Outreach Coordinator, John has placed booklets into the hands of 54,000 students at 66 different schools!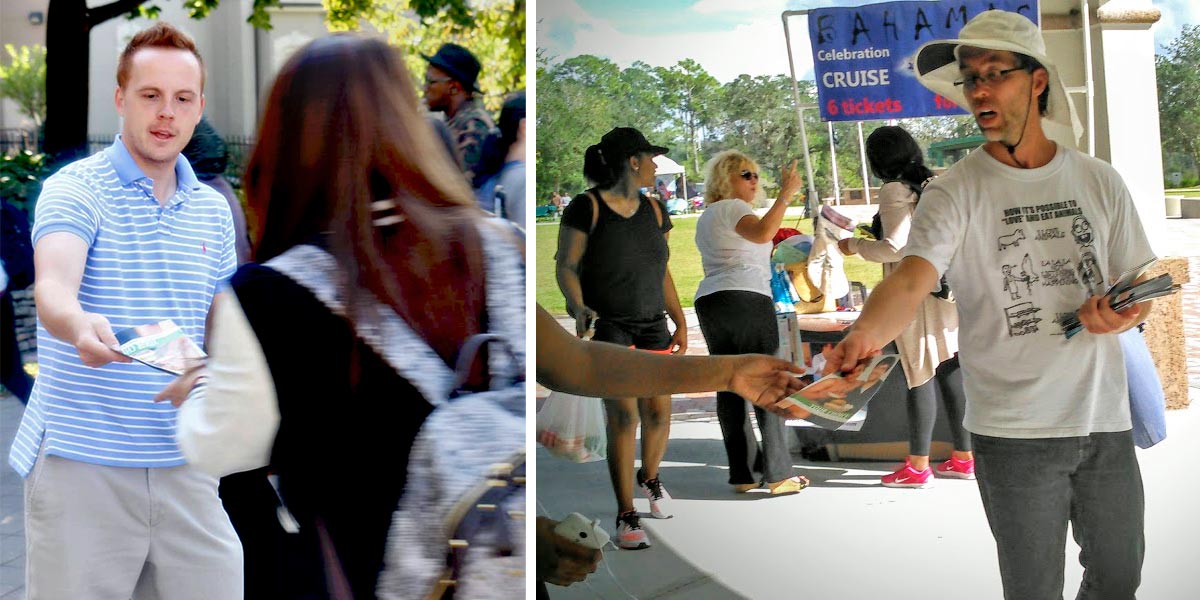 After reaching 1,050 Dawson College students with John on October 2, Thomas wrote:
Today, more than any day on the tour yet, was filled with so many positive one-on-one interactions with individuals professing their interest in becoming involved with activism in their community.

There were also a few stories I'd like to share: One individual heard from a friend that there were two people handing out literature from VO, and she was inspired to come meet us. Another individual has been leaning toward lessening her meat intake and is going to begin starting Meatless Mondays. Lastly, there was a young man who mentioned he became a vegetarian nearly one year ago to motivate his father to lessen his meat intake for his health. He said that while he did it for his dad originally, he is thinking of now going vegan for animals!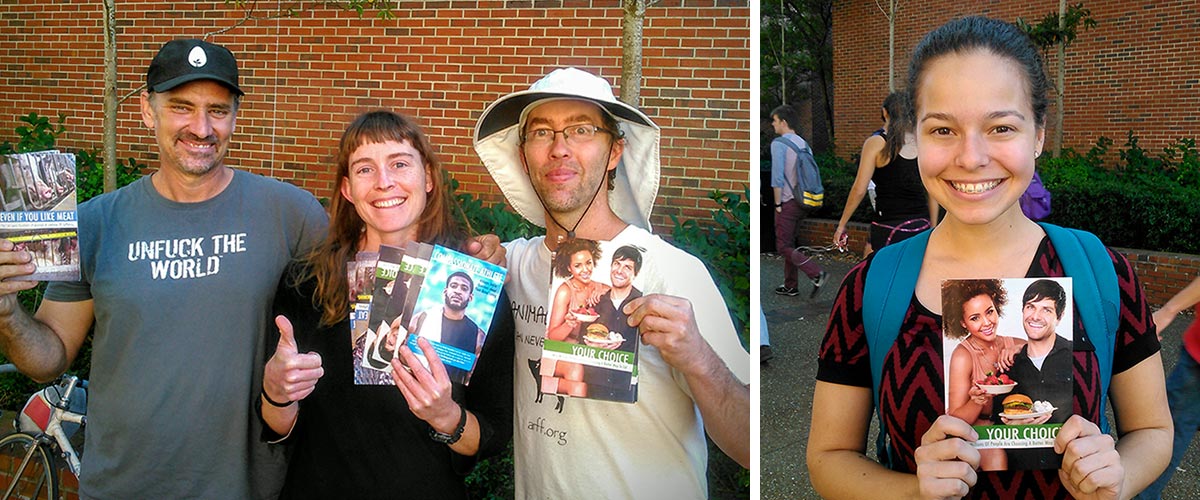 Above (from left) are Yuri, Natalie Boydstun, and John at the University of Florida, where they handed out 4,356 booklets on December 7 with help from Alec Neller and Nick Salamun, breaking the previous campus record set by John and Yuri in October! When John handed a Your Choice booklet to Rosa (above, right), she was excited to tell him that she had already become pescatarian last fall after receiving a VO booklet on campus.
Today, your donation will help twice as many people move toward a vegan diet: Donate now to receive dollar-for-dollar matching!