By Alex Bury, Organizational Development Consultant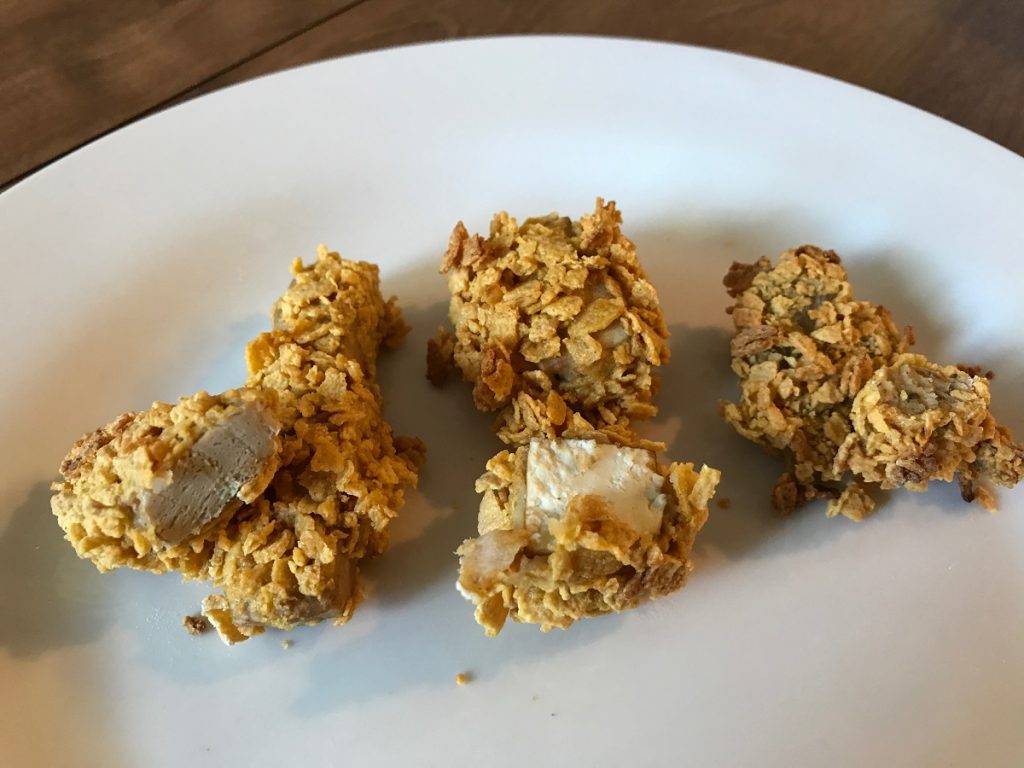 Fried chicken, Coca-Cola, and cornflakes probably don't make you think of an animal-free meal, right? And yet—this recipe is all vegan!
I love taking classic meat recipes and veganizing them. I'm also hooked on the daily New York Times recipe digest. A little late-night reading left with me two totally non-vegan recipes—included at the end of the post—that I combined and made vegan.
The result was a yummy summer dinner—very comfort food-ish and fun. Vegan Outreach's goal is to reach meat-eaters with the vegan message, and that means offering recipes that are satisfying, familiar, and, yes, full of protein.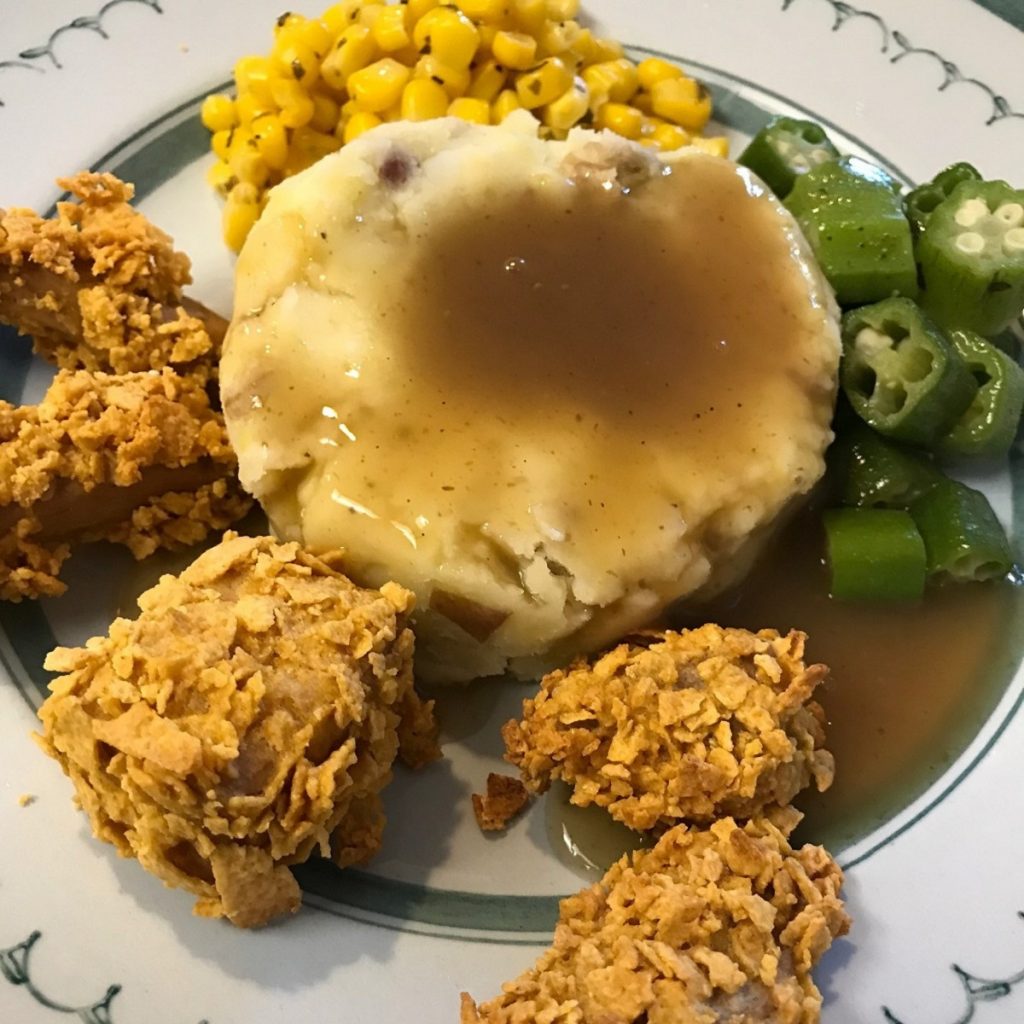 Coke Chicken
Yields about 6-8 servings.
Ingredients
Marinade
5 cups Coca-Cola—you can use "natural cola" if you prefer
1 tablespoon kosher salt
10 sprigs fresh thyme
4 cloves garlic, peeled and sliced
4 teaspoons mild hot sauce—such as Crystal, Texas Pete, or Cholula
2 packages of your favorite vegan chicken or 2 blocks firm tofu, sliced
Breading
1 cup all-purpose flour—substitute gluten-free flour if needed
4 cups cornflakes, finely crushed*
1 ½ cups unsweetened dairy-free milk—try stirring in 2 tablespoons of apple cider vinegar to make vegan buttermilk
2 tablespoons Dijon mustard
¼ teaspoon cayenne pepper
1 ½ teaspoons paprika
¾ teaspoon ground sage
1 ½ teaspoon salt
1 teaspoon freshly ground pepper
*Try to stay clear of Kellogg's Cornflakes. They may contain a non-vegan vitamin D3. However, if you're just starting to make vegan food—or you're a vegan veteran and didn't know Kellogg's Cornflakes might not be vegan—don't stress! Go ahead and use them. In the future, you can try to find a different brand of cornflake cereal.
Directions
Stir the coke, salt, thyme, garlic, and hot sauce.
Add the vegan protein to the mixture and let it marinate for about five hours.
After the protein has had plenty of time to marinate, drain the excess marinade.
Preheat the oven to 425°F. Place a rack in a roasting pan or on a parchment lined baking sheet.
Pour the flour onto a wide plate or into a flat baking dish. Dredge each chicken strip or slice of tofu in flour so it's fully coated. Tap off the excess flour and set aside. When you're done, discard the extra flour.
Crush the cornflakes so they're finely crushed, but not quite a powder. Pour half the crushed flakes onto a big plate or pie plate.
Mix the dairy-free milk, Dijon mustard, cayenne, paprika, sage, salt, and pepper together in a big bowl.
Dip each floured piece of chicken or tofu into the liquid milk mix. Then roll it in the cornflake crumbs and place right away in the baking dish or on the lined cookie sheet. Repeat for each piece. When you're done with the first half of crumbs, pour the remaining crumbs onto the same plate and continue until all pieces are breaded.
Bake for 15-20 minutes, until the cornflake crust is golden brown and crispy.
Recipe Tips and Variations
I experimented with Tofurky Chick'n Strips, tofu, and Beyond Meat Chicken Strips. The Tofurky was the best! The tofu really soaked up the marinade well, and The Beyond Meat is great for gluten-free eaters.
You don't have to marinate the protein if you don't have the time. Any of the vegan meats on the market today would be delicious with just the cornflake crust. However, it does add a really nice flavor—it's kind of sweet and tangy at the same time.
I used a food processor with an S blade to crush the cornflakes. You can also smash them with a potato masher, put the cereal into a plastic bag and crush with a rolling pin, or use your hands.
As an alternative to baking the breaded chicken or tofu, you can also pan fry them. Put a little oil in a skillet and heat on each side until they're golden brown.
I served the chicken hot with mashed potatoes and gravy, corn, and okra.
Here are the two original recipes that inspired this delicious vegan meal—