By Katia Rodríguez, VO Mexico Campaigns and Spanish Media Coordinator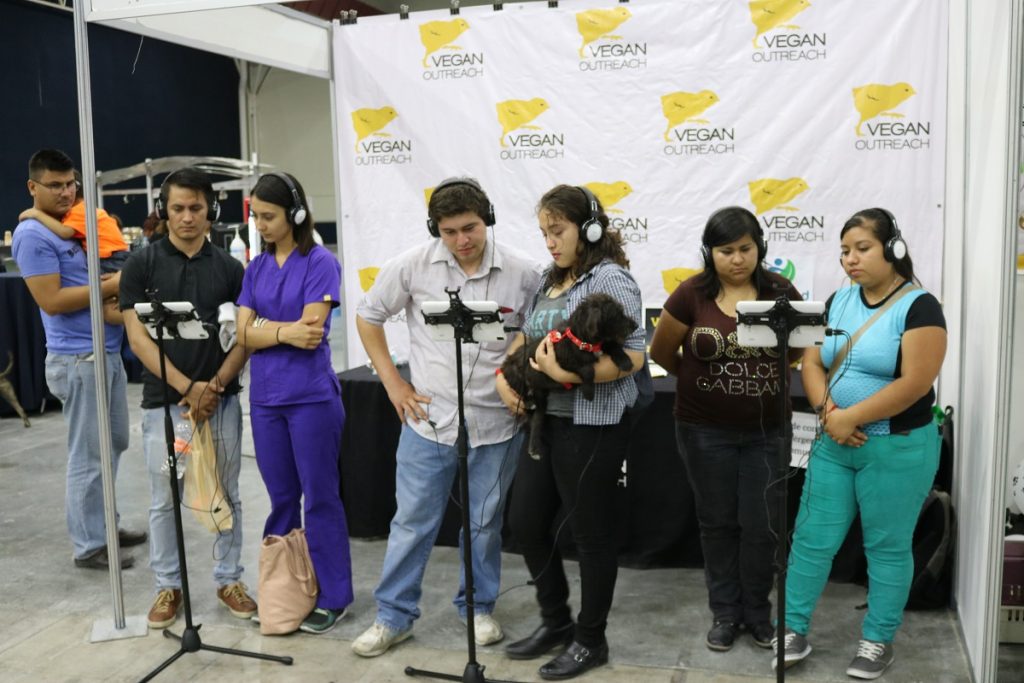 Last month, Emmanuel Márquez, Vegan Outreach's Mexico Outreach Coordinator, and I were invited to the Gira Expo Conciencia Animal (GECA), a tour of events that promotes respect for animals, namely dogs and cats. GECA travels to various areas throughout our Mexican state, Nuevo Léon, and includes conferences, adoption opportunities, and spaying and neutering services.
It was a great occasion to do outreach because the people attending the event were already interested in helping animals. We felt that these individuals would be open to expanding their circle of compassion to farmed animals, but that they needed to be informed about the abuses that take place on factory farms.
Emmanuel and I, along with Vegan Outreach volunteers Constanza Zuñiga, Luis Zepeda, Carlos Contreras, and Ángel Ramírez set up a table at the GECA event in Monterrey, Nuevo Léon with information and tablets for Pay Per View (PPV).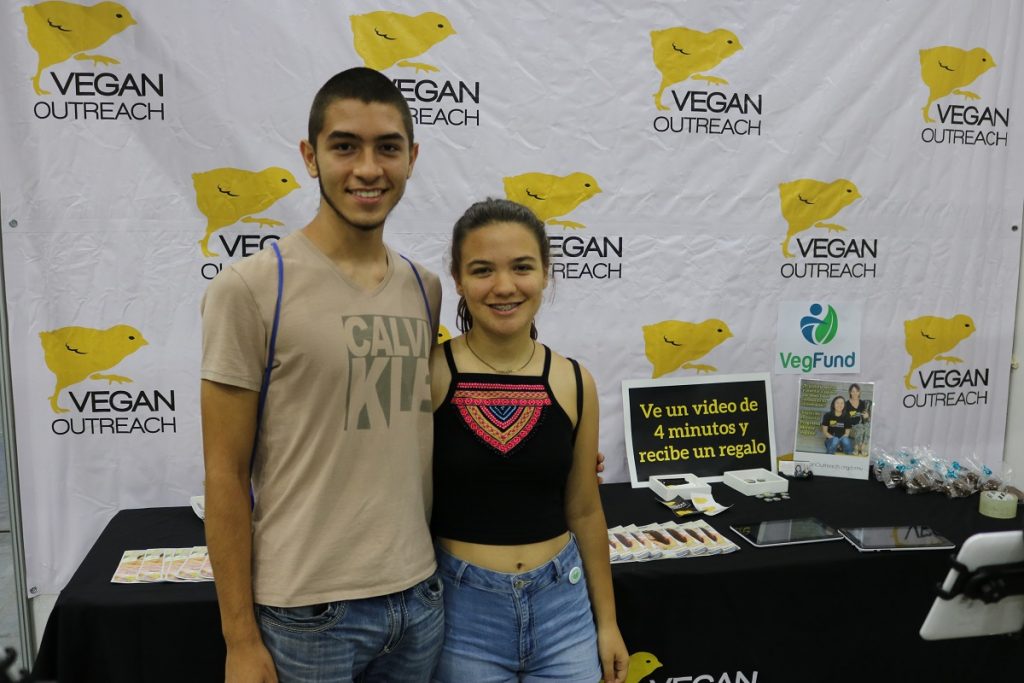 For those of you unfamiliar with PPV, it's an effective form of outreach where people are typically paid a few dollars to view a short video that briefly describes the inhumane treatment of animals in the meat and dairy industries. Immediately following the video, viewers are prompted with a survey asking how likely they are to make changes to their diet.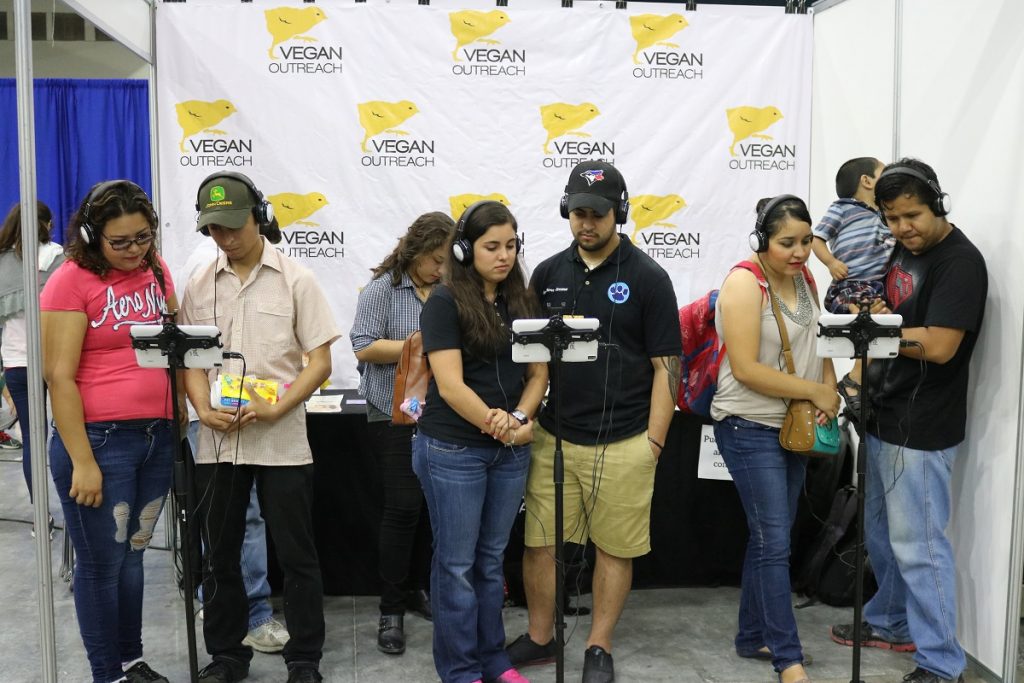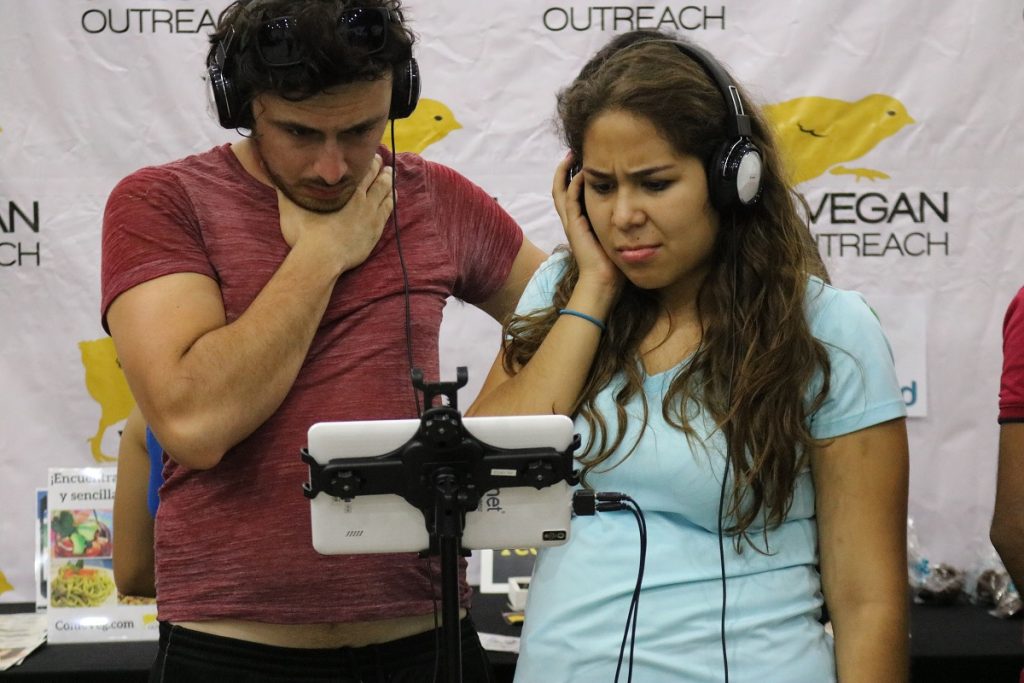 Instead of paying people money at this event, we decided to give them a pack of vegan chocolate cookies instead. We wanted to debunk the myth that vegan food has no taste or is not good. Everybody loved them!
More than 150 people saw the video and over 300 received a leaflet. Most people who stopped to watch the video expressed interest in making changes to their eating habits! We engaged in some good conversations and invited everyone to visit the Spanish section of the Vegan Outreach website. We also told them about the Spanish Vegan Mentor Program, Programa Mentor Vegano.
Overall, this was a great and effective outreach event!