By Lori Stultz, VO Rocky Mountain Outreach Coordinator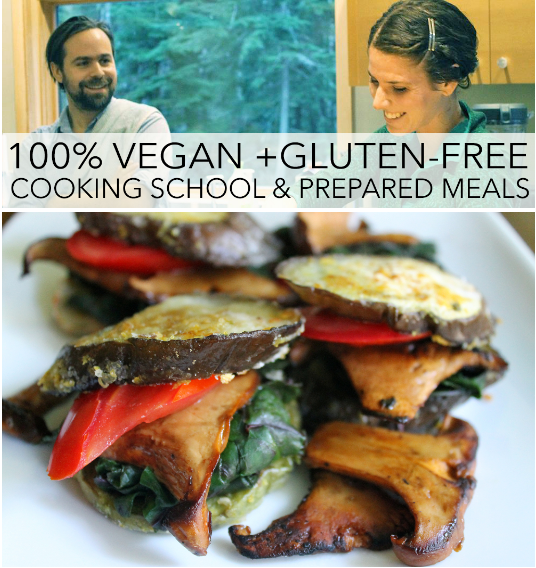 This delicious meal idea came to us from Renee Press, owner of Seattle's first vegan, gluten-free cooking school, Fire and Earth Kitchen. We met Renee back in February 2015 when she shared her unique Sunflower Seed Pesto recipe and answered some commonly asked questions about eating a vegan diet.
I was not satisfied with leaving VO's communication with Renee at that, so I got back in touch with her and she has graciously agreed to let us share her creations in what will be an on-going series featuring her vegan, gluten-free recipes.
If you didn't meet Renee when we talked with her the first time, it's not too late! However, there have been some exciting changes at Fire and Earth Kitchen since we last spoke with her—including a new, permanent location where she will be hosting her cooking classes. Until very recently her cooking school was mobile, but now she'll have the convenience of a stationary kitchen to share her knowledge and passion for vegan, gluten-free cooking.
You can learn a little bit more about Renee and her cooking school in this more in-depth interview, and by checking out Fire and Earth Kitchen's latest newsletter. If you're in the Seattle area be sure to join them for their Grand Opening party on July 16!
To kick off the series, I chose Renee's Hearty Lentil Broccoli Bolognese. My friend and I whipped up this sauce after getting back from a hot, late-afternoon hike. We were tired and the minimal preparation this meal required was much appreciated.
So the next time you want a substantial sauce to put on top of your pasta, give this broccoli bolognese a try!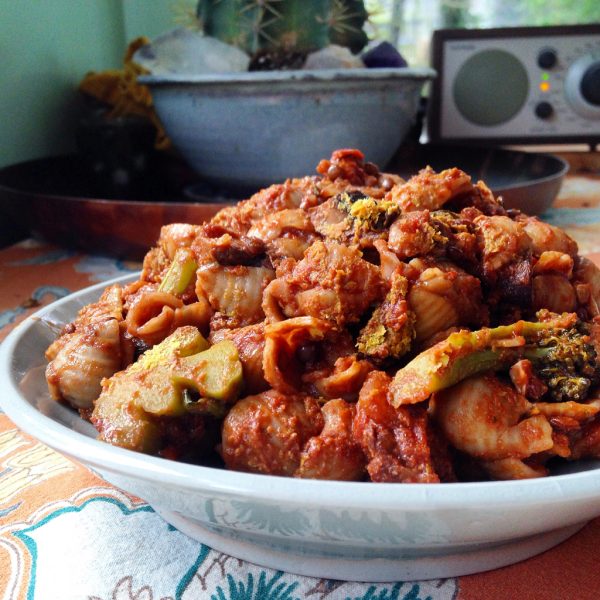 Hearty Lentil Broccoli Bolognese
Serves about 4.
Ingredients
1 medium yellow onion, diced
3 cloves garlic, finely chopped
½ cup carrot, diced
½ cup celery, diced
1 cup crimini or white mushrooms, chopped or sliced
½ cup red or white wine (optional)
3 cups tomatoes, diced, fresh or canned
1 can tomato paste, 6 oz
3 cups broccoli, chopped
2 cups water
1 tablespoon oregano
1 teaspoon thyme
¾ cup green or brown lentils
1/2 cup chopped walnuts
1 tablespoon sweetener of choice (agave, sugar, or chopped date)
1 teaspoon salt
Black pepper to taste
½ cup fresh parsley, chopped (optional)
½ cup fresh basil, chopped (optional)
¼ cup nutritional yeast (optional)
Directions
Sauté onion, garlic, carrots, celery, and mushrooms in a bit of olive oil over medium heat, in a medium pot or a wide, deep skillet, for three to four minutes.
When softening and lightly browning add wine (if using), if not substitute water or vegetable broth, and stir well to combine. Add tomatoes and cook with lid on for five to six minutes over medium heat until tomatoes start to break down. Add remaining ingredients—tomato paste through lentils—and bring to a gentle boil then cover and lower to a simmer.
Let cook for 20 minutes or so until lentils are soft and sauce is thickening. Add remaining ingredients—walnuts through nutritional yeast. Only add walnuts at the very end of cooking; if you add them earlier and continue to cook the sauce, they will turn it black. After you add walnuts and herbs turn off heat and stir well to combine, serve over pasta of choice with steamed or sautéed veggies added in.
Recipe Variations
If you're looking to speed this preparation up even more, I recommend boiling the lentils in a separate pot and adding them to the other ingredients at the very end.
I omitted both the wine and the sweetener and it still tasted great!