By Lisa Rimmert, VO Director of Development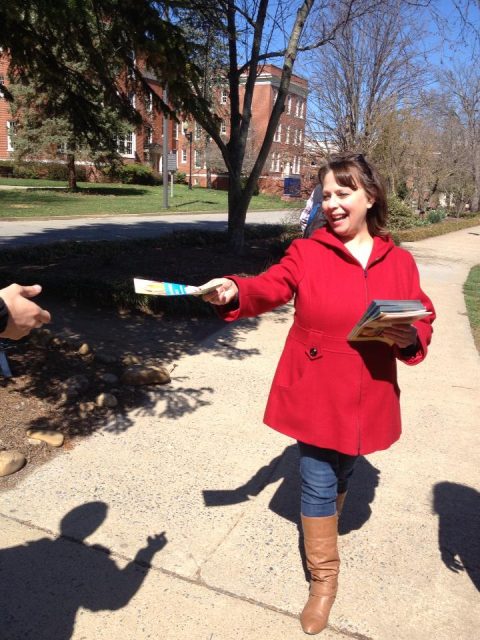 Team Vegan member Frannie Miller realized at a young age the connection between living animals and what we eat. Now, she devotes her time to creating a more compassionate world.
When she was five years old, Frannie was given a large piece of steak. She had never eaten steak before, so she asked what it was. "When I realized it was a piece of a cow," she said, "I could not chew it or swallow it. I had to spit it out."
That started Frannie's journey, but it wasn't until she reached college that she discovered there was a name for her way of eating: vegetarian.
For Frannie, veganism and activism came at the same time a little further down the road. Her daughters—undoubtedly raised by Frannie to be compassionate to all beings—became vegetarian and then vegan one by one.
An advisor and instructor at East Tennessee State University, Frannie is in a unique position to advocate for animals. She developed and teaches an online course called Food Choice and Society. She has seen several students incorporate Meatless Monday or become vegetarian or vegan because of what they learned in the course. One student, a Registered Nurse on a cardiac floor, became vegan and is educating the heart patients on plant-based eating.
Frannie enables Vegan Outreach to leaflet in Tennessee by hosting our traveling Outreach Coordinators and helping with campus leafleting. Now she is raising money for Team Vegan because, as she says, "The outreach works!"
Frannie is a brand new grandmother (congratulations, Frannie!) and wants her grandson to grow up in a compassionate world. It will take all of us to do our part—we can each find a way, like Frannie has, to incorporate activism into our lives. Frannie and her family are inspirations to me—and to many others.
Please help Frannie create a compassionate world for her grandson and all future generations!
Donate now to her Team Vegan page.
Thank you!