By Alex Bury, VO Organizational Development Consultant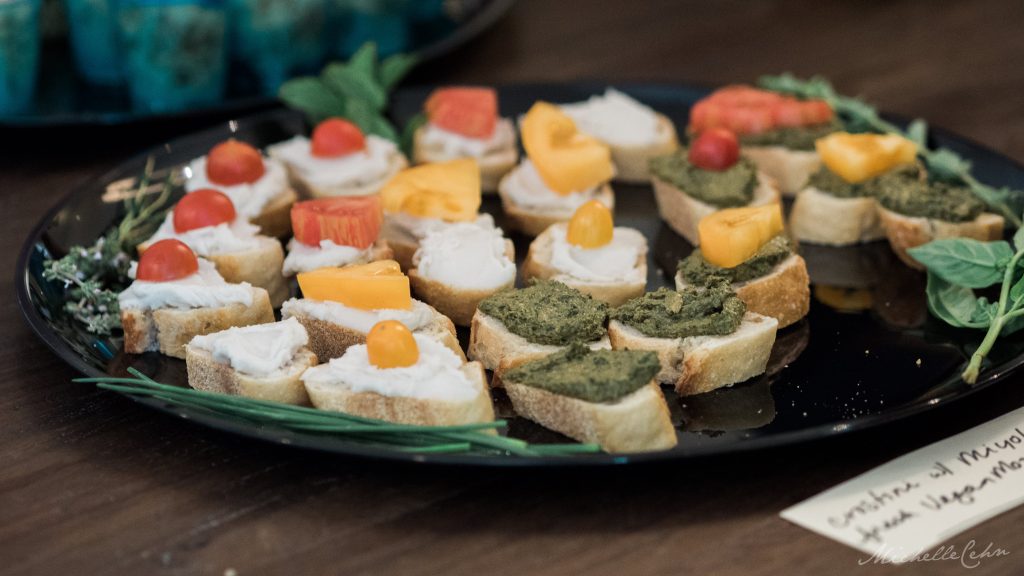 Oh, cheese. How do I love thee? Let me count the ways.
Actually never mind. Trying to list the ways I love cheese is like trying to list the number of cute dogs in the world. I think we can all agree that Cheese. Is. Awesome.
Many people associate cheese with comfort. We grew up eating it on everything, and most people still eat it on everything. Thank goodness vegans don't have to give it up anymore!
Vegan foods are exploding and vegan cheeses are, thankfully, part of that trend.
More people go vegan every day and companies are scrambling to keep up with the demand! Follow Your Heart is still my go-to favorite for pizza and Reuben wraps, most vegans keep Daiya in their fridge, and Kite Hill makes the best cheesecake and brie-like cheese ever.
Well, now there's Miyoko's Artisan Vegan Cultured Nut Products; or, as hungry vegans like to call it, to-die-for vegan cheese.
Every month more stores carry Miyoko's products. Be sure to ask your store manager to get some!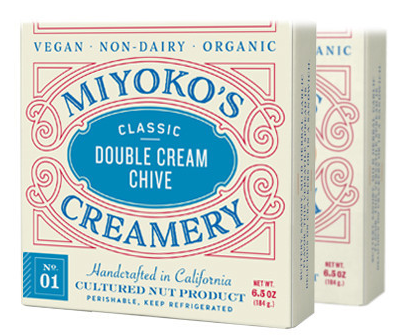 If you still can't get it in your town, it's totally worth a splurge to have it shipped. The cheese is very rich and it lasts a long time. Best of all, if you order by June 30, Vegan Outreach will get 1% of all sales and you'll get a 15% discount on your order (using the discount code: Veganoreach16)!
Miyoko's cheeses are ideal for gourmet dinner parties, cheese plates, and cocktail party appetizers. They are delicious on pizza and burritos, too, but then you miss a lot of the taste and texture.
If you're new to vegan cheeses I recommend buying Daiya, Follow Your Heart, or Trader Joe's vegan shredded cheese for your Monday night comfort-food family feast, and Miyoko's for your Saturday night impress-the-neighbors wine and cheese party.
Before I was vegan, I preferred stronger cheeses. Now I love Miyoko's Aged English Sharp Farmhouse, and, of course, any of the truffled cheese products.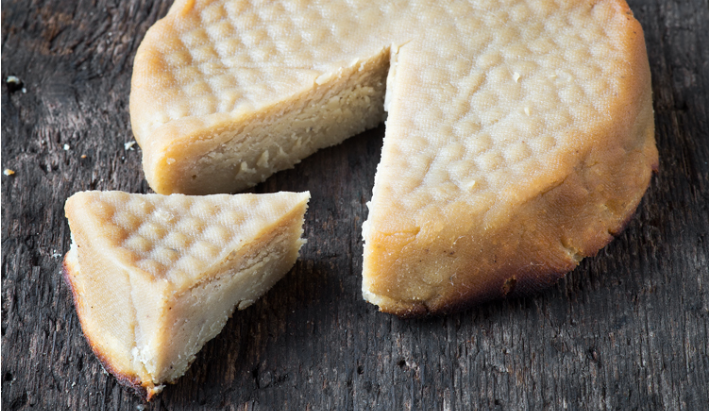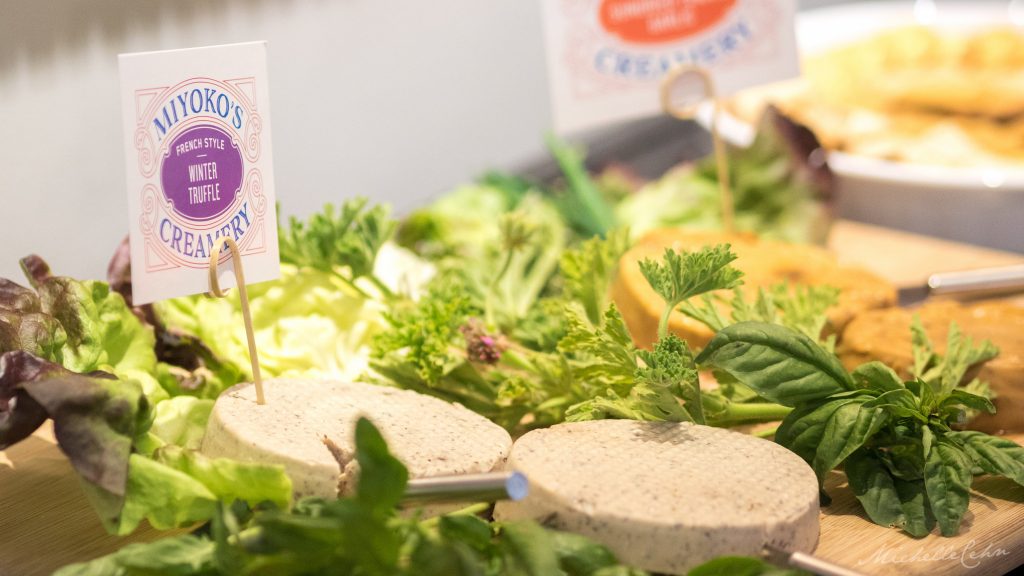 The new Fresh VeganMozz is really good too! It's rich and creamy and melts perfectly. I tasted it for the first time recently at a special Vegan Outreach event and it blew me away. Guests were coming up to me and asking what it was and where they could get it. I put it on top of roasted mushrooms—see the recipe below—and it was the most popular dish at the party!
Miyoko's cheeses are decadent, gourmet, and delicious. They're also important tools in our activism toolboxes. If you're trying to make more vegans so that fewer animals are killed for food, order some Miyoko's today and throw a party!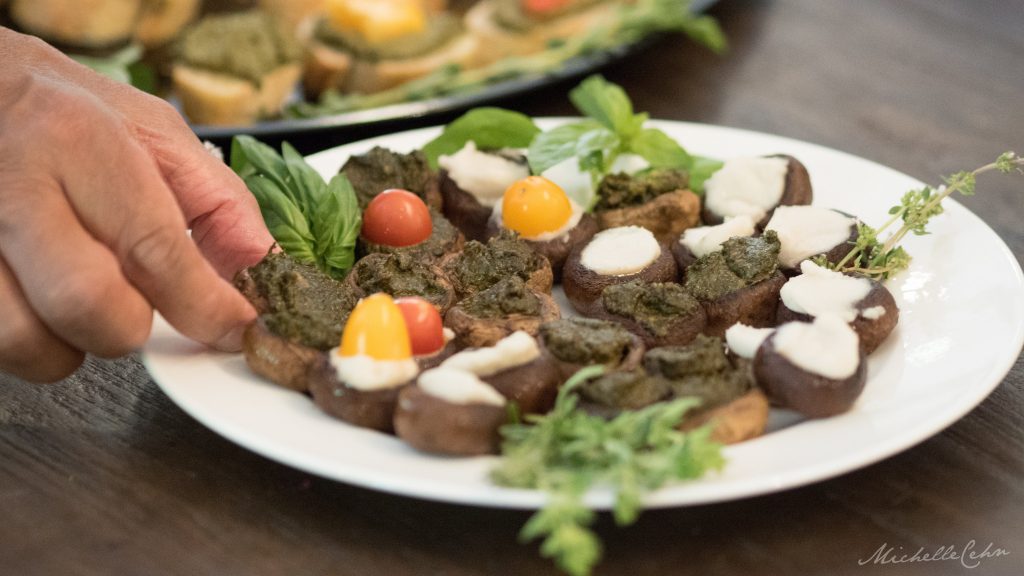 Roasted Mushrooms with Pesto, Tomatoes, and Miyoko's Fresh VeganMozz
Serves 8-16 people at a party with multiple appetizers, or 4 if you serve it as the first course for a dinner party.
Ingredients
About 20 individual fresh mushrooms, button and/or cremini
Mushroom Seasoning
3 tablespoons extra virgin olive oil
1 tablespoon balsamic vinegar or fresh lemon juice
1 teaspoon salt
1 teaspoon black pepper
Pesto
½ cup raw pine nuts
½ cup raw walnuts or almonds (Optional: You can substitute sunflower seeds for the pine nuts to save money)
2 cloves fresh garlic
1 tablespoon miso paste
Juice from ½ of a fresh lemon
⅓ cup nutritional yeast
1 large bunch fresh basil, leaves only
½ cup extra virgin olive
½ cup (approximately) water or vegetable stock
Finishings
1 really ripe summer tomato (Optional: You can also use cherry tomatoes)
1 package of Miyoko's Kitchen Fresh VeganMozz
Directions
Heat the oven to 425°F.
Wash the mushrooms and pat dry. Remove the stems. Toss the caps in a bowl with the oil, vinegar or lemon juice, salt, and pepper.
Spread the mushrooms out onto a cookie sheet. I line it with parchment paper, but you don't have to. Make sure each mushroom cap is facing up, so the juice can collect in the center.
Roast for about 15 minutes, until they're full of juice and lightly brown. Toss back in the bowl and let them sit and soak up the juice while you make the pesto.
Combine all the pesto ingredients except for the water or vegetable stock in a food processor. Process, scraping down the sides as needed, and slowly add the water until you have the consistency you like. You can add more water, vegetable stock, or oil if you like a very liquid pesto. Or use minimal water to keep it nice and thick.
Adjust the seasoning and add salt and pepper as needed. Don't make it too salty because you're going to be adding the cheese and you don't want to overwhelm the flavor of the cheese.
Toss the mushrooms a couple of more times.
Slice the tomato into small slices, just big enough to fit on a mushroom cap. You can also use cherry tomatoes.
Place the mushrooms back on the cookie sheet. Fill each mushroom with 1 teaspoon of pesto, and then fill each the rest of the way with the VeganMozz. Top with a tomato slice.
Bake for another 5-10 minutes. They won't need much, just enough for the cheese to melt and the tomato to warm. Serve right away.
Recipe Variations
You can also serve the pesto and cheese on toasted slices of French bread.