By Alex Bury, VO Organizational Development Consultant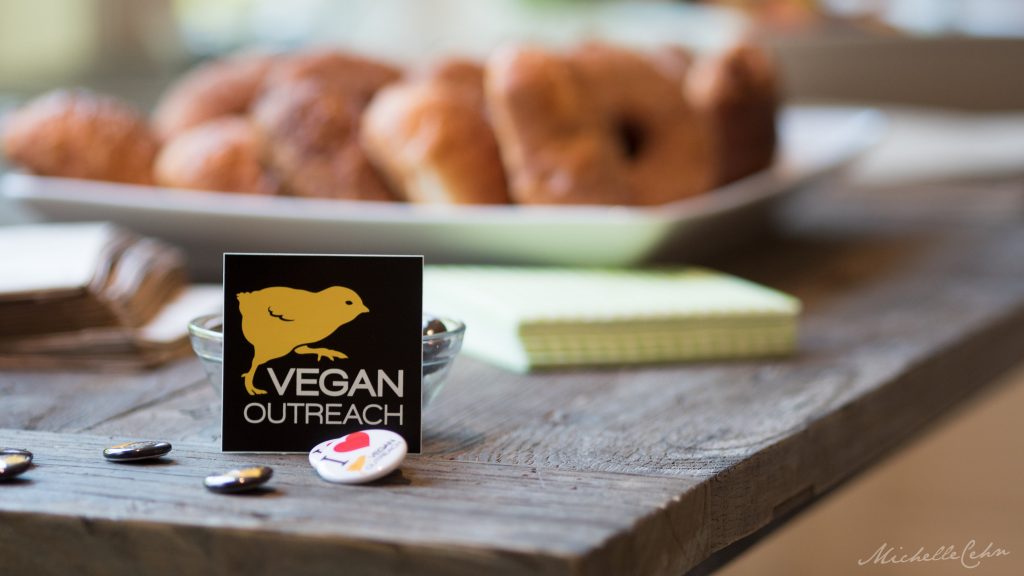 On Sunday, June 12, Vegan Outreach had a very special fundraiser for Team Vegan 2016. Ari and Becky Nessel, long-time supporters of our movement, hosted VO at their gorgeous home in Northern California.
Our event was one of many Ari and Becky will host this year. They support multiple non-profits and their deep generosity has touched most, if not all, of the major animal victories of the last decade. We're honored to work with them.
After Ari kicked off the event, VO Executive Director Jack Norris said a few words about all the new VO work. He told the guests about great new hires like Greater Ohio Outreach Coordinator, Sean Hennessy, Canada Outreach Coordinator, Jevranne Martel, and Community Engagement Coordinator, Brenda Sanders. He talked about the incredible growth and effectiveness of the Vegan Mentor Program, coordinated by Jean Bettanny. We heard about the Leafleting Effectiveness Study and, of course, the new focus on equality.
Jack said:
At VO, we recognize that we have a diverse world and we need a diverse movement if we're going to bring about a vegan society sooner rather than later. A significant part of this is having the men in the movement recognize that the women who do so much of the work and donate so much of the money should have more influence in positions of power.

In the past two years I've made a strong effort to include women on Vegan Outreach's Board of Directors. We've gone from having only one female board member to four out of six. In the same time we've hired six men, but we've hired thirteen women. We've made a concerted effort to try to hire women.
VO's Director of Outreach, Vic Sjodin, Motivational Speaker and Diversity Specialist, David Carter, and Diversity and Community Expansion Specialist, Paige Carter, all traveled from Los Angeles to attend the event. We also had some brand new people join us—it was fun to see how inspired they were by Jack's comments!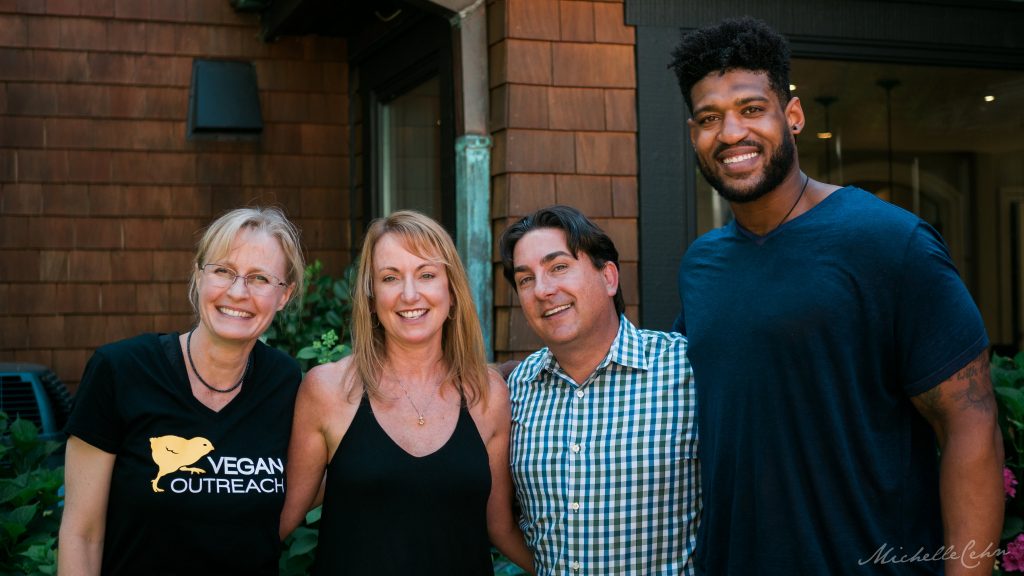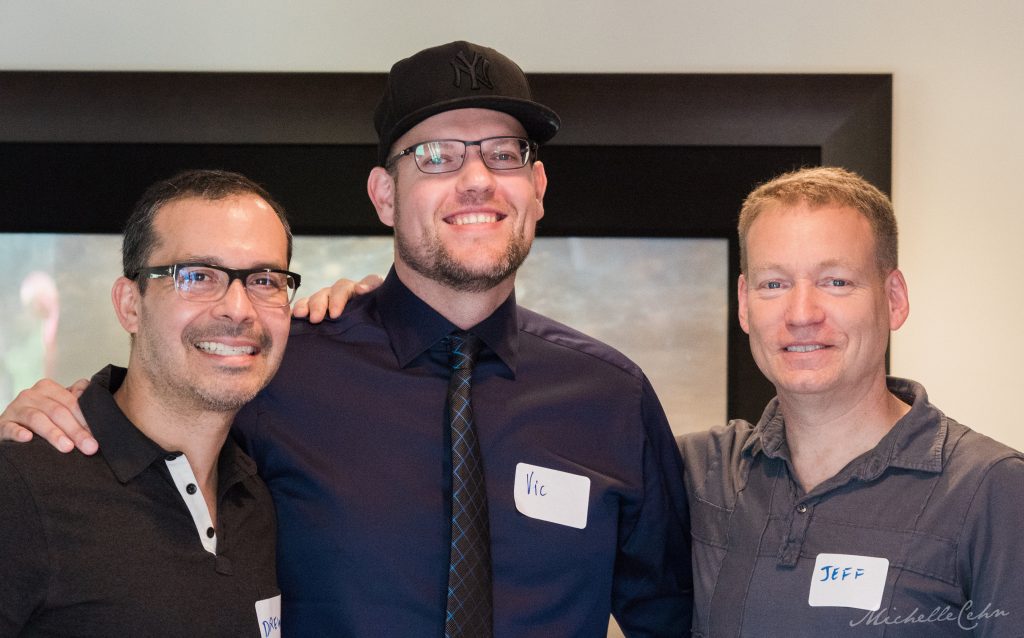 David and Paige spoke about what made them vegan, and of course David spoke about eating vegan as an elite athlete. Which wasn't very fair because he was so busy talking at the event he could barely eat, and later he came in the kitchen searching for leftovers!
Mostly, though, they talked about the need for our movement to be more inclusive and how looking at other social justice issues—like food deserts in low-income neighborhoods—will help us become more compassionate and effective.
I stood up at the end to ask for donations. VO Board Chair, Mark Foy, and his partner, VO Statistician and Researcher, Eric Roberts, made a special pledge to match up to $5,000 and the money was also being doubled again by our current Team Vegan challenge donors!
I can't resist pointing out that for all the talk about gender equality, VO had stuck me in the kitchen all day and I wasn't cool with that!
I'm just kidding, of course—I had chosen to cater the event myself to save VO money. Catering bills can be pretty steep!
I love being in the kitchen for events like this and Ari's house is particularly nice because of the big open kitchen that looks out onto the yard. I could see Ari and Becky's sons feeding the rescued chickens while I cut onions, and if I looked a little emotional, it might not have been just the onions!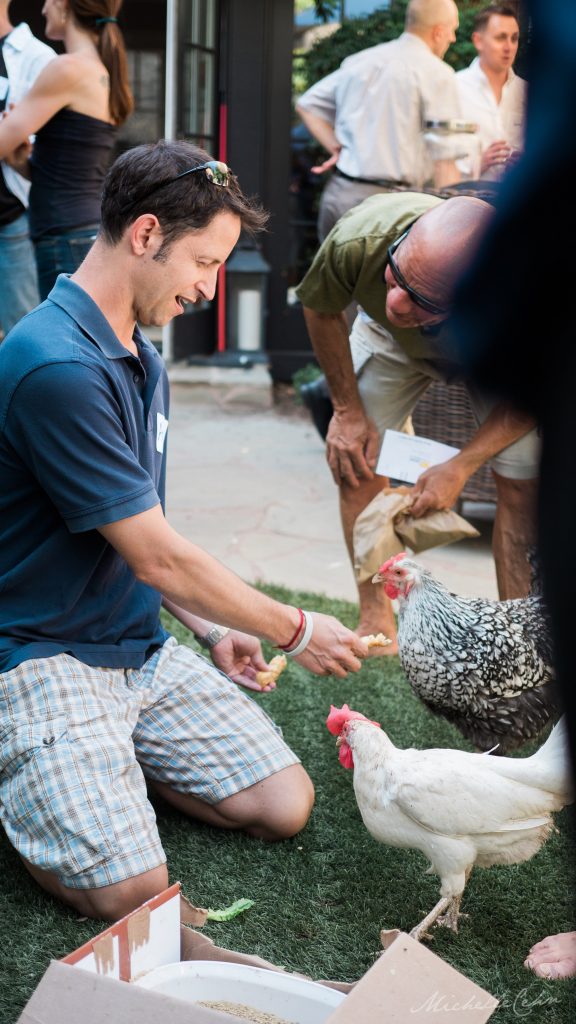 I made:
Usually the Reubens are the most popular dish I make, but this time the winners were by far the mushrooms with Miyoko's cheese and the curried salad.
We also served an incredible platter of Miyoko's other vegan cheeses—thank you Miyoko!
That was fun because we had some non-vegans there who couldn't believe the cheese wasn't dairy-based. I sent the empty boxes home with guests so they could easily find the products.
Thanks to Mark scoring big at the Berkeley Farmers' Market we had an incredible bowl of sliced nectarines, plums, and blueberries. I know that sounds too healthy for a party, but trust me, we made up for it by also serving…wait for it…vegan cronuts!
Cronuts are a cross between croissants and donuts. They came from Julien & Noe in Berkeley, and they were out of this world!
I ordered enough so our guests could each take one home for a Monday morning treat, and I saved the very last cronut for myself because I had jury duty the next day. I've never enjoyed sitting in a courthouse at 8:00 am so much!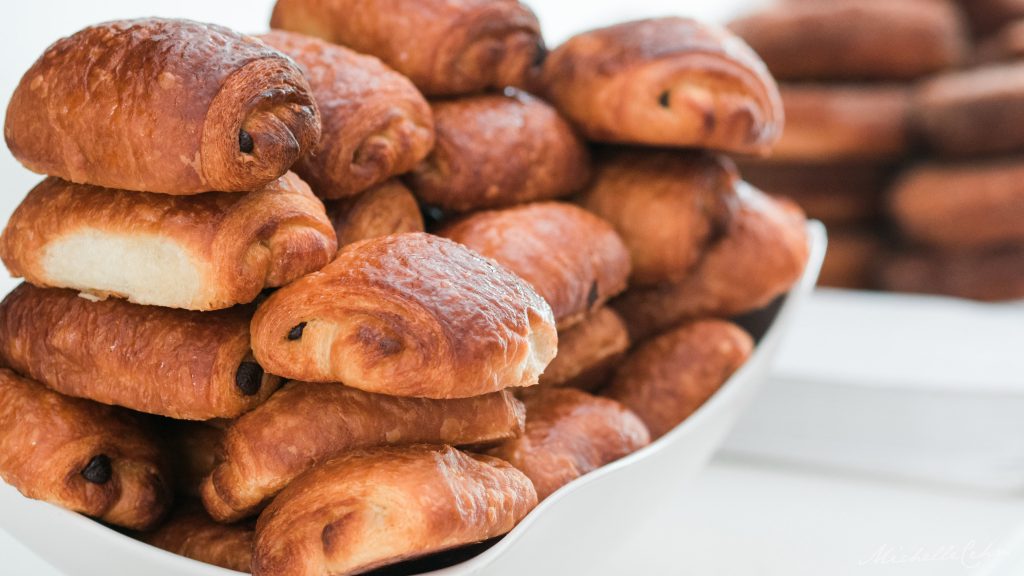 I'll share the recipes soon on the Vegan Outreach blog, and keep your eyes peeled for special deals and more information from Miyoko's Kitchen!
Including Mark and Eric's match, we raised $15,000 at this wonderful event!
Thank you to my volunteers Mark and Eric, Sahra and Dave, Milena and Yolanda, and Lester! And thank you to Miyoko's, Julien & Noe, and especially Ari and Becky! A special shout-out to the super talented Michelle Cehn of World of Vegan for all the great photos and videos.
We're so close to meeting our goal—if we can raise a full $230,000 by June 30 it will all be matched!
Please donate today, and thank you!