Yuri Mitzkewich, VO's Southeast Outreach Coordinator, is this semester's most prolific Adopt a College leafleter—he's traveled to 116 different schools, handing out 66,230 booklets! Activist Doris Schneeberger joined Yuri for a few weeks of his tour, and by the time her internship was over, she'd handed out 17,668 booklets at 26 different campuses!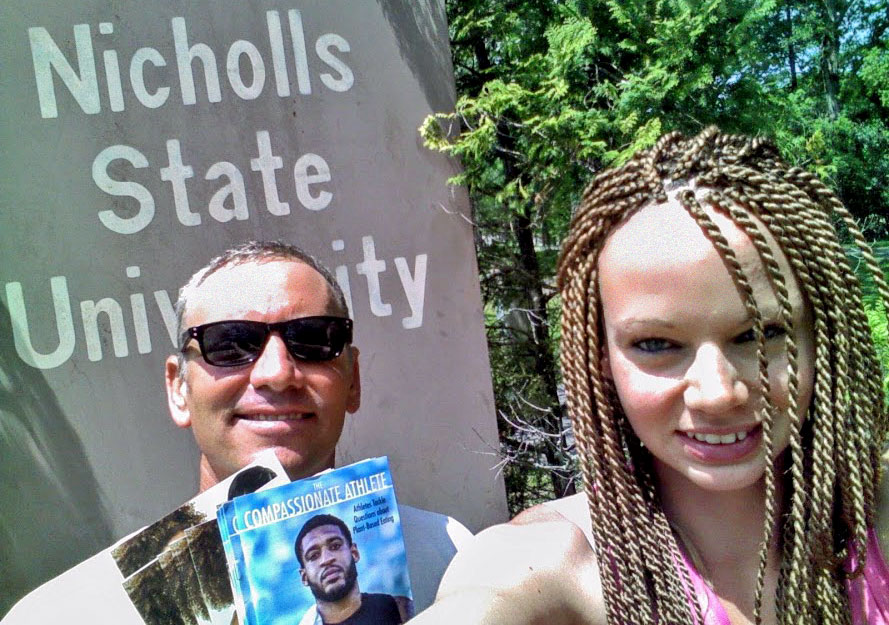 On March 22, Yuri and Doris handed out 2,026 booklets at the University of Alabama in Tuscaloosa:
Doris [below, left] got her first chance to leaflet a heavy flow of student traffic and really did amazing, getting a better take rate at times than I was working. Very calm in meeting students too, she answered questions in a friendly way and got many here to take the literature, more interested than initially to check out the info. The Compassionate Athlete booklets were especially great to have here, she reported, as this campus has a heavy percentage of students dressed to work out or with sports gear on their backs.

One of the last to receive an Even If You Like Meat here was Paige [below, right], who came back right away after looking through the info. She'd already cut out most animal products, only still consuming fish, which she'd wanted to eliminate but was having difficulty. I let her know that was fine, that many transition in steps, reducing the animal products they consume as they learn about new products and find recipes that replace the foods they're most accustomed to. She took a Guide to Cruelty-Free Eating and was very excited about trying the new Gardein seafood items I mentioned, plus having access to the Vegan Mentor Program if she needed help. Very happy we held on the few extra minutes to get the chance to meet Paige. She was inspired to go the rest of the way to full vegetarian, and to begin working towards dropping cheese and eggs also. Super cool ending to a great day of outreach!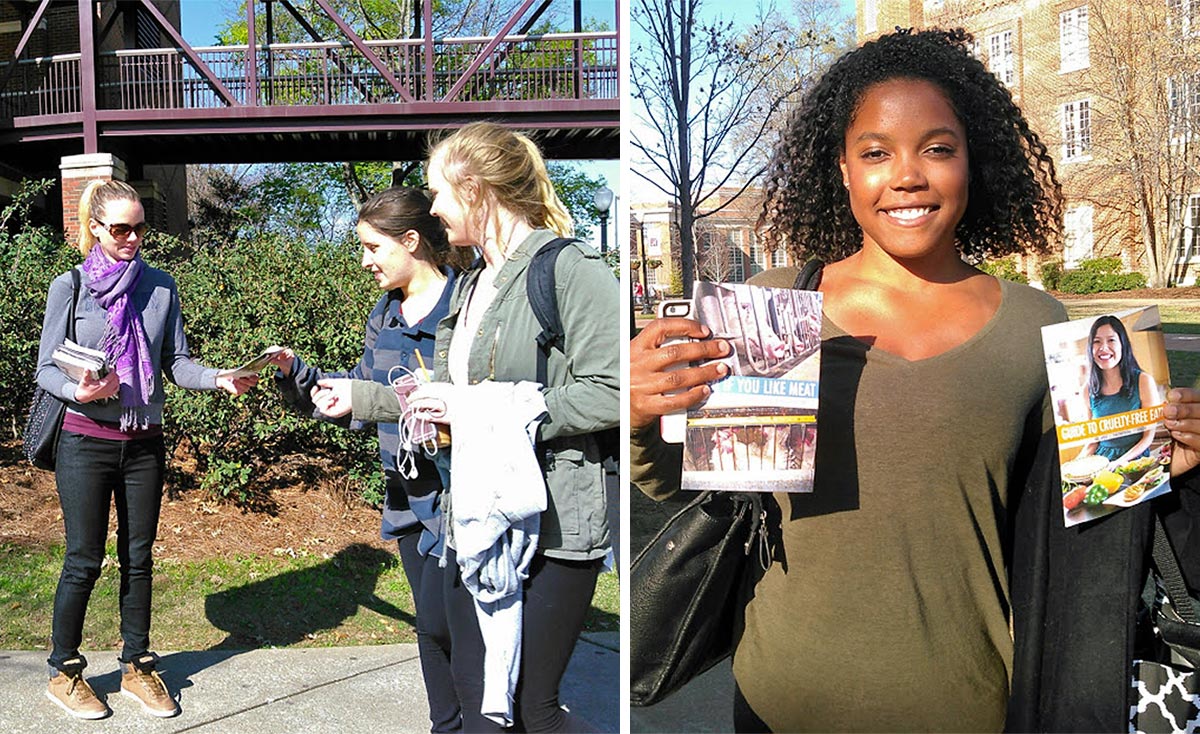 On March 23, Yuri and Doris teamed with Candice Paschal, and together they reached more than 4,100 students at Mississippi State University:
Arriving early we got busy on what was to be another outstanding day at MSU. Again Doris and I took on different traffic flows at opposite sides of the drill field to great effect, both of us finding different crowds and getting out hundreds here per class change.

Around 10 am we were happy being joined again by Mississippi State/Starkville's energetic leafleting machine, Candice [below, left]. She's amazing to see at work, enthusiastically approaching everyone crossing within 20 feet of her, getting what had to be a 99% take rate. For the class changes she was working, we did nearly a full box in the hour she was able to free up to join us!

Always a very friendly crowd here, and we began getting more and more conversations going through the afternoon—many students interested in learning more, a few very inspired to begin trying to eat better, and even a pretty decent amount of ag majors stopping to politely discuss the issues with us.

Sarah [below, right] was especially moved by the Even If You Like Meat booklet she got. Already having given the suffering inherent in the meat industry some pondering on her own, she was thrilled to meet us, saying she'd be giving up meat from today. Beautiful experience finding her out here and connecting during our visit!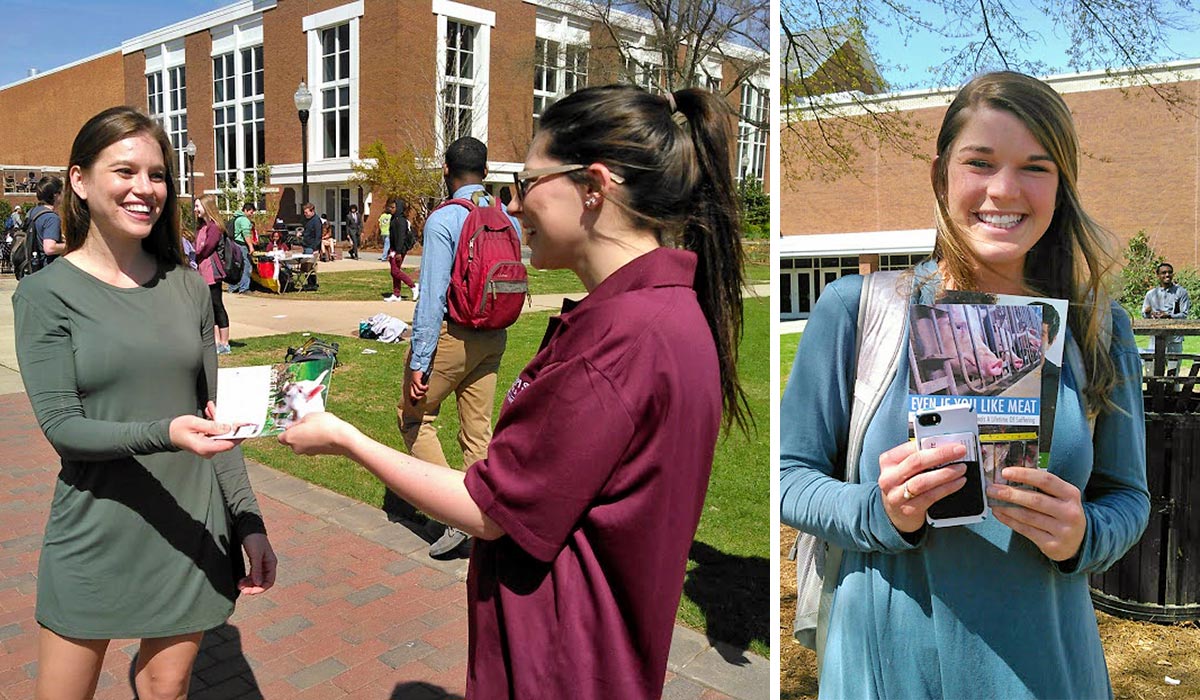 On March 25, Yuri and Doris handed out 371 booklets at the University of West Alabama. Doris writes:
A situation that stood out for me on this day was when one of the students who had taken a leaflet returned a few minutes later to ask me some questions [below, right]. He was friendly and wanted to find out more about veganism. He found the pictures and information in the brochure horrifying. He asked me whether I was vegan and said that he had never met one before. I told him about the manifold advantages of a vegan diet, the suffering of animals in factory farms and the environmental impact of eating meat and animal products. We also talked about health issues; I mentioned that many people have to go through a major health scare before they start gathering more information about healthy nutrition and change their diet. We talked about vegan substitutes for animal products. He, for example, didn't know that there is almond or soy milk that you can buy instead of animal milk. In a somewhat apologizing manner, he told me that he likes meat and I then told him about diverse meat substitutes and he said that he would try them.

Another student asked me about the ingredients of a veggie burger and I told him that you can make it with beans, peas and other veggies and/or tofu for example. He didn't know what tofu was and after I explained it to him he also said he'd try one.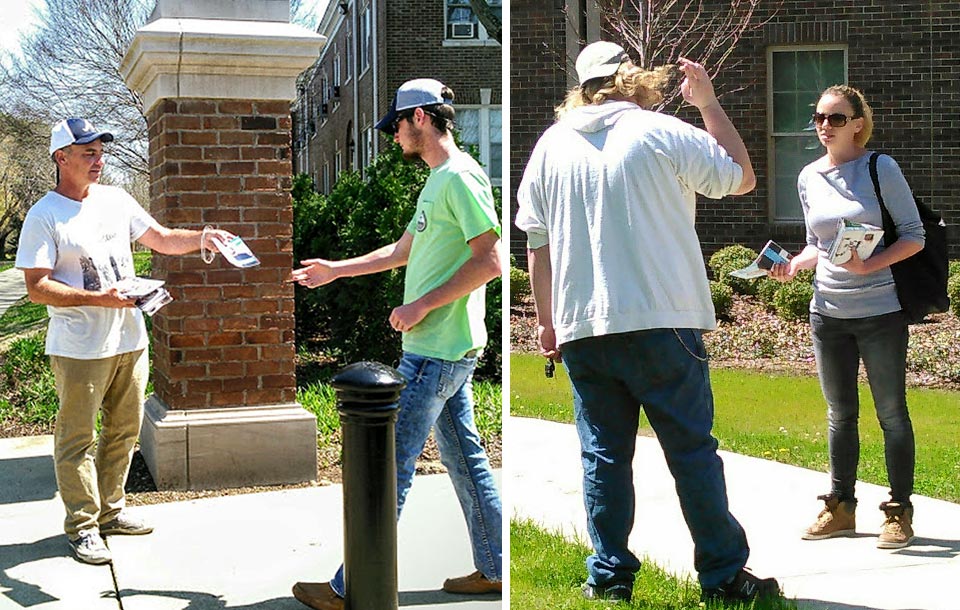 On April 13, Yuri and Doris got booklets into the hands of more than 3,400 students at Louisiana State University. Doris reports:
Although we gave out a lot of leaflets, this university doesn't seem to be the easiest to inspire people to go vegan, as the agriculture faculty is big, biomedical research is prominent and they've also got a tiger in a cage on campus. The leaflets inspired a discussion among students which we could track on the app Yik Yak.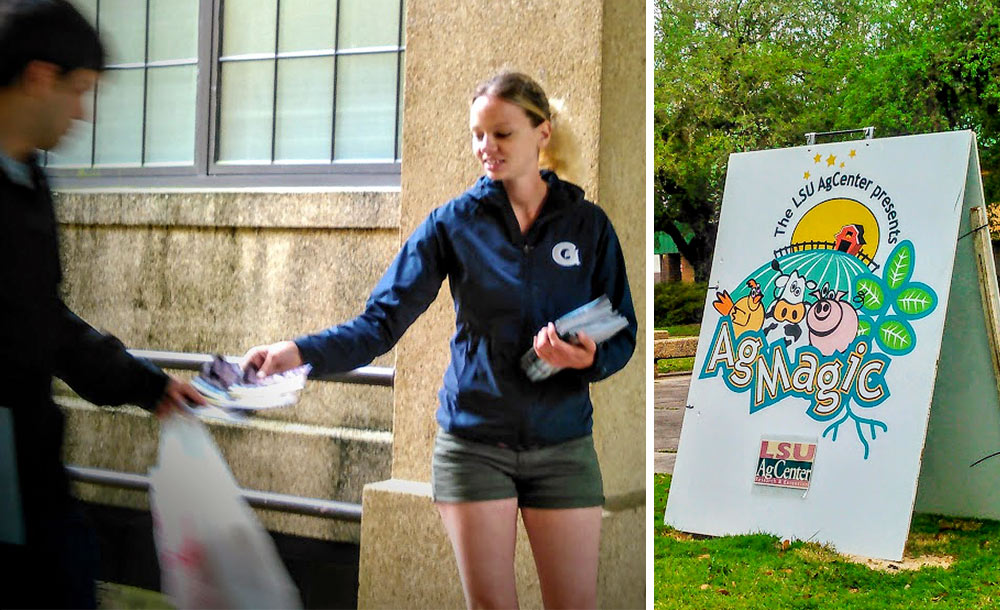 Yuri adds:
I met Tommy [below, right], who was very interested. He'd been researching for fitness reasons, and had been thinking about cutting down on animal products. He responded well to everything we talked about and said he's going vegan. Met a handful more students who we had very productive conversations with as well.

Later in the day we noticed social media activity focused on our visit, with three different students commenting dismissively, "I'll never go vegan," "Animals don't have the mental capacity to suffer," etc. It was awesome to see several students commenting back in defense of animals here, actually making better, way more eloquent points for more consideration for them. Pretty cool to see such responses at a major ag university like this.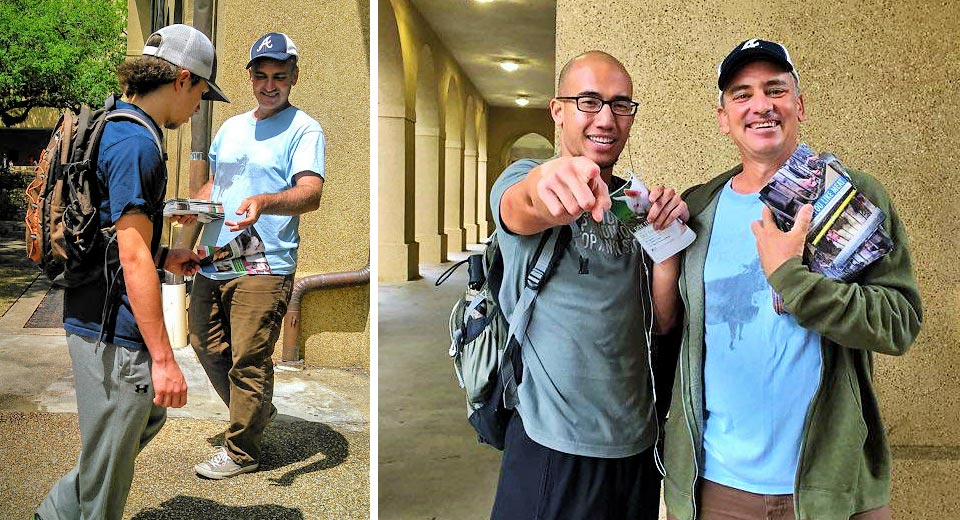 On April 15, Yuri and Doris reached more than 700 students at Nicholls State University. Yuri reports:
Pretty great short morning visit to this southernmost Louisiana university, only 25 minutes from the Gulf of Mexico. A good amount of students interested here. Christine [below, right] was super interested and said it was a wonderful coincidence we met. She told me she was ready to transition to vegetarian, so I was looking for a Guide to give her but had left them all across campus with our other supplies. She said she'd wait and as I went off to get her the info she sat and read the Your Choice and Compassionate Athlete I'd given her. By the time I returned she said, "Really I need to go all the way vegan, don't I?" We talked a little more and by the end she said she was ready! Awesome ending to our short but sweet stop here!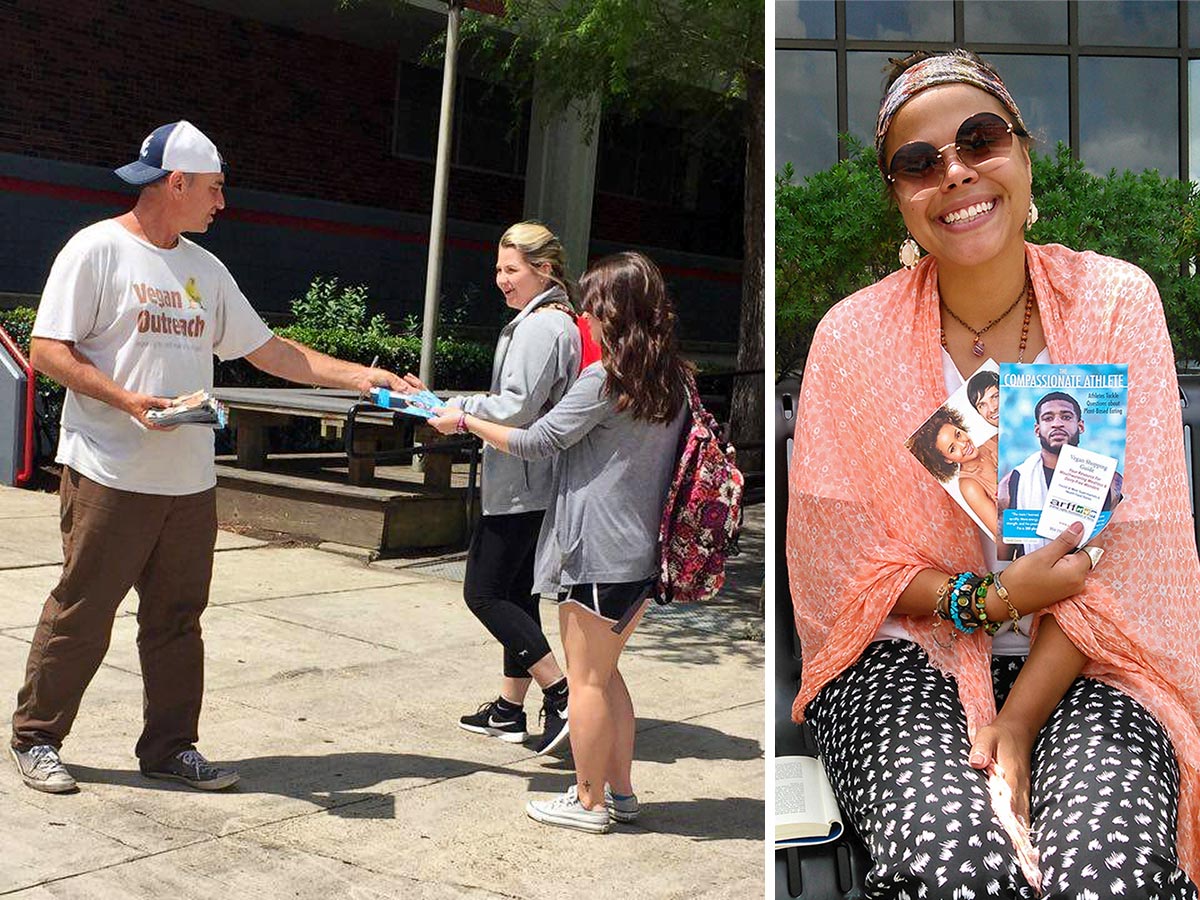 Donate to Yuri's Team Vegan page and spare twice as many animals from suffering:
Any support you generously give towards Team Vegan will be doubled for this fundraising drive and will go directly toward supporting Vegan Outreach's life-changing work, making the world a kinder place for animals. Thank you for your support and for being a voice for the voiceless!