By Alex Bury, VO Organizational Development Consultant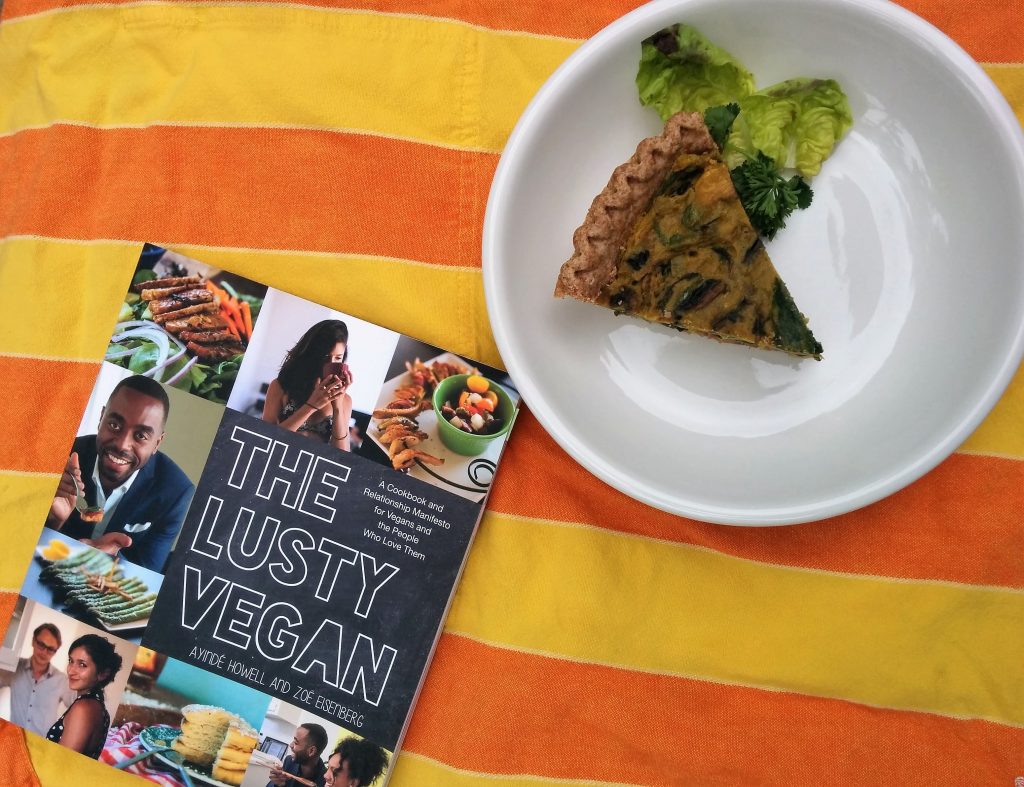 Welcome to part two of the three-part review of the The Lusty Vegan. If you're just now joining me, take a peek at part one so you don't miss the scrumptious Orange Cream Stuffed French Toast recipe!
Chapter two of The Lusty Vegan is all about communication—how meat eaters and vegans cannot only get along, but they can fall in love and create wonderful relationships.
It also features tasty and ideal recipes for both sides. If you're a meat eater cooking for a vegan partner, you might try: Jambalaya, Quinoa Nachos, Kung Pao Tempeh, or Tofu Sausage Pizza Sliders.
And if you're a vegan just moving in with a meat-eater, you'll love these ideas: Devil's Pot Pie, Hearts of Baltimore Crab Cakes, Hearts of Palm Lobster Roll, and more.
Addressing the two sides equally, with equal compassion, is a great idea!
The communication tips the book suggests may seem obvious, but if you're newly infatuated with someone who doesn't eat like you these reminders are important! Some of the paragraphs in the Tips for Omnivores section are titled:
Do Research
Talk About It
Be Open-Minded
Stock Up on Meat-Free Eats
Make an Effort
The second recipe I tried from The Lusty Vegan was No-Tofu Spinach and Mushroom Quiche—I loved it! It's my new favorite vegan quiche recipe. It takes more effort than using a product like Follow Your Heart's VeganEgg, but it's totally worth it.
This brings me to chickpea flour (or garbanzo bean flour).
I was happy to see Chef Ayinde—the author of the book—base his quiche on chickpea flour. The finished quiche had a rich and creamy mouthfeel with that extra "bounce" you get from cooked eggs or vegan egg products. It's firmer than a silken tofu puree, but not chewy like diced tofu in a tofu scramble. The extra fat and protein from the chickpeas gives this regular flour alternative a nice "eggy" texture, which works perfectly for making dishes like this quiche.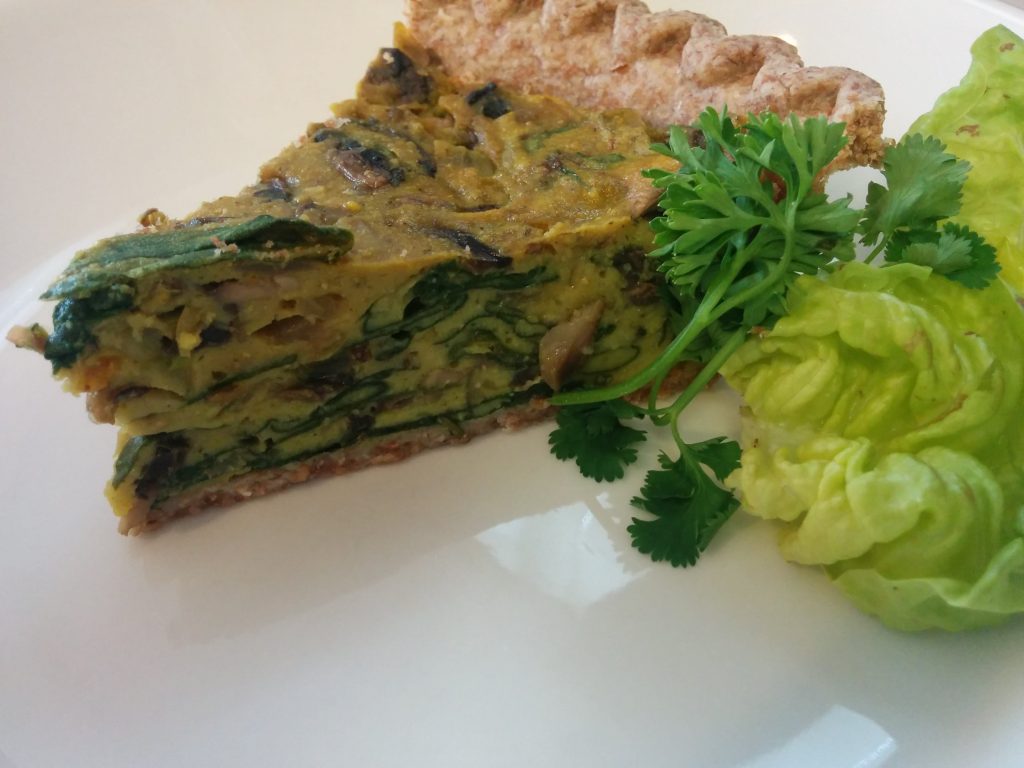 I started working with chickpea flour years ago for crepes. The flour and water mixes up to make a gorgeous crepe batter. You can add cinnamon and sugar for dessert crepes, or olive oil, salt and pepper, and herbs for savory crepes.
You can buy black salt online. It's a little pricey, but one package will last you for months. It only takes a pinch at a time. Here is more information about black salt— kama namak salt—that is actually pink (in that link scroll down the list until The Secret Ingredient: Kama Namak).
There's nothing tricky or fussy in this recipe, but you'll want to follow the directions closely. If you like to cook, or you want to impress your new in-laws with a nice brunch, go for it! If the kitchen is your least favorite room in your house, you should maybe just buy frozen Amy's Breakfast Burritos for brunch.
Chef Ayinde includes a recipe for homemade vegan crust, but I ignored that and purchased a frozen crust from the freezer section. Did you know that most frozen pie crusts are accidentally vegan? Stock up, make pie, and share the recipes with Vegan Outreach!
No-Tofu Spinach and Mushroom Quiche
Serves about 4.
Ingredients
1 unbaked 9″ vegan pie crust, store-bought or make your own (as follows):
Homemade Pastry Dough
2 cups all-purpose flour
1 ½ tablespoons sugar
1 teaspoon salt
¾ cup cold vegan butter
6 to 9 tablespoons ice water
Quiche Filling
2 tablespoons vegan butter and/or safflower oil
1 cup chopped red onion
1 cup chopped red bell pepper
1 ½ cups thinly sliced mushrooms
1 teaspoon minced garlic
1 teaspoon dried thyme
1 teaspoon dried rosemary
1 tablespoon minced fresh sage
½ teaspoon salt
1 5 oz. bag fresh spinach, chopped
2 ½ cups water
Egg replacement mixture for 1 egg (Ener-G Egg Replacer)
1 teaspoon ground turmeric
2 teaspoons vegan Worcestershire sauce
½ teaspoon onion powder
½ teaspoon garlic powder
1 tablespoon nutritional yeast
1 teaspoon salt
¼ teaspoon freshly ground black pepper
¼ teaspoon red pepper flakes (optional)
1 cup chickpea flour
¾ teaspoon black salt (kala namak salt)
1 tablespoon melted vegan butter, for brushing
Directions
For the Pie Crust

: In a medium bowl, combine the flour, sugar, and salt. Using a large fork or pastry blender, cut the butter into the flour. Working quickly, lightly rub the flour and butter through your fingertips until the mixture is like crumbly sand.
Start mixing the dough gently with a wooden spoon as you add the cold ice water, one tablespoon at a time. Add water until the mixture becomes a firm, yet crumbly ball.
Wrap this ball in plastic wrap and refrigerate for 60 minutes. Remove the ball 15 minutes before you are ready to roll it into your pie/quiche pan. Roll the ball to ⅛" thick and line the pan with the dough. Trim off any overhang. Set aside or refrigerate until needed.

For the Quiche

: Preheat the oven to 350°F.
While the oven is preheating, melt the butter in (or add the oil to) a medium skillet over medium-high heat. Add the onions, peppers, and mushrooms and saute for 3 minutes. Add garlic, thyme, rosemary, sage and salt and saute for 2 minutes longer. Reduce the heat to medium. Add the spinach and saute until the spinach wilts. Remove from the heat.
In a medium saucepan, bring 1 ½ cups of water to a boil. Add all the egg mixture ingredients except the chickpea flour and black salt.
In a separate bowl, combine chickpea flour and remaining cup of water. Whisk well to combine.
Once the water is boiling, slowly add the chickpea-water mixture to the egg mixture. As you mix, it will become very thick. Reduce the heat to medium and continue to cook for 2 to 3 minutes, stirring constantly, until thick and glossy. Remove from the heat.
Add the reserved vegetable mixture to the chickpea-egg mixture. Add the black salt. Spread the filling evenly into the prepared pie crust. Smooth the top with a spatula and bake for 20 minutes.
Remove the quiche from the oven and brush the top with melted butter and bake for an additional 5 minutes. Allow to cool to room temperature before serving.