Monster record day here at California State University in Los Angeles: Becca Balvin, Fabienne Origer, Leron Rabinowiz, Nicole Casares, Kim Moffatt, and I [below] handed out 5,140 Vegan Outreach booklets. No cakewalk either – a lot of grinding it out alone; and the troops even got a bit cranky as we didn't have water and didn't wanna miss anyone, lol, so had to make them wait a bit.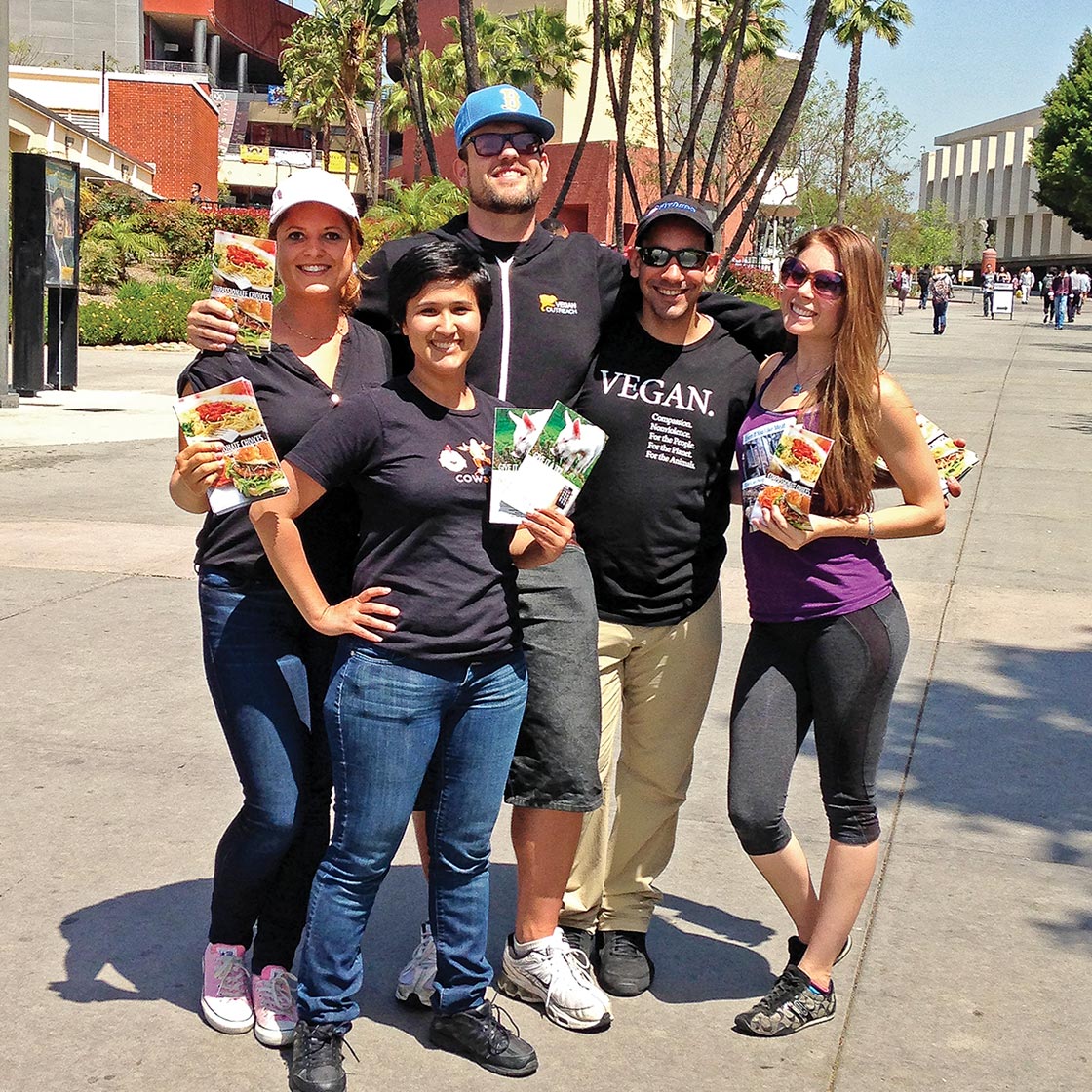 I met Becca [below] at Whole Foods: I was just chatting it up with the cashier, and voila – now we are friends, and she is a VO volunteer and wants to leaflet more. She did great her first time out.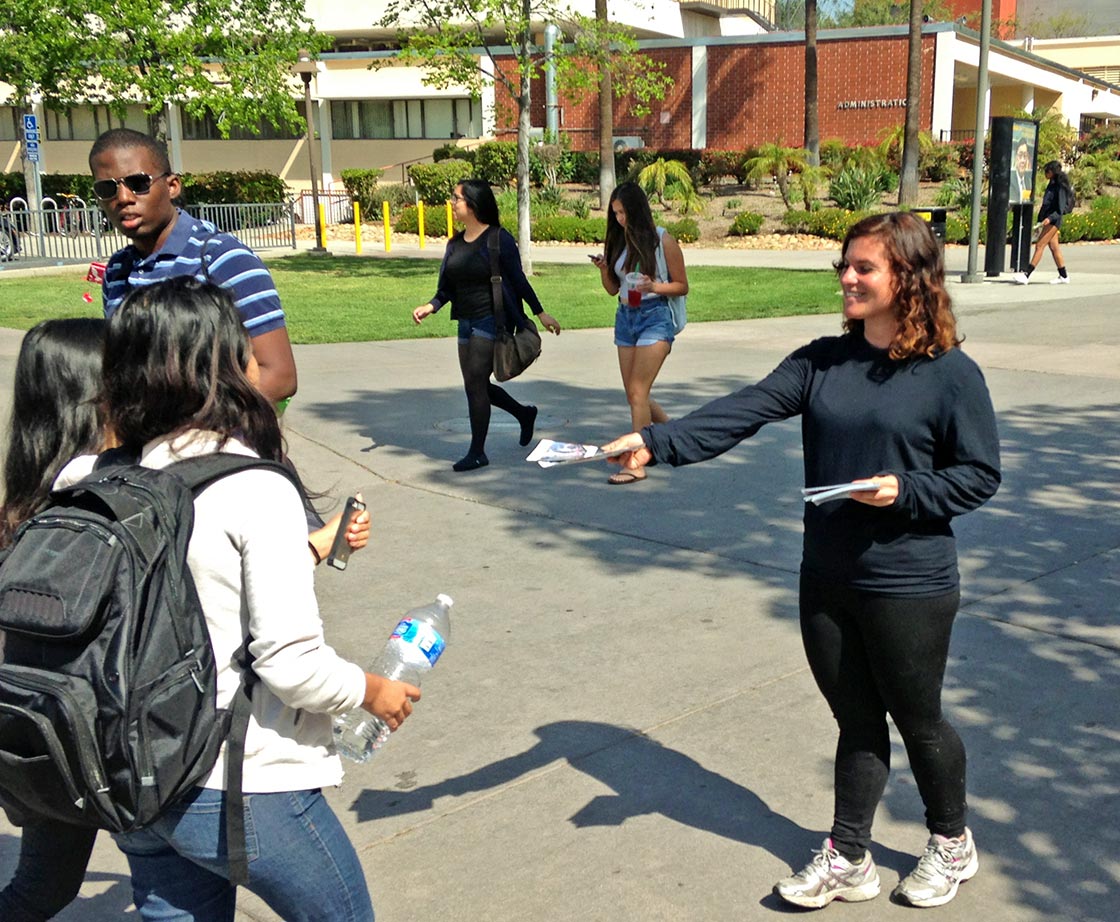 Approximately the fourth person Becca handed a leaflet to was Janiece [below, left], who casually mentioned, "Thanks, don't need one, been veg since I got one of these a long time ago." I was like, "Really? No way! Where did you get one?" And she told us, and I asked to record her on video real quick.
We also ran into Christine [below, right], who has been veg since getting a booklet and seeing Vegucated and Food, Inc. She credits a vegan diet to having more energy, being healthier, and shedding 40 pounds. She is encouraging her social circle to give it a go and asked to take more literature to show others! She's also interested in leafleting with us.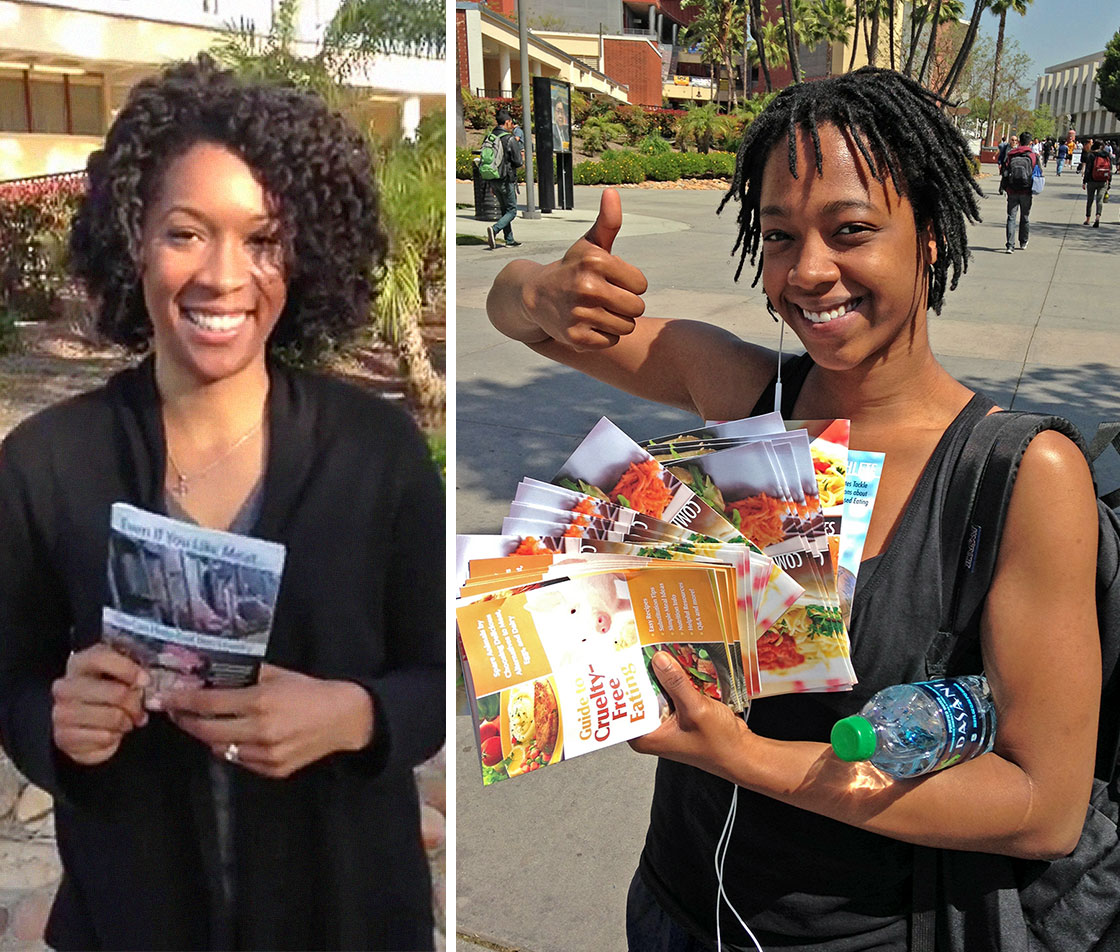 Leron met another student who wants to leaflet, and I am emailing her. Many others stopped to talk and ask questions. I met two Catholic students who I had a long talk with and both were fascinated, and more or less expressed they had never thought about veganism in that way and were very sincere and kind and interested in veg eating, and it was a moving interaction for me.
We saw literally a fantastic amount of students reading down the line from where they got a booklet. Especially powerful and enthusing to me is seeing all the athletes engrossed in the new Compassionate Athlete booklet; it is unreal. A total game changer – I had no idea how powerful it would be and how much athletes identify with it, and how easily it dispels some of the central rationalizations and myths about why athletes can't go vegan.
---
Support VO's Adopt a College leafleting program:
Have your donation doubled today!