By Lori Stultz, Communications Manager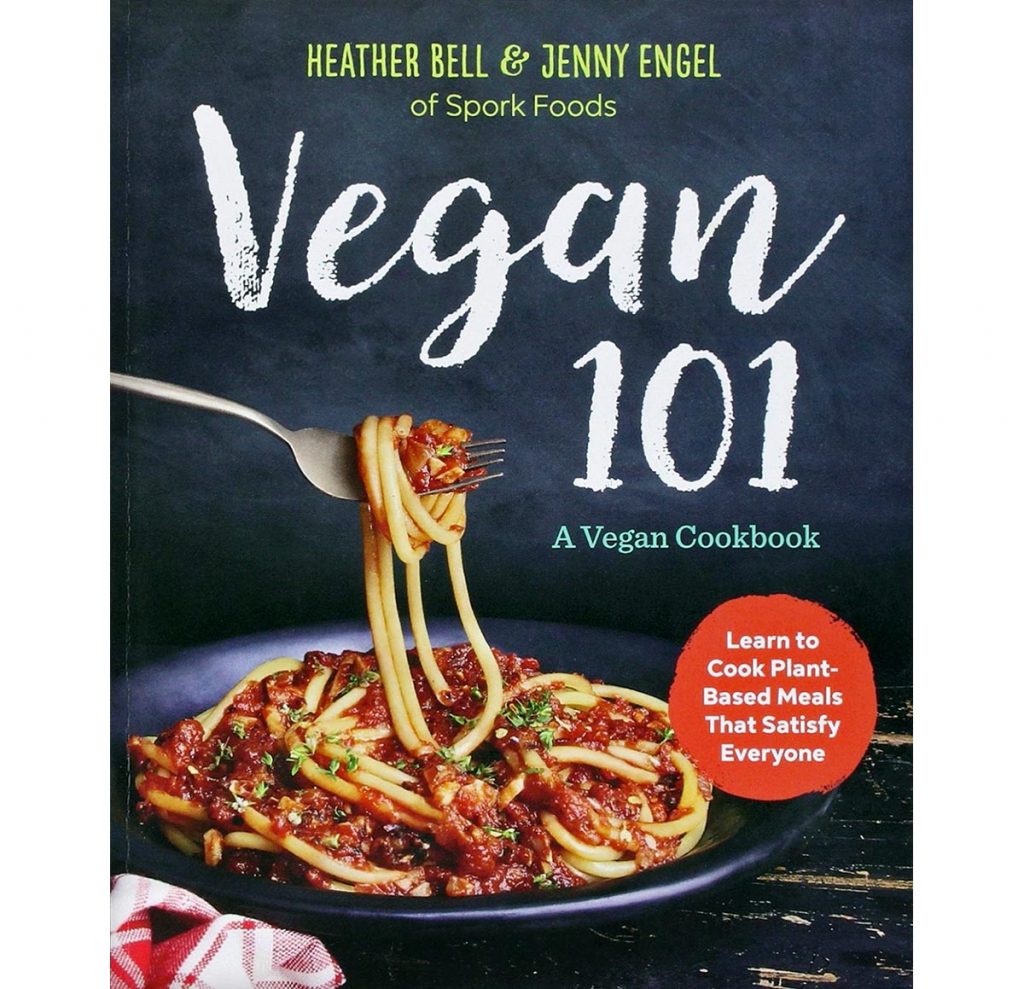 When I first went vegan, I very much enjoyed looking at vegan cookbooks with not-so-easy to prepare recipes that called for unfamiliar ingredients. I liked trying out new ways to prepare plant foods—spiralized sweet potato noodles, anyone?—because I was eager to get distance from the types of animal-based meals I had been brought up on. I don't know why I felt the need to do that, nor do I particularly care because, after all, I acquired a lot of awesome culinary knowledge. I also had the idea that other people (i.e., non-vegans) would enjoy the obscure dishes I was preparing and it would spark their curiosity in adopting a vegan lifestyle.
Fast forward five years and you'll find me sticking close to recipes that have short ingredient lists and often include one or more store-bought vegan meats and/or cheeses. Not only have I found preparation to be much quicker, I've noticed a difference in the way people respond to what I've prepared. More frequently than not, I hear how similar my vegan meal tastes in comparison to a meal that's usually prepared with animal products.
The changes I've made over the years has also influenced the types of cookbooks I thumb through, as well as the types of cookbooks I choose to do a review on the Vegan Outreach blog. I now look for simple comfort foods recipes and close-to-home dishes that non-vegan friends and family members may be interested in preparing for themselves in their own kitchens.
When I was contacted by Jenny Engel and Heather Bell, authors of Vegan 101, about doing a cookbook review, I was excited to see that our approaches to cooking seemed pretty similar. The cookbook is beginner-friendly with easy-to-follow advice for those who're looking to incorporate more plant-based foods into their meals. It has several easy recipes that won't require a trip to a specialty spice market, or require a whole day's worth of preparation.
I also want to mention that the authors, Jenny and Heather, are co-owners of a Los Angeles-based vegan cooking school, Spork Foods, which takes them to universities, health care companies, hotels, corporations, markets, and restaurants all around the world to teach chefs how to prepare tasty vegan meals. These women are sincerely dedicated to educating others about the fun and simplicity in preparing delicious vegan food.
Our first giveaway for the month will be, you guessed it, Vegan 101. So, whether you're new to vegan cooking, or, you're like me, and are looking to tone down the complexity of your plant-based meals, this cookbook will be a compatible friend in the kitchen.
This giveaway starts today, Tuesday, May 2 and ends on Saturday, May 20 at 12:00 am North American MDT. We'll announce the winner on Tuesday, May 23 here on Vegan Outreach's Vegan Living & Advocacy Blog! Enter by clicking on the giveaway link below!
In the meantime, here's a sample of one of the many tasty, simple recipes Jenny and Heather provide in their book—Down-Home Seitan Fried Chicken. These patties take very little time to prepare and will be a major hit among your vegan and non-vegan friends and family members!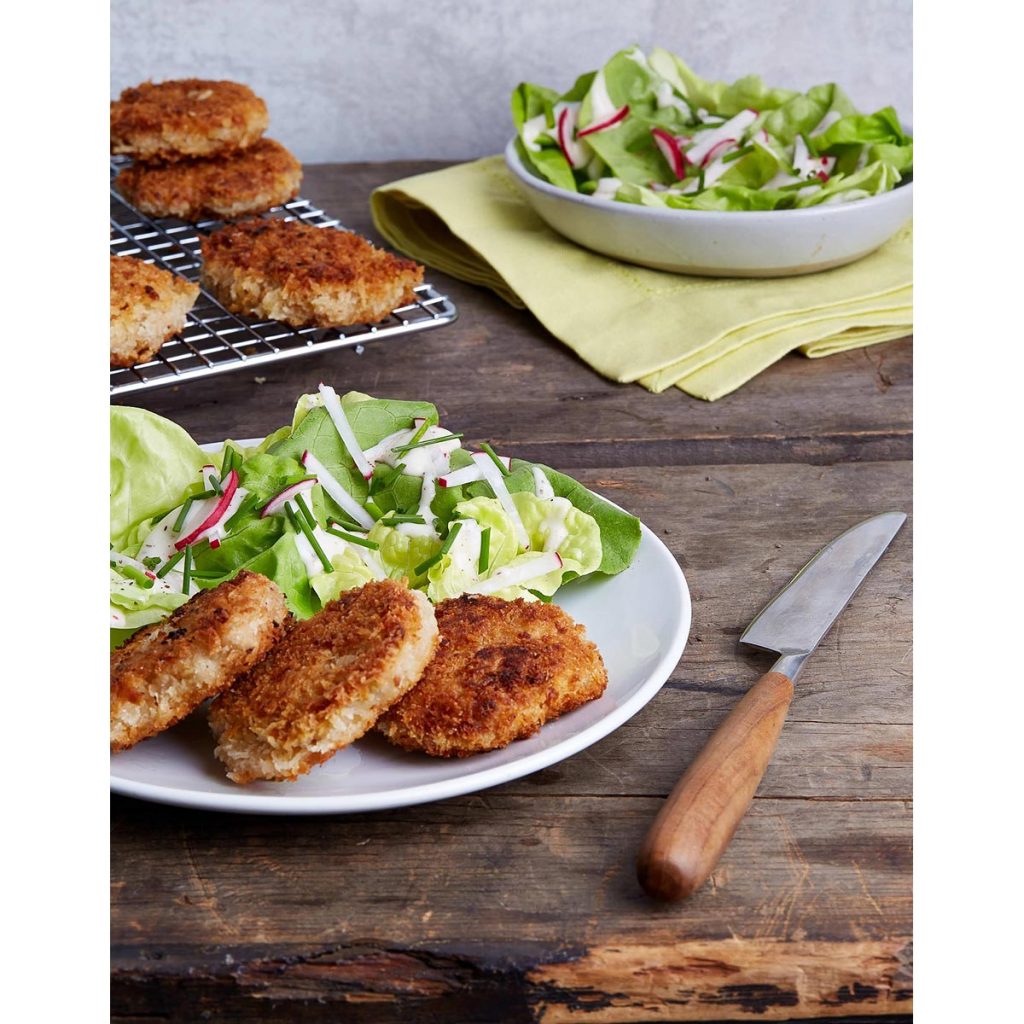 Down-Home Seitan Fried Chicken
Yields 4-6 servings.
Ingredients
Seitan
1 ½ cups soy milk creamer
2 teaspoons apple cider vinegar
2 teaspoons vegan Worcestershire sauce
2 8-oz packages seitan chunks or strips
⅛ teaspoon sea salt
⅛ teaspoon freshly ground black pepper
Coating
¾ cup unbleached all-purpose flour
1 teaspoon evaporated cane sugar
¾ teaspoon sea salt, divided
½ teaspoon freshly ground black pepper, divided
½ teaspoon dried mustard
¼ teaspoon cayenne pepper, plus ⅛ teaspoon, divided
¼ teaspoon garlic powder
⅓ cup Ener-G Egg Replacer
1 ⅓ cups water
1 cup panko bread crumbs
¼ cup neutral-tasting oil
Directions
To Prepare the Seitan

: In a large bowl, combine creamer and vinegar. Set aside for 2 minutes to curdle. Add Worcestershire sauce. Add seitan pieces and toss to coat. Add sea salt and pepper. Set aside for 10 to 20 minutes.

To Prepare the Coating

: In a large bowl, whisk together flour, sugar, ½ teaspoon sea salt, ¼ teaspoon pepper, mustard, ¼ teaspoon cayenne, and garlic powder.
Remove and reserve ¼ cup seasoned flour mixture.
In a medium bowl, whisk egg replacer and water until mixture is foamy.
In a small bowl, combine panko, remaining ¼ teaspoon sea salt, remaining ¼ teaspoon pepper, and remaining ⅛ teaspoon cayenne. Add reserved ¼ cup seasoned flour mixture and whisk until uniform.

To Cook the Chicken

: Add oil to a heavy skillet and heat over medium-high heat.
Dredge each piece of seitan in flour mixture, then dip into egg replacer mixture, and finally coat in panko mixture. Shake off excess panko.
Carefully place coated seitan pieces into hot oil. Cook for 2 to 3 minutes, or until golden. Turn over and cook about 2 additional minutes, or until golden. Once crisp, place pieces on cooling rack over baking sheet. Serve warm.
Recipe Tips/Variations
To test your oil for the perfect cooking temperature, heat it up until you see ripples. Then, stick a clean wooden tool into the oil. If bubbles appear, you're ready to fry.