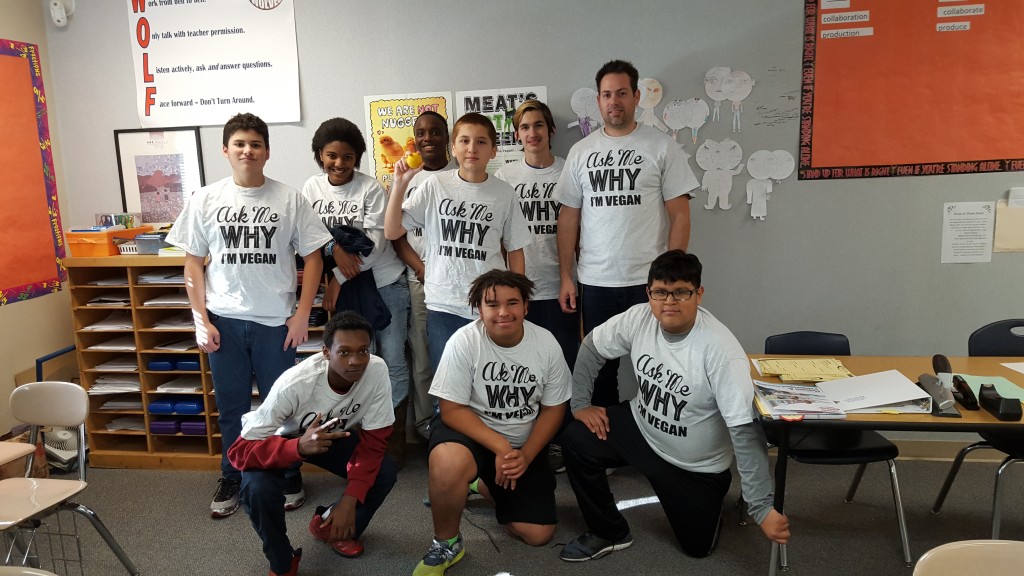 Today in our latest installment of How Do You Vegan?, we talk with middle school teacher and vegan Christopher Hills. After going vegan himself, Christopher decided to use his position to help teach his students about how their choices affect animals and their health, and other reasons why they should go vegan. Thank you, Christopher, for your inspiring work!
How long have you been vegan, and what made you decide to make this change?
I became vegan on April 1, 2015, but it wasn't an April Fool's joke. That day just happened to be the day after I watched "Earthlings" for the first time. Back in 1991, when I was a high school sophomore, for some school reason I researched farm animal treatment, and upon seeing some horrific videos, I stopped eating meat. I had always been leery of meat and found it generally gross, and I stayed largely meat free after that. Over time, I rationalized that eating fish was good for me and I "needed the protein." Trainers I worked with lamented that I was hard to create menus for with my limited diet, so for the past several years I ate fish on a regular basis. Now, as an enlightened vegan, I know that plenty of protein is to be had from meat free sources.
You are married with children. Has your family joined you in this change? If so, what are some positive results or experiences you've had?
Since I do the majority of the food shopping for the household, the other family members get very little in the way of animal products. My wife is lactose intolerant, and she tried to eat vegan for a while, but backslid pretty quickly. She suffers after eating ice cream but deems the pain worth the experience. Whether she means her pain or the pain of the animal who had to produce the milk for her, I don't know. My kids still eat meat and dairy when they can, but I won't cook it for them. My wife still will cook them meat and eggs, but if they eat my food, which they love by the way, it will be vegan.
Why is Vegan Outreach an organization that you support?
I believe that creating awareness surrounding nutrition and food sources is crucial. Vegan Outreach is local and has a mission that I believe in. Vegan Outreach also differs from other vegan groups in that they think that any step toward veganism is better than no step at all. Some vegan groups can be pretty militant in their approach, and offer only all or nothing as choices. Something like "Meat-free Monday," while untenable in the long run, is a step in the right direction. Yes, it means that you are contributing to the suffering of animals, polluting the planet, and poisoning yourself six days out of seven, but it's still positive movement.
What inspired you to make the leap from being a vegan in your personal life to creating a club for the students at your school?
I work with an interesting group of students. I teach intervention classes, and have some of my middle school students for 4 and a half hours a day, so I get to know them pretty well. Also, I'm pretty approachable to my students, so they ask me a lot of questions. After I watched "Earthlings," I told my students about this mind-blowing documentary that transmitted to me this information that everyone who eats should know. They all knew I was a pescetarian, and I informed them of the change I made in my life to becoming a vegan. Because the disgusting manner in which animals used for human purposes was forefront on my mind after watching that documentary, I worked random facts and figures about animal mistreatment into my daily teaching. After a few days, some students came to me and told me that they had watched the documentary at home (I explicitly told them that they needed parental permission before watching it) and wanted to be vegan. At our school at the beginning of the school year, teachers are encouraged to sponsor lunch time and after school clubs. Sometimes teachers are interested in a particular thing so they create a club about that, other times kids come to teachers with ideas and ask them to support their ideas. I asked some kids if they'd be interested in this club, and got enough interest to move forward with it. We started our meetings in October 2015.
Has creating this club resulted in any push back and/or support from students, the school itself, and/or parents?
Our activities director has been very supportive of the Earthlings Club, ordering shirts for us and encouraging us to engage in lunchtime activities, and I haven't had any response, negative or positive from the administration. The only response I've heard from any parents is when they come into my classroom and see the vegan posters or comic books I got from PeTA. They have asked a few questions about what they're for, but once I inform them that they're for a lunchtime club, they seem OK with it.
What is the purpose of the club? Do you host or participate in any events?
The purpose of the club is to inform students and the school about the benefits, both personal and world-wide, of practicing a vegan lifestyle. We meet once a week and we poll the student body at lunchtime. We may ask them true/false questions about veganism, or we may ask them if they'd be willing to support a petition to get more vegan/vegetarian items on the lunch menu. We wear our shirts when we're out there so we're pretty visible.
What has been the most rewarding experience thus far as a result of creating this club?
What I have most enjoyed about the club is interacting with the student body in a way that I don't usually get to as a teacher. In talking to the students, I find out about their dietary preferences and tolerances. So many students are open-minded about changing their diets, and many of them are genuinely interested in wanting to change our planet for the better.
Can you offer any helpful advice to those who might be interested in doing something similar in their school or area?
Just go for it. I get a lot of playful (maybe?) kidding from other teachers about imposing my views on the students, but if we don't make some pretty drastic changes as a society, and do it pretty soon, the Earth will make the changes for us. Nobody who is thinking rationally could have any issues with someone who promotes a vegan lifestyle.