By Lori Stultz, Outreach Coordinator
After wrapping up my time on the road last fall semester, I started a winter break "To Do" list that, not surprisingly, ended up being rather extensive. It wasn't a chore list by any means—aside from "clean car" and "repack," which were listed at the bottom (and have yet to get done). Rather, it was a list of simple activities that I was not able to do or wasn't able to do very often while on tour.  I am happy to report today, a few days before I take off for spring semester, that I checked off a good number of things on that list, including:
Hug my dog, Oliver, until he can't stand me anymore
Make fun vegan dinners for my family and friends
Visit with family members and friends whom I had not seen since August
Take long afternoon naps
Go to the movies
Sit and do the daily word scrambles while drinking my morning cup of coffee
I am lucky to have such a nice home environment to return to—so nice that I actually feel compelled to make a list of how I want to make the most of my time. Aside from the smaller, more mundane activities, I did a few other things that made my time at home really special.
The first weekend after returning home, the wonderful Lisa Rimmert, Vegan Outreach's Director of Development, organized a beautiful, fun vegan wine and cheese event in Boulder, CO. The evening was full of good conversation and great vegan food and wine, but, most importantly, the event helped VO meet our end-of-the-year fundraising goal of $470,000. I was honored to speak at the event alongside Lisa and Marc Bekoff (who I highly suggest you google right now if you haven't heard of him). The charming space this event was held in was provided by Vickerey, a Boulder-based, vegan, eco-friendly clothing and accessory company.  It is always a powerful experience to be in the company of so many like-minded people who have the same goal in mind: helping animals.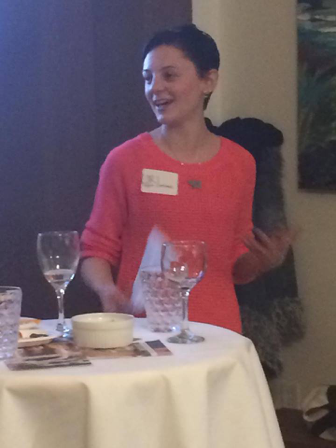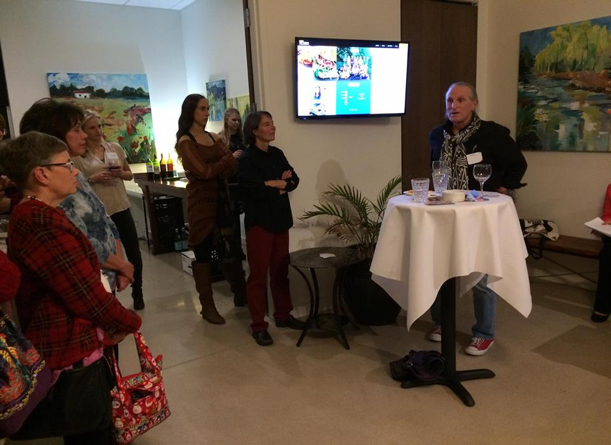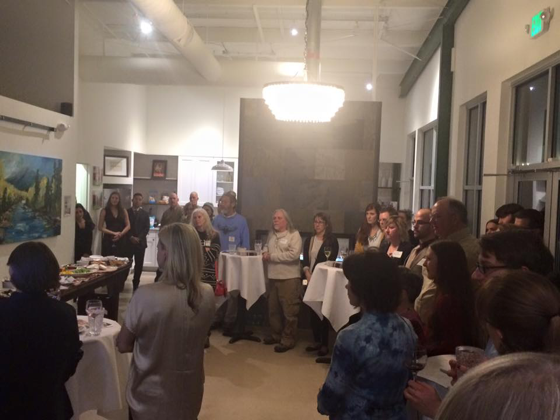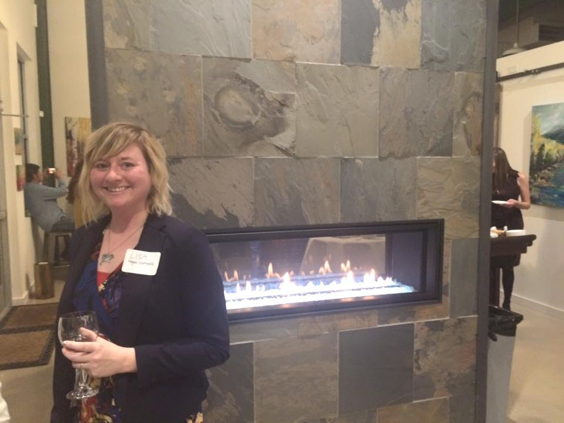 Before I got hired with Vegan Outreach, I did a lot of dog-sitting in and around the Boulder area. I was happy when my friend Megan contacted me and asked me to stay with her pup, Frank, while she and her husband were out of town during the holidays. Christmas through New Years I got to stay with this love-bug, who I simply adore (note: I only take selfies when there is a dog involved). Definitely a highlight of my winter break.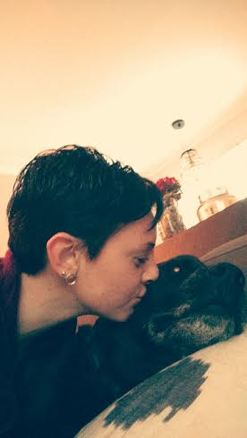 Another memorable part of my break was driving up to Colorado Springs to spend the day with Lisa, my friend Jason, and good friends, and long-time Vegan Outreach supporters, Alison and Kevin Mercer. We all grabbed ourselves a warm coffee drink, except Lisa, who opted for a bottle of chocolate cashew milk, and walked around a neat little town near Colorado Springs called Manitou Springs. The afternoon ended with a short hike up to cool bridge called Rainbow Falls and lunch at a vegan-friendly pizza restaurant called Poor Richards.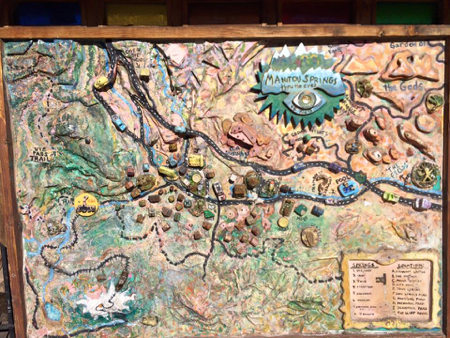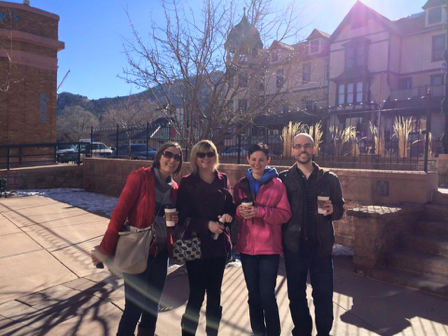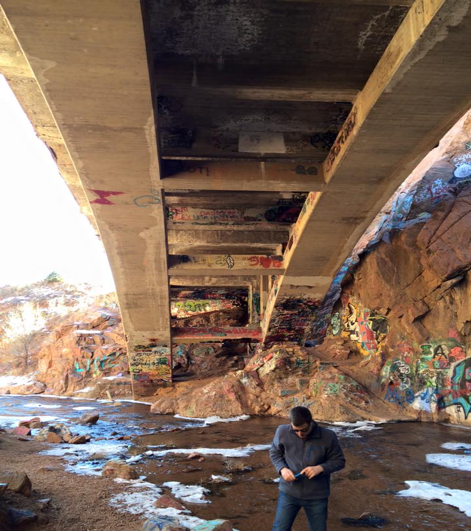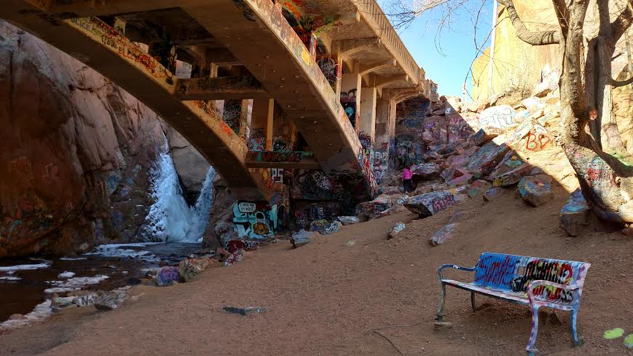 Last weekend, I teamed up with Lisa (are you sensing a theme here—I simply love spending time with her) and Alex Beck from The Humane League and headed out to Pearl Street, a popular hang-out area/tourist attraction in Boulder, and did some outreach. I'm not sure if it hit 25 degrees that day, but that did not stop us from passing out 300 leaflets to those spending the afternoon on Pearl Street. A few days later, Alex and I teamed up again, along with several volunteers, and we passed out 2,000 leaflets at the University of Colorado-Boulder. It felt great to get out there and do some outreach after not doing any leafleting for a few weeks.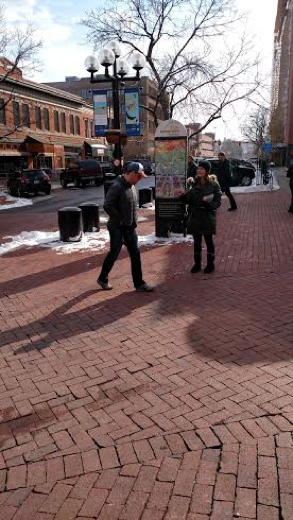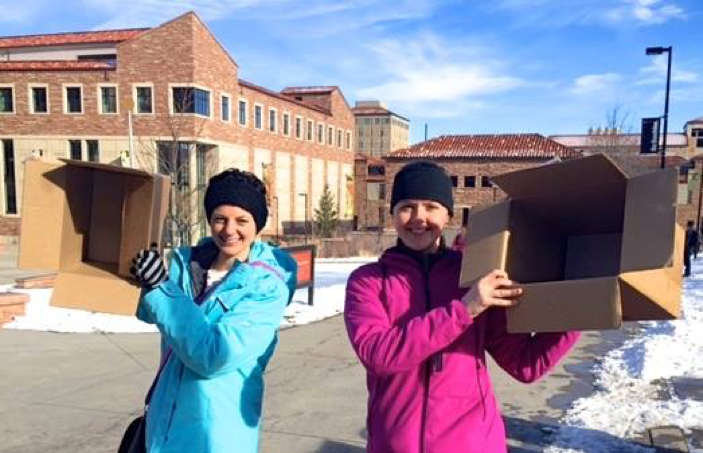 Lastly, I hosted a small dinner party for a few friends who are always up for trying my vegan cooking. This time I made Vegan Cincinnati Chili, a signature dish of the city my grandfather, father, and boss, Jack Norris, all lived in for at least a few years of their childhood/adolescents. For those of you who don't know, Cincinnati chili is basically chili made with spaghetti noodles. I know it sounds odd, but it was delicious! My friends raved about it all night. I used a recipe from Jack and Alex (Jack's spouse and VO's Organizational Development Consultant) recipe which can be found here. Dinner party or no dinner party, I highly recommend you try it out!
Now, I will take these memories with me as I set off for my spring semester tour! My first stop is Flagstaff, Arizona, followed by Phoenix and then Tucson. As happy as I've been spending time at home, I am also really looking forward to getting back out on the road! I am anticipating another great semester, and I can't wait to share my experiences along the way. And for any readers who are living in Arizona, Texas, Kentucky, Tennessee, Oklahoma, New Mexico, Colorado, or Wyoming, and are interested in getting out to do some outreach this semester, please shoot me an email at [email protected]. I would be happy to provide more information about my leafleting schedule because I LOVE VOLUNTEERS! It makes our impact for the animals twice (or three, four, five times) as effective!
Until next time…