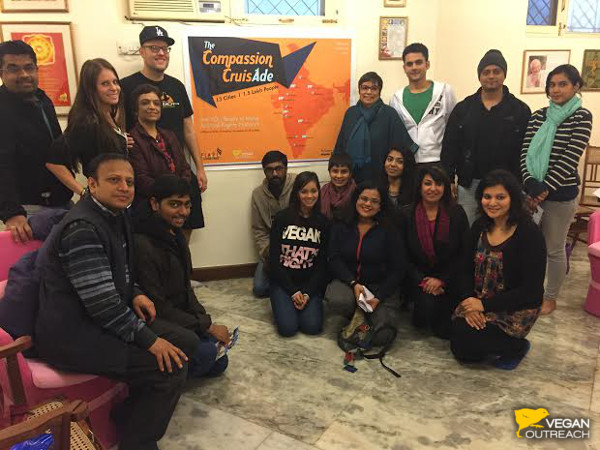 By Victor Sjodin, Director of Outreach
On January 14, I set out on a journey to India, where I'll be touring for the next ten weeks. I'll be leafleting all over the country, training local activists, and speaking to groups about effective animal activism.
The first two-and-a-half days were rough. I was violently ill on the plane with some sort of acute food poisoning that struck me about four hours into my 19.5-hours of flying. I considered going to the hospital in Istanbul during my layover, but I forced myself onto the connecting flight. I was about as sick as I have ever been. I decommissioned an area on the first flight, and on the second flight the attendants spoke to the pilot and wanted to call to see if a doctor was on board! I feared the possibility of being quarantined upon arrival, so I asked them not to do that.
When Kimberly Moffatt (who is traveling with me to help with outreach) and I made it to Delhi, we breezed through customs. Shweta from the Federation of Indian Animal Protection Organizations (FIAPO) and her colleague Prashant met us at the airport at 5:00 am. They insisted on meeting us that early, and we were so glad they came. They whisked us off to a hotel, where we immediately fell asleep. I was now running a fever and still feeling bad, but thankfully I slept it off in a 19-hour slumber.
At 8:30 am we were picked up by FIAPO's stellar volunteer Verhaen. I participated in a meet-and-greet event and then gave a talk to about 20 activists and a few more curious newbies. Although I wasn't in peak form, the talk went well. During my talk, the excitement for starting more leafleting in India was palpable. I was profoundly inspired by the activists we met and rode their enthusiasm through the day. One listener, Amit, made the highlight of my trip so far by telling me, "You've got your first convert in India." After the talk he decided to go vegan, and he also leafleted with us that day.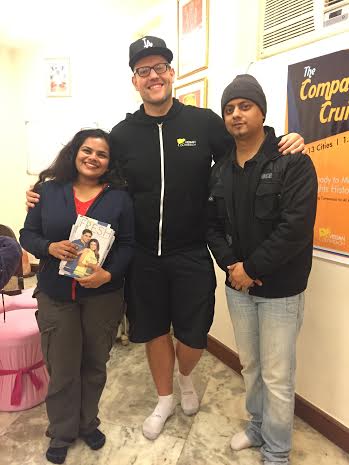 We leafleted for an hour and change at a nearby upscale shopping area and park. It went really well. We reached mostly affluent youth, an ideal demographic. There were tons of readers, and we saw discussions started, people engrossed in learning, and two people stopped in their tracks to read the booklets from cover to cover. We did see some people discard the booklets, but we retrieved and re-used most of them. Although still physically weak, I felt a surge of inner happiness to see an idea come to fruition, as I have wanted to bring Vegan Outreach to India for a long time.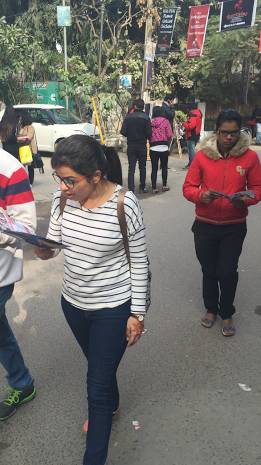 Culturally the things that hit me in India so far are the incessant symphony of honking horns of the street traffic, the passion of the incipient AR activist community here, and the fact that, except for the cab driver, everyone we have met seems to speak perfect English which makes for easy communication with new friends and the public.
We were also greatly impressed by FIAPO's professional and warm staff and MFA's Communications Consultant, Subru, who lives in India and flew up to join us for the week. Subru also delighted Kim when I asked him if there was an ethical way to interact with elephants (he is also a health inspector of elephants), and he offered to take us to see his 46-year-old rescued elephant when in Bangalore.
Our trip so far has been off to a great start! I'm beyond thankful to be on the mend so fast, and I'm overpowered by the kindness of the local activists. I hope to write more about our work soon. View more pics on Facebook here.
Namaste.