By Lori Stultz, VO Rocky Mountain Outreach Coordinator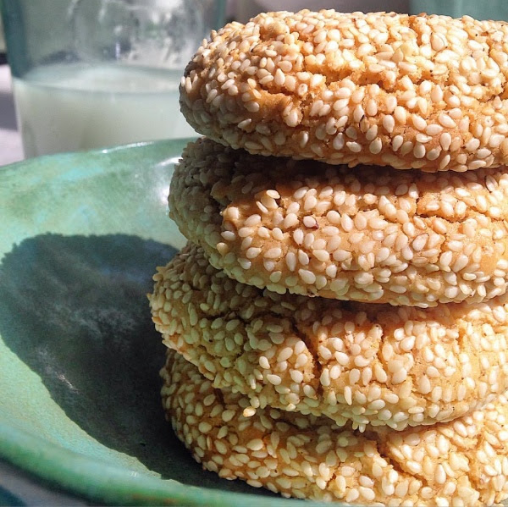 If you love sweet—or in this case, savory—baked treats, but don't love the time and energy that baking usually requires, this cookie recipe is your solution!
Renee Press, founder of Fire and Earth Kitchen, has really outdone herself with this maple tahini cookie creation! And a huge shout out to her for sharing this recipe with us!
These delightful goodies only call for seven ingredients, and they mix-up and bake in a snap!
I've to admit that I was a bit skeptical about these cookies, as it was the first time I'd ever come across a maple/tahini combo. However, I was blown away at how good they tasted! I'll most definitely be making these for future holiday gatherings and potlucks.
I'd love to hear feedback from anyone else that gives this recipe a go!
7 Ingredient Maple Tahini Cookies
Yields 6-8 cookies.
Ingredients
½ cup sesame seeds (optional)
½ cup maple syrup
½ cup tahini
1 tablespoon vanilla extract
½ teaspoon salt
1 tablespoon baking powder
1 cup Bob's Red Mill Gluten Free All Purpose Baking Flour
Directions
Preheat oven to 400°F. Line baking sheet with parchment paper. Place sesame seeds in a bowl.
Combine maple syrup, tahini, and vanilla in a medium mixing bowl and whisk to combine. Stir in salt and baking powder. Add flour and stir to incorporate. Dough will be sticky.
Wet palms and form dough into balls about 2″ in diameter. Roll each in sesame seeds and place on parchment paper, spaced evenly apart.
Bake for 10 minutes until golden, remove and let cool. Enjoy!