By Lori Stultz, Communications Manager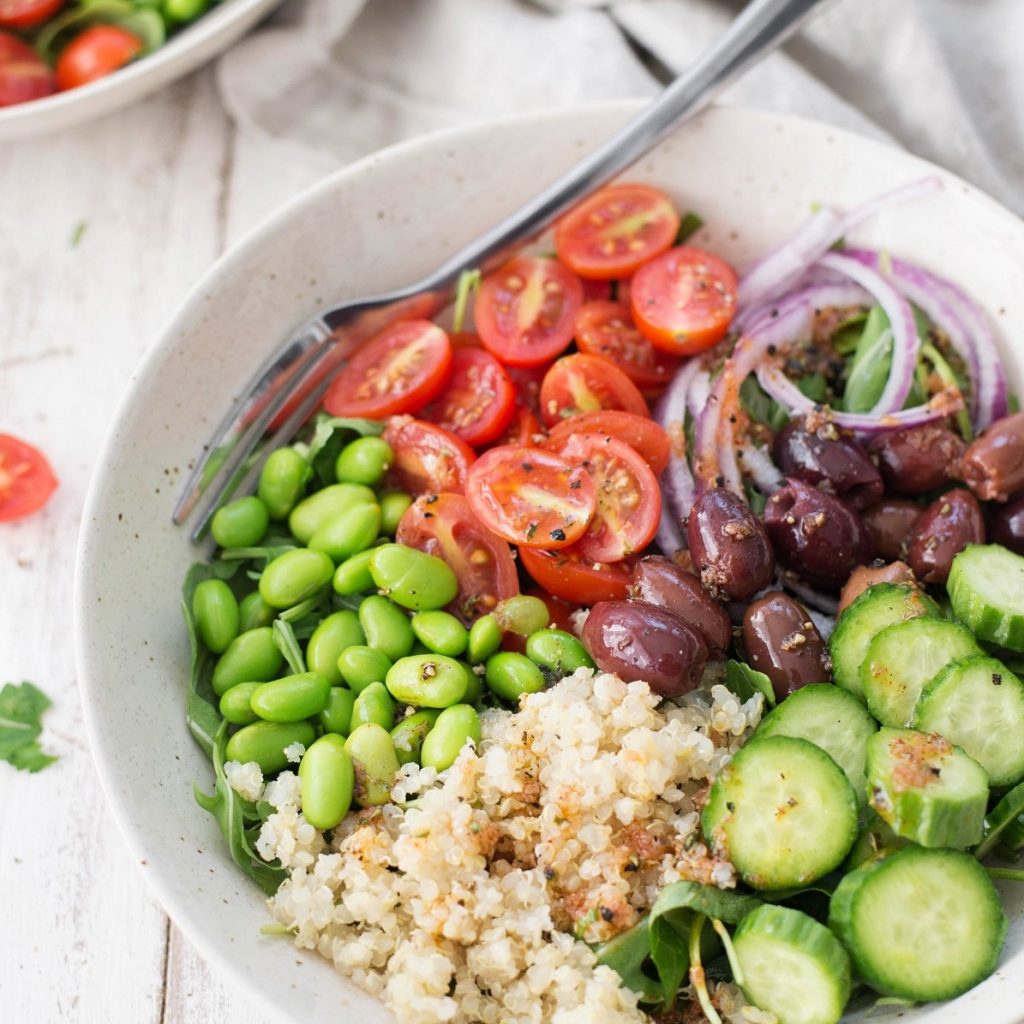 Enjoy this flavor-filled Mediterranean Edamame Quinoa Bowl as one of your plant-based meals for Vegetarian Awareness Month. There's little to prepare, but a whole lot to enjoy!
Mediterranean Edamame Quinoa Bowl
Yields 1 large entrée-sized bowl, or 4 small servings.
Ingredients
Salad Bowl
2 cups loosely packed, fresh greens—i.e., baby kale, arugula, romaine
½ cup frozen shelled edamame, thawed
½ cup cherry tomatoes, halved
½ cup cooked quinoa
10 Kalamata olives, pitted, whole
1 small Persian cucumber, with peel, sliced
¼ cup sliced red onions
2 tablespoons pine nuts—or other nut of choice
Mediterranean Vinaigrette
1 tablespoon extra virgin olive oil
1 ½ tablespoons red wine vinegar
1 small clove garlic, minced
Pinch sea salt—optional
Pinch black pepper
Pinch smoked red paprika
½ teaspoon dried oregano
Directions
Fill a large, individual-sized bowl with greens.
Arrange the following on top of the greens: edamame, cherry tomatoes, cooked quinoa, Kalamata olives, sliced cucumbers, sliced red onions, and pine nuts.
To make the vinaigrette, whisk together olive oil, red wine vinegar, garlic, sea salt, black pepper, red paprika, and oregano.
Drizzle the dressing over the salad bowl, evenly.
Click here for the original recipe.