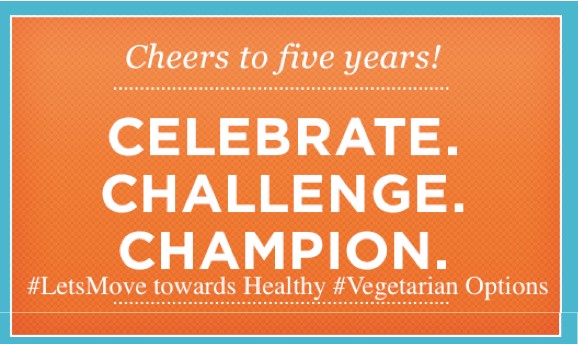 Written by Laura Morse
Michelle Obama kicked off her time as first lady by launching 'Let's Move,' a campaign that promised to reduce the obesity epidemic among children in America by bringing together a group of the country's top nutrition advisors to help make policy changes for the American public.  Although there's still a long way to go when it comes to offering children healthy vegetarian options at their schools, progress has definitely been made in the direction of promoting plant-based food.  Here are five reasons to celebrate the 'Let's Move' campaign:
The New Executive Director of 'Let's Move,' Debra Eschemeyer is a food justice activist who encourages educators and parents to teach children where their food comes from. As the co-founder of Food Corps, Eschemeyer educated a division of AmeriCorps workers about the value of providing fresh and local produce to all children.  She recently launched team Fruits 'n Vegetables (FNV) a program to expose children to healthy produce commercials, seeing as they are currently exposed to over 5,000 unhealthy food ads per year.  Get ready to see more marketing for healthy produce!
With the latest meeting of the Dietary Guidelines Advisory Committee, nutritional experts recommended eating more fruits and vegetables and cutting back on the saturated fat found in meat. As more and more scientific evidence is revealed in favor of a plant-based diet, more schools will adopt Meatless Mondays Resolutions.
Michelle Obama recently partnered with singer and actress Beyoncé to promote healthy eating habits.  Beyoncé supports a plant-based diet and started her "22 Days Nutrition Vegan Meal Delivery Service" this year,  which delivers vegan meals to people's homes.   As a result, vegan meal deliveries are on the rise with delivery services like Veestro, Lighter, Green Lite Meals, and Forks Over Knives Meals-to-Your-Door, which are perfect for people who are new to a vegetarian lifestyle.
Just last week, the "Let's Move Salad Bars to Schools Initiative" celebrated installing its 4,000th school salad bar at a school in Baltimore, Maryland. Thousands of children will now have access to healthy produce when they enter their school dining hall. Additionally, studies show that with access to these salad bars, children are increasing their produce consumption.  Give it another decade, and pretty soon we'll be moving Vegetarian Hot Food Bars into schools, too!
New Jersey Senator, Cory Booker, who is a vegan, presides on the leadership committee for Partnership for a Healthier America, which is an organization that works in conjunction with Michelle Obama's 'Let's Move' campaign. As a member of this committee, Cory Booker has the potential to get dozens of large, private companies, such as Sodexo, to move towards adding more sustainable vegetarian options.
There's no doubt that we still have a long way to go to reduce the obesity rate in America, which remains around 17% for children between the ages of 2 and 18.   But let's take a moment to praise the small steps that are moving us in the direction of a sustainable and compassionate plant-based future.  Let's celebrate these national food policy victories that are bringing us closer to our goals of a more compassionate vegetarian world!  Please provide comments on this blog post (below) about the school lunches being served in your cities and what plant-based options are available for kids.
Laura Morse is currently a student at The Natural Gourmet Institute, where she studies plant-based cooking and nutrition. She's a Vegan Outreach volunteer and the former President of the Penn State Vegetarian Club.