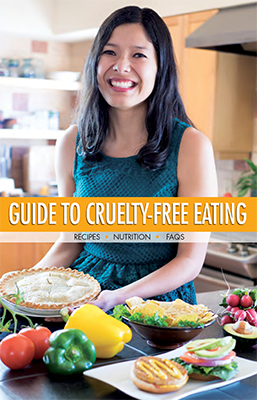 We're happy to present our brand-new Guide to Cruelty-Free Eating booklet!
The Guide includes easy, tasty recipes for people moving towards a vegan diet, and other helpful tips on how to live a compassionate lifestyle. Guides are typically handed out to people we come across while leafleting who express interest. Because the Guide has information on why dairy causes suffering to cows, we especially like to get them into the hands of anyone who tells us they're vegetarian. And if someone says they don't want to take one of our other booklets due to the graphic pictures, we're able to offer them a Guide.
One big change from the old Guide is that the booklet is now the same size as all of our other booklets – 16 pages. This has reduced the cost of printing, shipping, and overhead. In the past, due to the increased cost, we asked people not to leaflet with the Guide, but now if people feel that a crowd is particularly educated and would benefit most from a Guide, it won't be any more expensive than one of our other booklets. Another change is that the nutrition section is much condensed, hopefully giving people what they need to know in a more concise, less scary way.
We hope you'll like the new Guide! You can download a PDF from our Booklet PDFs page or order print copies from our Order Form.